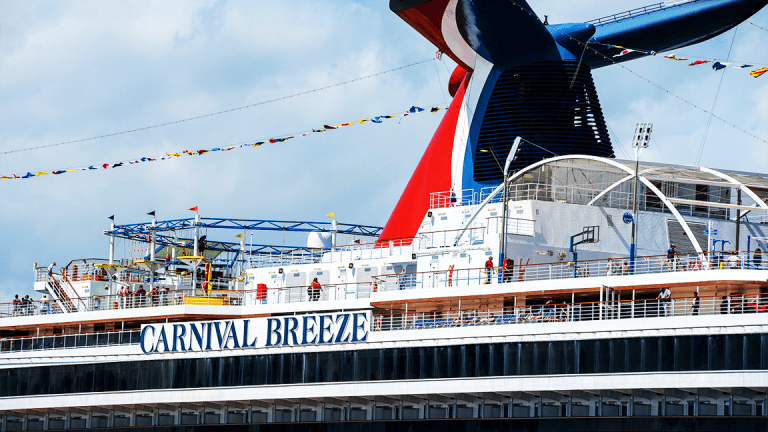 Carnival Docked After SunTrust Downgrade to Hold
Carnival drops after SunTrust does an about-face on its bullish view amid concern the company 'lacks near-term catalysts' that will drive sales higher in the medium term.
Shares of cruise line and vacation package provider Carnival (CCL) - Get Report dropped on Thursday after analysts at SunTrust did an about-face on their bullish view amid concern that the company "lacks near-term catalysts" that will drive sales and earnings higher in the medium term.
In a research note to clients, SunTrust analyst C. Patrick Scholes wrote that he is abandoning his bullish view on the  company and "throwing in the proverbial towel on our buy rating" following a survey of travel agencies that indicated less demand for Carnival vacations relative to its peers.
Scholes noted that while hurricanes had their impact on all cruise line operators through September, the negative effects have since passed with sales returning to prior levels thanks in large part to price cuts and other incentives.
Still, Carnival is not generating as much in sales as its competitors, in particular Norwegian Cruise and Royal Caribbean (RCL) - Get Report , prompting the analyst to also lower his one-year price target to $47 from $58. The analyst reiterated his buy ratings on both Norwegian and Royal Caribbean.
Carnival in September cut its fiscal 2019 profit outlook for several reasons, among them an increase in fuel prices, which it forecast at the time to cut profit by 8 cents a share. It also said weather-related disruptions, tensions in the Arabian Gulf and a ship-delivery delay were expected to trim profit by 4 cents to 6 cents a share.
Shares of Carnival were down 1.09%, 47 cents a share, at $42.70 in trading on the New York Stock Exchange.