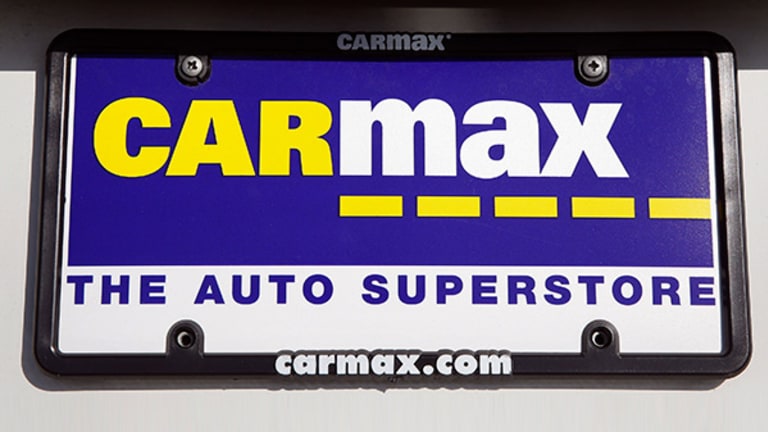 CarMax, Your Rusty Underside Is Showing
Now is not the time to be investing in KMX.
This column originally appeared Tuesday on Real Money, our premium site for active traders. Click here to get great columns like this from Jim Cramer and other writers even earlier in the trading day.
The cost of owning a car has skyrocketed in the past few decades to where alternatives are making more sense than ever. After the initial purchase, sales tax in most cities, insurance, and all the extras the finance folks hit you with before they bring you the key, cars that used to cost $15,000 to $25,000 are now nearly double that price range.
This has led to services such as Uber, Lyft, Car2Go, Flexcar, ReachNow, Silver and many others that make owning cars no longer a requirement. In fact, statistics are show that many teenagers are waiting well past their 16th birthdays to even get licensed, let alone get their own wheels.
Shares of auto retailer CarMax (KMX) havebeen feeling this pressure since makingall-time highsback in April 2015, near $75. And while they are back to $65 currently, there is a lot of weight resistance at these prices, and all the way up to $75 again.
View Chart »View in New Window »
Here's the monthly bar chart that members of our live-market Trading Room and DSE Alertsservices received today. It's showing several objective indications of why now is not the time to be investing in this name. Notice the first warning sign of the stochastics having crossed hard down (lower pane) after testing the 90%extreme overbought threshold. With prices making lower highs versus the 2017 highs, and even lower highs than the 2015 extremes, this is a clear loss of momentum and relative strength.
Next, notice the rising pattern off the 2016 low,near $42,took an overlapping form, even though the rally was large in amplitude.This is the definition of a corrective move; in this case a corrective rise to relieve the oversold extreme seen after the slide from $75 to $42 (44%). This implies that the $42 level was not the final low, and the coming 12 to 18 months should see price at lower lows somewhere in the green buy box, or $33 +/-$7.
Earlier this year, price tried to regain the upper two-standard deviation band (olive/gold line near $70), which controls 95% of normality, but failed. Typically, the coming decline should break below the lower two-standard deviation band, at least temporarily, near $50.
Combining each of these independent measures of analysis presents a very strong case that now is not the time to be buying KMX. Our DSEstrongly suggests using $64 +/-$1 as risk management on long positions; the sell stop level. Breaking under that zone puts $55 into focus, and under there is a huge vacuum in support all the way down to the green box. If long, use these parameters to exit. If flat, use these parameters to establish short exposure. And, if already short, use them to add or maintain your stance.
The growing leverage in the auto industry with longer loan durations, sub-prime car loans, and back-loading trade-ins with negative equity, all in a rising interest rate environment, create the perfect storm for pain in KMX's future. As the notation in the pink box highlights: sell now.
For updates on this analysis, as well as other trading opportunities,try Ken Goldberg's DSE Alerts service for free for a couple of weeks, or contact him at support@dsetrading.com
At the time of publication, Goldberg had no positions in the securities mentioned.