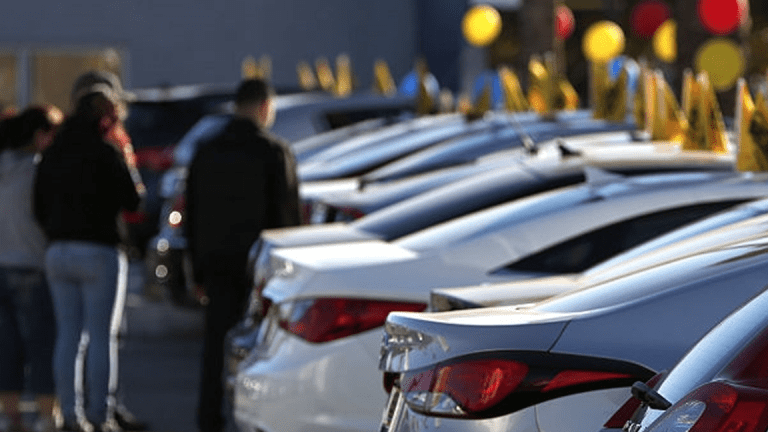 CarMax Trades Higher After Reporting Mixed Earnings
The used car retailer beats on earnings, but misses on revenue and sees same-store sales decline.
CarMax Inc. (KMX) - Get Report  was rising 5.6% to $59.90 on Friday after the used car retailer reported fiscal third-quarter earnings that beat expectations, but missed on revenue and same-store sales. 
Net earnings rose 34.6% to $1.09 a share, beating analysts' expectations of $1. A year ago, CarMax earned 81 cents a share. The company said earnings were helped by a decrease in the effective tax rate to 23.2% from 33.9% in last year's third quarter.
Net sales and operating revenue increased 4.6% to $4.3 billion, just missing analyst consensus of $4.32 billion. Revenue a year ago was $4.11 billion. Used vehicle same-store sales declined 2.1%, while total used vehicle sales increased 2.3%. 
Despite 3.6% growth in used-vehicle sales to $3.55 billion, it missed the FactSet consensus of $3.6 billion.
The used car retailer has been struggling to return to growth after seeing substantial year-over-year sales declines last year and barely getting back to positive sales growth this year. The company beat consensus EPS in the last two quarters, but sales have been inconsistent.
Total gross profit increased 5.6% from the same period last year to $569.2 million. Used vehicle gross profit rose 1.5%, reflecting the 2.3% increase in total used unit sales, the company said.
CarMax's auto financing income grew 6.7%, bringing in $109.7 million and the company opened four new stores in the third quarter of fiscal 2019.