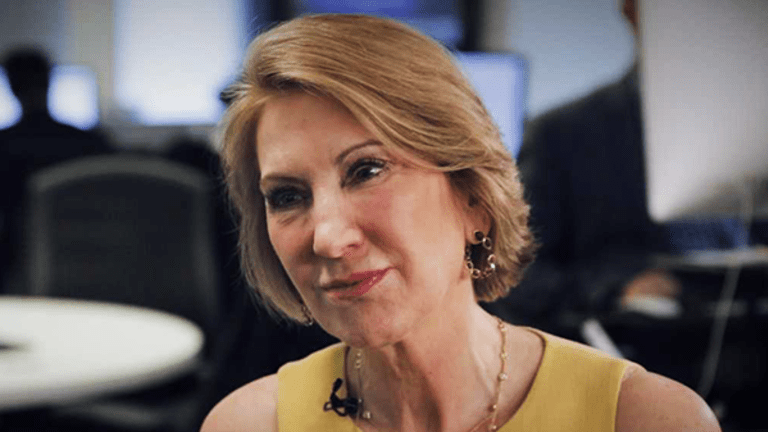 Carly Fiorina on Not Running for Senate, Cryptocurrency and the Opioid Epidemic
Carly Fiorina announces her decision not to run for the Senate. The former GOP Presidential candidate opens up about the lack of leadership in Washington, term limits, tax reform, North Korea, the opioid epidemic and how she defines gender parity.
Carly Fiorina has decided not to run for the U.S. Senate seat from Virginia, but she has not ruled out a future presidential run.
There has been much speculation about her pursuing the Senate seat now held by Hillary Clinton's former running mate Tim Kaine.
She came to TheStreet's offices to tell us -- first -- that she is not.
Politics has become a game of talk, she says. "I can actually make a bigger impact, not running for the senate, but ... lifting up leaders wherever they are."
They certainly seem to be missing from Washington, D.C., these days. Congress can't seem to pass anything, and civility has left the room.
But "we need to stop fixating on Washington D.C.," says the businesswoman and former GOP Presidential candidate.
And that's why she launched Unlocking Potential, a foundation that teaches leadership. As Chairman, Fiorina believes "that leaders are made, not born; that everyone has far more potential than they realize; and that people living closest to the problems are best positioned to solve them."
Watch our full interview with Carly Fiorina:
And while most of her career was spent in corporate America -- she became the first woman to head a Fortune 500 company when she was made CEO and president of Hewlett-Packard Co.  (HPQ) - Get HP Inc. (HPQ) Report  and she was the first female officer at AT&T, Inc.  (T) - Get AT&T Inc. Report  -- her focus is on nonprofit and social enterprise companies. Especially because those sectors contribute $900 billion to the U.S. economy and employ 11.4 million people, according to the Urban Institute.
But many of those companies are lacking in leadership, mainly because they often are lacking in the funds to train them.
So she is offering her 30+ years of experience pro bono. "You cannot lead unless you take a risk," she says. So she has created a curriculum to help people get out of their own way.
"Leadership always takes courage and character ... and everyone has that."
Although women, in particular, seem to need an extra push sometimes. "Fear of failure should be removed from their language," she says.
And that's just one of the myriad of uplifting things Fiorina said to me, during our hour-long conversation.
So listen in, because the time flew by. We talked about geopolitical issues, including North Korea and Russia. She had a warning for our leaders regarding cryptocurrencies. She spoke about term limits and the opioid epidemic, which specifically hits home because she lost her step-daughter to addiction.
Fiorina also said that returning to politics is not out of the question.
Until then, hopefully some of our politicians will take her leadership course.  
Get the news FIRST ON THESTREET.COM follow us @TheStreet and follow Tracy Byrnes @TracyByrnes #AlphaRising and sign up for our news video newsletter REWIND
For more from Tracy Byrnes and Alpha Rising: