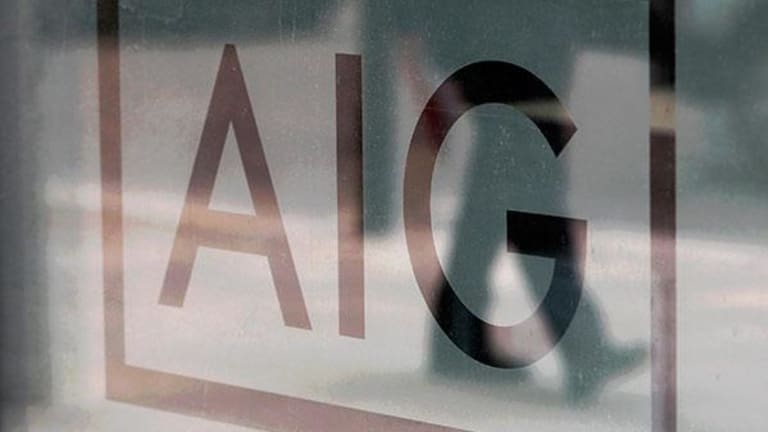 Carl Icahn May Go Over AIG Chief's Head on Breakup Plan
Carl Icahn isn't happy with AIG CEO Peter Hancock's response to his proposal to break up the company; now, he wants to go directly to the bailed-out insurer's board.
This article, originally published at 4:51 p.m. on Monday, Nov. 23, 2015, has been updated with comment from AIG and Deutsche Bank.
Carl Icahn says he'll take matters into his own hands if AIG (AIG) - Get American International Group, Inc. Report  management doesn't take his advice.  
The billionaire activist, who owns 3% of the insurance giant, renewed his push to break up the company on Monday, criticizing CEO Peter Hancock for not going along with the plan and saying he's prepared to take his case directly to the board. The New York-based insurer, which received a $182 billion bailout during the financial crisis, has been subjected to strict regulatory limits on how it invests capital since that time.
Icahn says his plan would help the company escape its designation as a "Systemically Important Financial Institution," which requires firms whose failure might threaten the broader economy to maintain greater liquidity than smaller competitors. That, he says, would bolster returns for investors.
Unfortunately, Icahn says in a statement, Hancock is "not willing to take the bold steps that we, and so many other shareholders, believe are long overdue."
While Hancock rebuffed Icahn's proposal to break the company into three smaller businesses after several meetings, he "failed to lay out any alternative strategic plan with the potential to unlock value for shareholders or to provide compelling reasons as to why these businesses belong together," the billionaire said.
In response, Icahn said he will shortly start a "consent solicitation" for AIG shareholders -- many of whom share his opinion, he says -- that would let them make their case directly to AIG's board.
AIG said in a separate statement Monday that its board has "carefully reviewed a separation of AIG's businesses on many occasions, including in the recent past, and have concluded it did not make financial sense."
The company is already streamlining, with steps including the sale of its remaining stake in jet-lessor AerCap during the third quarter as well as an agreement to sell operations in El Salvador,Guatemala, Honduras and Panama to Central American insurer Assa.
AIG was still authorized to buy back as much as $2.9 billion of its shares at the end of September.
Analysts aren't sold on Icahn's proposal, but at least one says his involvement will be good for the company's stock.
AIG lagged relative to peers such as Chubb and Travelers in recovering from the crisis largely because it was mired in bailout debt and offloading billions of toxic assets tied to the housing market, according to John Eade, an analyst with Argus Research. Chubb and Travelers have each more than doubled their pre-crisis market valuations, while AIG remains 94% below where it started in 2008.
"AIG is just not as profitable as a lot of its peers, and a lot of that stems from the position it was in from 2008-2010," he said in an interview. "Management had to focus on keeping it alive and paying back the government, and hanging on to market share, while other firms were really focused on underwriting and clients."
AIG has made advances in the past few years, however, with its stock up more than 12% this year.
"There is a path toward better returns that management has identified," Brett Horn, an analyst with Morningstar, said in a phone interview. "Having an activist in the mix is a positive by keeping management accountable and putting a floor on the situation if they don't actually execute on their plans."
But splitting up AIG in an attempt to drop the SIFI designation may be impractical, Horn said, especially as many tax credits accumulated since the crisis could go unexploited if AIG's total earnings drop.
"Icahn getting involved purely from a strategic view makes sense, but his plan doesn't make sense because you are going to impair their tax assets," Horn said.
Analysts at Deutsche Bank concurred with that assessment. "A break-up will not be quick, and may not even be a fix," Joshua Shanker, who's based in New York, said in a note to clients on Tuesday. "Management has said that such a break-up would cause it to lose a minimum of $5 billion worth of its deferred tax assets."
Still, there's a strong possibility that AIG could convince the Financial Stability Oversight Council -- which determines what companies should be subject to the SIFI guidelines -- to drop the designation by breaking up, Isaac Boltansky, an analyst with Compass Point, said in a report. So-called de-designation would show that the council is successful in using regulatory pressure to effect change.
"The scarlet letter of the crisis is still squarely fixed on AIG despite its bailout repayment and the distance from the crisis," he said. "Policymakers in this administration or the next would likely be supportive of an AIG de-designation plan as it would be both a high-profile proof of concept and a political victory." 
The move "would be painted as the newest knight of the Dodd-Frank Act -- the FSOC -- slaying one of the central dragons of the financial crisis," Boltansky wrote.