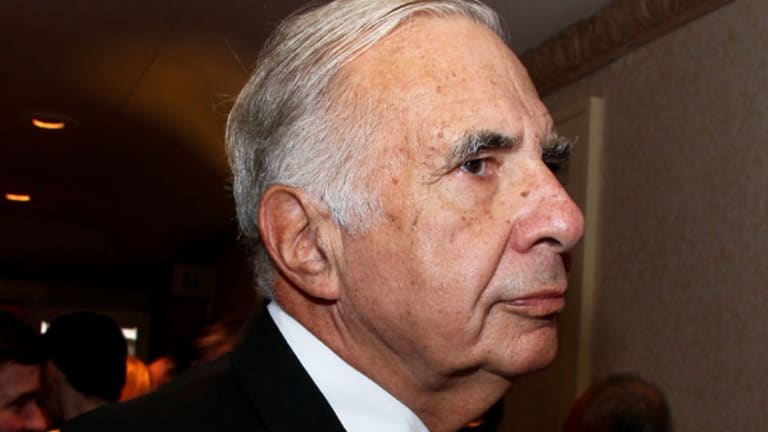 Carl Icahn Joins Warren Buffett on Twitter
Billionaire Carl Icahn is now on Twitter.
Updated from to include 12:21 p.m. ET to include Dell SEC filing.
NEW YORK (
) - Billionaire activist investor Carl C. Icahn has joined
Twitter
, following in the social media footsteps of Warren Buffett, the 82-year old head of investing conglomerate
Berkshire Hathaway
(BRK.A) - Get Berkshire Hathaway Inc. Class A Report
, who joined in early May.
Icahn has joined the social network under @Carl_C_Icahn and made a
for
Dell
(DELL) - Get Dell Technologies Inc Class C Report
the subject of his first Tweet.
"Twitter is great. I like it almost as much as I like Dell," Icahn wrote on Thursday.
In a telephone interview, Susan Gordon of Icahn Enterprises confirmed the account, however, Icahn couldn't immediately be reached for additional comment on his Twitter plans.
Given tighter rules crafted by the
Securities and Exchange Commission
for social media engagement by companies and investors, Icahn better act carefully.
Already, the activist is making waves with his tweeting.
Dell, in a SEC
, disclosed Icahn's Tweet. The SEC if forcing companies such as Dell,
Netflix
(NFLX) - Get Netflix, Inc. Report
and
Tesla Motors
with active social media presences to walk a careful line on disclosures since tweets and Facebook posts may not be seen by all investors even, if they are public information.
"On June 20, 2013, Carl C. Icahn created a Twitter account under the Twitter handle @Carl_C_Icahn (https://twitter.com/Carl_C_Icahn). On June 20, 2013, Mr. Icahn sent the following Tweet relating to Dell Inc.: "Twitter is great. I like it almost as much as I like Dell," the company said in its schedule 14A filing with the SEC.
Icahn hasn't followed up on his initial tweet and he is yet to follow anyone.
Dell shares closed 5 cents lower to $13.35, in Thursday trading.
Icahn's tweet did not appear to move Dell's share price materially. Considering the market moves Icahn can inspire when he appears on
CNBC
and
Bloomberg TV
to explain his investments, the activist's first tweet was relatively benign.
Warren Buffett joined Twitter over a month ago, but so far the Oracle of Omaha's social media presence has been underwhelming.
At a May 2nd
Fortune Magazine
panel titled "Warren Buffett on Women and Work...and other Wisdom," Buffett
"Warren is in the house," Buffett wrote, using handle @WarrenBuffett.
"It means my family can no longer say I am lodged in the 19th century," Buffett said of his first Tweet, on a Fortune Magazine panel. While Buffett said joining Twitter may have countered a notion he is tech unsavvy, his lack of engagement in recent weeks is troubling.
Buffett's only follow up Tweet also came on May 2nd and was a simple link to an op/ed on women leadership in business he penned for
CNN Money
.
Buffett has nearly half a million followers awaiting sage advice from the billionaire value investing guru. As of Thursday, Icahn had a steadily climbing number of followers that now exceeds 5,000.
Perhaps Icahn will have a more consistent performance on the social network. The activist, often characterized as a 'corporate raider,' is famous for his verbal battles with companies he seeks to buy or turn around.
In recent letters to companies he's invested in, Icahn has accused management of being like the 'boy scouts' or participating in 'giveaways,' jabs that would play well on Twitter.
While Buffett beat Icahn to Twitter, Icahn may be able to add a new social media intrigue to the Wall Street landscape with his sharp opinions, market moving activity and wit.
Twitter allows authors to make posts in 140-character increments and post links, photos and videos.
-- Written by Antoine Gara in New York.