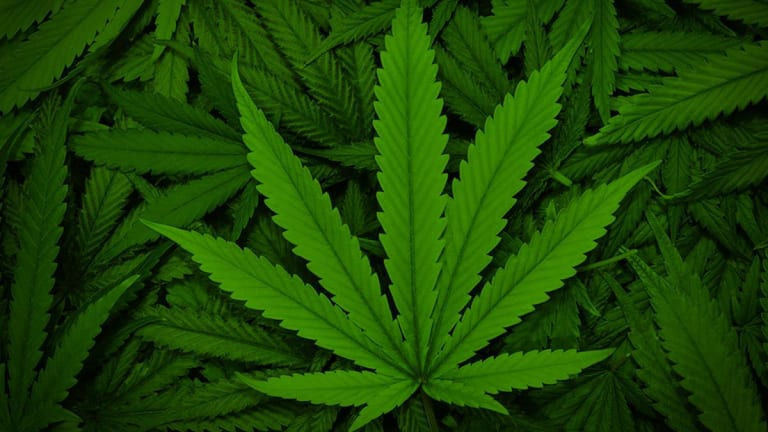 Canopy Growth and Constellation Brands Say Cannabis Will Be a $200B+ Industry
Bruce Linton and Constellation Brands COO Bill Newlands gave investors the straight dope at Jim Cramer's Investor Boot Camp in New York.
Top executives at hot cannabis company Canopy Growth Corp. (CGC) - Get Free Report  and its blue-chip partner Constellation Brands (STZ) - Get Free Report say legal-weed products will eventually be at least a $200 billion segment  -- and could even disrupt $500 billion of businesses across multiple sectors.
"Our view is that in the next 10+ years, this is going to be a $200 billion business worldwide. And some would argue [that's] understating the case," Constellation Chief Operating Officer Bill Newlands said Saturday at Jim Cramer's Boot Camp for Investors in New York.
Constellation, which owns alcoholic-drink brands like Corona beer and Robert Mondavi wines, recently paid $4 billion to boost its stake in Canopy Growth to 38%. The company also purchased warrants giving it the option to increase that to a majority stake in the future.
"If you said 10 years ago: 'Would we be right here having this discussion today?,' we all would have said 'no, we wouldn't have been,'" Newlands told Cramer. "But the market's moving, the consumer perception is moving and in our judgment, this is going to happen. [Cannabis] is going to be legal in most countries that matter around the world in a relatively short period of time."
Canopy Growth CEO Bruce Linton, who appeared with Newlands, said weed-related products have the potential to disrupt as much as $500 billion a year in various businesses far beyond just pot-smoking. These include:
Alcohol. The CEO said Canopy Growth could create an alternative to drinks like wine "if we make a beverage with no calories, that has a really rapid onset [of psychoactive effects] and that tastes good."
Sleep Aids. Lintonnoted that Canopy Growth currently has a medical trial underway for using cannabis-related product to treat insomnia, which he called a "many-times-billion-dollar segment."
Drugs for Lack of Appetite. Marijuana's propensity to promote the "munchies" is well known, but Linton said that could make it a great drug for cancer patients with no appetite.
Sports Drinks. Linton said that since cannabis has potential anti-inflammatory properties, "why shouldn't there be a beverage that's going to be absolutely disruptive [to] Gatorade?"
Medicines for Arthritis, Fibromyalgia and the Like. "We're not going to cure the problem, but we're going to [potentially] make the symptoms much less."
Pet Care. Linton said all of legal weed's medicinal properties should theoretically work as well on pets like dogs as it does on humans. "If you've got an old dog and you're old [too], well, one guy's got two legs and the other's got four, but after that, there's a lot more commonalities than differences."
"All of the sudden you start adding these categories together [and] that is a huge $500 billion segment of business," he said.
Newlands added that there's no evidence that increased recreational-pot usage will cut into Constellation's alcohol business. He noted that consumers have been ingesting illegal cannabis for decades with no evidence that people drink less alcohol as a result.
(Jerry Kronenberg contributed to this report.)