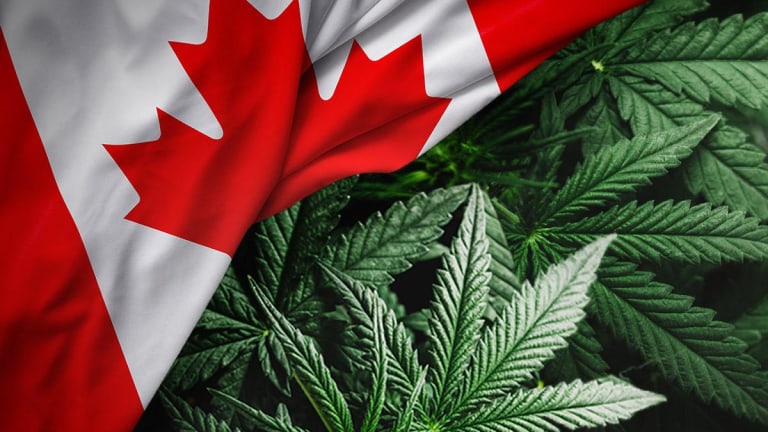 India Globalization Capital Stock Soars 36% as Pot Sector Lights Up Wall Street
Cannabis stocks mostly rise on reports that pot demand will outstrip supply.
Shares of legal-cannabis company India Globalization Capital Inc. (IGCC)  soared as much as 49% Wednesday as many pot stocks rallied.
IGCC rose as high as 64 cents a share before dropping back to 59 cents shortly before the close, up some 36% on the day. The stock rallied on rumors that it's gearing up to launch a line of cannabis-infused drinks.
Other pot stock rose as well on expectations that demand for quality pot will continue to outstrip supply -- particularly in Canada following the government's recent decision to legalize recreational use. Canada, which last month legalized recreational cannabis, expects to see up to $7.17 billion in cannabis sales in 2019, according to a recent report from Deloitte.
Aphria Inc. (APHA) - Get Report  rose 9.7% on the New York Stock Exchange to close at $8.49, while Aurora Cannabis Inc. (ACB) - Get Report  added 8.5% to $7.91 and Canopy Growth Corp. (CGC) - Get Report  gained 7.3% to $34.
However, other names in the sector fell. For example, Origin House Inc. (ORHOF)   fell 4.2% to $5.95 in over-the-counter trading, while Tilray (TLRY) - Get Report  lost 2.7% to $110.88 on the Nasdaq.
"The price action in the sector is really all over the place today," said Charles Taerk of Toronto-based Faircourt Asset Management, a sub-adviser to the Ninepoint Alternative Health Fund, which invests in cannabis, nutrition and nutraceutical companies. Taerk said cannabis stocks were seeing "choppy markets" based on different news from various players, coupled with expectations of new participants entering the space.
Recent disappointing earnings results from several legal-weed companies had spurred some investors to snuff out their pot-stock holdings. However, Taerk said Wall Street's broad rally on Federal Reserve chair Jerome Powell's semi-dovish remarks lit much of the marijuana market back up, especially given that many pot stocks' valuations had recently fallen.
(This article has been updated with closing prices.)