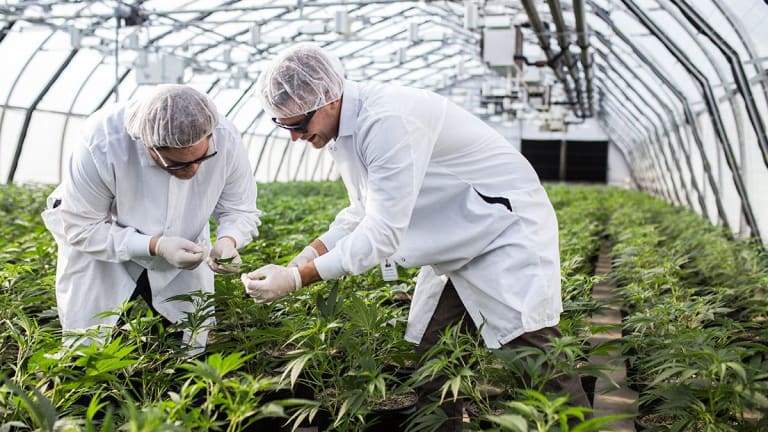 Curaleaf Shares Jump as Company Agrees to Acquire Grassroots for $875 Million
The combination would create a cannabis company with a presence in 19 states.
Shares of Curaleaf Holdings, (CURLF) the Wakefield, Mass., integrated cannabis company, rose Wednesday after it said it definitely agreed to acquire GR Cos. for $875 million of cash and stock.
Curaleaf stock closed up 18% at $7.65. The company sells cannabis products, including oils, edibles and more, under brands including Curaleaf, Curaleaf Hemp and UKU Craft Cannabis.
GR, or Grassroots, grows and processes medical cannabis products.
The combination would expand Curaleaf's presence to 19 states from 12, the companies said in a statement. The combined company will have 131 dispensary licenses, 68 operational locations, 20 cultivation sites and 26 processing facilities. 
"The industry has seen a frenzy of consolidation," said Debra Borchardt, chief executive of Green Market Report.
"This acquisition of Grassroots by Curaleaf gives the company a footprint in the Midwest with two hot markets -- Illinois and Pennsylvania. It comes on the heels of its May acquisition of Select, which gave them the West Coast presence they were looking for.
"Curaleaf is now a major player on par with Acreage Holdings (ACRGF) if all of these deals close."
The companies said Mitch Kahn, founder and chief executive of Grassroots, will join Curaleaf's board.
Both companies' boards have approved the deal. Subject to conditions including regulatory clearances and approval by Grassroots' holders, the companies expect to close the transaction early next year.