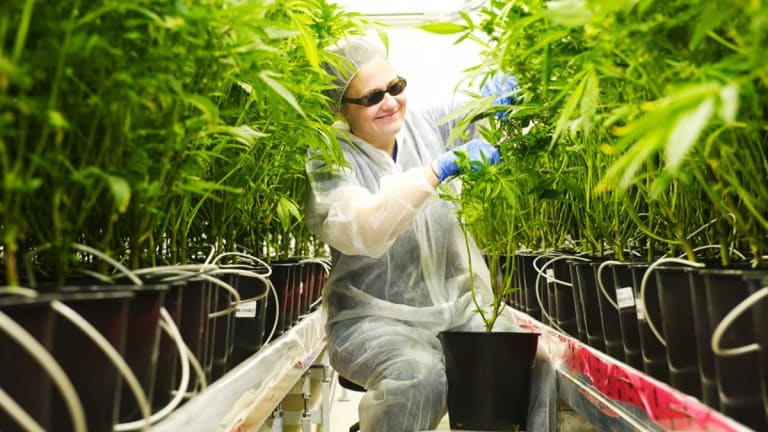 Aphria Stock Rallies, But India Globalization Capital and New Age Beverages Tank
Many marijuana stocks tumble amid continued uncertainty over the legality of their products in the United States.
On a day when Santa delivered a truckload of coal to Wall Street, cannabis-related stocks saw volatile action Monday amid ongoing uncertainty over federal treatment of their products under the U.S. farm bill signed into law last week. Aphria (APHA) - Get Aphria Inc Report was the New York Stock Exchange's No. 1 percentage gainer -- up 14.4% in holiday-shortened trading -- but other cannabis stocks fell, led by India Globalization Capital (IGCC) (down 15.8%) and New Age Beverages (NBEV) - Get NewAge Inc Report  (off more than 13%).
Controversy over the legality of cannaboid-related products continues in spite of last week's farm bill, which legalized growing hemp in the United States for the first time in decades.
A statement from U.S. Food and Drug Administration Commissioner Scott Gottlieb on Dec. 20 reasserted the agency's power to regulate and control "products containing cannabis or cannabis-derived compounds under the Federal Food, Drug, and Cosmetic Act."
Gottlieb also wrote that "we continue to be concerned at the number of drug claims being made about products not approved by the FDA that claim to contain CBD or other cannabis-derived compounds."
The FDA did move to allow sale of some products derived from hemp seed, including hulled hemp seeds, hemp-seed protein and hemp-seed oil. The FDA plans to conduct hearings into the opportunities and risks related to cannabis-related products.
Many legal-cannabis stocks swung wildly on Monday, including:
APHA, which rallied 14.4% to end the session at $5.55.
IGGC, which fell 15.8% to close at 36 cents a share.
NBEV, which gave up 13.2% to finish at $4.72.
Aurora Cannabis is a holding in TheStreet's Stocks Under $10 model portfolio, which focuses on low-priced stocks with big potential. To find out more about Stocks Under $10, click here.
(This article has been updated.)