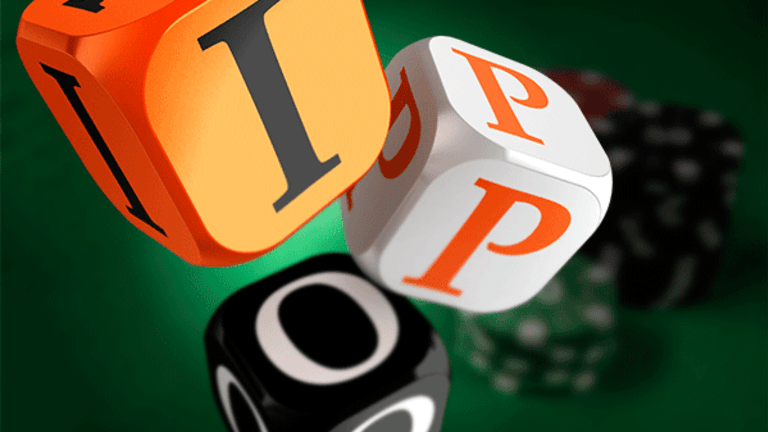 Publish date:
Cannabis, Coats, and Social Media: The Good, Bad, and Ugly of 2017's IPOs
In the first quarter of the year we've seen some high-profile IPOs. But they're not all created equal. Here's what investors should keep an eye out for ... and avoid.
In the first quarter of the year we've seen some high-profile IPOs. But they're not all created equal. Here's what investors should keep an eye out for ... and avoid.
When it came to initial public offerings, 2016 was a dismally slow year - in fact, the slowest since the Great Recession. In large part, this was due to an influx of money to private startups - who needs to list on the stock market?
However, already 2017 is set to shatter the idea that companies can do better on their own. With a number of hot IPO rumors - Spotify, anyone - investors are eagerly awaiting the next big gainer.
However, not all IPOs are made equal. And sometimes the most anticipated stock market debuts end up being a waste of time and money as reality kicks in (remember Twitter (TWTR) - Get Report and its post-IPO plunge?).
In the past couple of weeks, investors have jockeyed to get into two anxiously awaited public offerings ... but are these faddish stocks here to stay? Meanwhile, another company has gone private in a more quiet manner but packs a ton of potential for its early-in investors.
Reversing the traditional order to get the rotten news out of the way, here are The Ugly, The Bad, and The Good of 2017's IPOs so far.
First, The Ugly: Snap (SNAP) - Get Report . This social media company, the owner of self-destructing photo app Snapchat, debuted on the New York Stock Exchange on March 1. And straight out of the gate, its stock price soared, gaining a nearly immediate 44%.
But then investors got a bad case of the "morning afters" when they realized all of the factors that makes Snap a lousy stock - chief among them the facts that the company has yet to turn a profit and that Snapchat is already hemorrhaging active users. In just a few weeks, Snap's stock has plunged by nearly 12% off its opening price - and more than 27% from its early high.
Snap is a lot like Twitter - it suffers from the same monetization and user retention problems. But Snap lacks the broad appeal of its twittering rival. Its product is geared solely toward millennials - so there's not much room for growth in developing nations, where Facebook's (FB) - Get Report service has played a vital and even humanitarian role.
Snap will continue to plunge. Savvy investors should stay away.
Next, The Bad: Canada Goose (GOOS) - Get Report . Let's be very clear: This is a terrible time for luxury stocks. Kate Spade (KATE) , Michael Kors (KORS) , Coach (COH) ... the list goes on of luxury goods stocks that are struggling as the world's economy faces headwinds. So this is perhaps not a great time to invest in a company that makes $1,000 parkas.
While Canada Goose may hold some potential for investors in the short term, keep in mind that fashion is fleeting. What is worn by chart-topping rappers today will be unceremoniously plunked on the clearance rack at Macy's (M) - Get Report the next.
Even practical outerwear can only go so far - in 1999 North Face posted a $100 million loss, which led to its being purchased by VF Corp. (VFC) - Get Report for roughly $25 million despite sales of nearly $240 million. With their extreme price tags, Canada Goose's products have even narrower appeal.
Simply put, Canada Goose just isn't worth all of the squawk.
Finally, The Good: Therapix BioSciences (ticker: TRPX) made its IPO on Wednesday with little fanfare. But this isn't the last we've heard of this company, which develops cannabinoid treatments.
Pot stocks are hot, as cannabis-based treatments continue to be the next big thing in biotech. We've already watched other "green" pharmaceutical companies, including GW Pharmaceuticals (GWPH) - Get Report and Zynerba (ZYNE) - Get Report , soar. But these companies are growing mature now and aren't as likely to throw off skyrocketing products.
That's where Therapix comes in. This company has a treatment for Tourette Syndrome in Phase 2a trials, as well as developing another cannabinoid therapy for mild cognitive impairment. Tourette patients present a particularly appealing market - currently, the only treatment is haloperidol, which has nasty side effects and doesn't help with the physical tics most Tourette patients suffer. Therefore, it's only prescribed in extreme cases.
Therapix's IPO is tiny - the company filed for an offering worth only $12 million. And there are only 3.1 million shares outstanding of this tiny $18 million market cap company.
But that's likely to change... soon. When Therapix becomes the next GW Pharma, investors are going to wish they had gotten in right at the beginning.
It's Not the "Next Big Thing." It's the ONLY Thing.
Forget Facebook and the 1 billion people who log in to their accounts every day... Forget Netflix and the 10 billion hours of video users stream every quarter... And forget Amazon and the one trillion files customers have stored in its "cloud"... These corporate giants (and thousands like them) depend on ONE company to survive. And even though you've probably never heard its name, it may be the most exciting - and profitable - tech investment in decades. Click here for the full story.
John Persinos is an analyst at Investing Daily. At the time of publication, he owned none of the stocks mentioned.