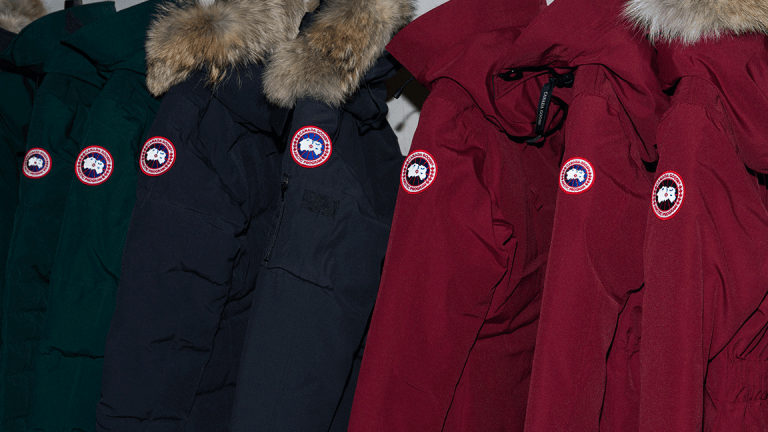 Canada Goose Heads South on Hong Kong Unrest, Wholesale Revenue Drop
Canada Goose goes south Wednesday after the outdoor apparel maker said protests in Hong Kong hurt its business and warned that wholesale revenue will decline.
 Canada Goose (GOOS) - Get Canada Goose Holdings Inc. Subordinate Report went south Wednesday, tumbling 12.6% to $34.12, after the outdoor apparel maker said the protests in Hong Kong hurt its business and warned that wholesale revenue will decline.
CEO Dani Reiss told analysts on a conference call that the unrest in Hong Kong had a significant impact of the company's business there. Canada Goose recently opened a second store in Hong Kong.
"A problem could arise as GOOS is expanding internationally, opening flagship stores in Beijing and Hong Kong," said TheStreet.com contributor Richard Suttmeier. "The company is expecting luxury-goods demand to grow among affluent Chinese consumers, but that's in question given the chaos in the streets of Hong Kong."
The Toronto-based company also said revenue from its wholesale business in the third quarter will take a hit due to early shipments to department stores. Canada Goose depends largely on its wholesale business.
"We've shipped so much of our fall/winter order book earlier, which naturally means less shipments in the next quarter," Dani Reiss said.
Despite the warnings, CFRA Research analyst Camilla Yanushevsky kept her strong buy rating on the company. She cut her 12-month price target by $5 to $65.
"Even with unrest in Hong Kong, Asia sales doubled to C$48.9M, suggesting brand heat is solid, and GOOS has a strong path of sustained profitability amid a turbulent macro environment," she wrote. "Near-term catalysts include Singles Day, a colder-than-average winter and pop-ups (Tysons Galleria) in time for peak holidays."
Canada Goose had beat Wall Street's second quarter earnings expectations, posting net income of C$60.6 million ($45.7 million), or 55 Canadian cents a share, from C$49.9 million, or 45 cents a share, a year ago. Adjusted earnings came to 57 Canadian cents a share, ahead of analysts' expectations of 43 cents.
Revenue totaled C$294.0 million ($221.6 million), up 28% from a year ago, and beat Wall Street's call for C$266.8 million.
Canada Goose also said it successfully introduced its limited edition Branta clothing line. The company also saw increased flexibility through expanded in-house manufacturing capacity to respond to continuing requests from wholesale partners for earlier shipments.
Wholesale revenue rose 22% to C$219.8 million, above analysts' calls for C$193.5 million, and direct-to-consumer revenue increased 47% to C$74.2 million, driven by incremental revenue from new retail stores, and beat expectations of C$73.7 million