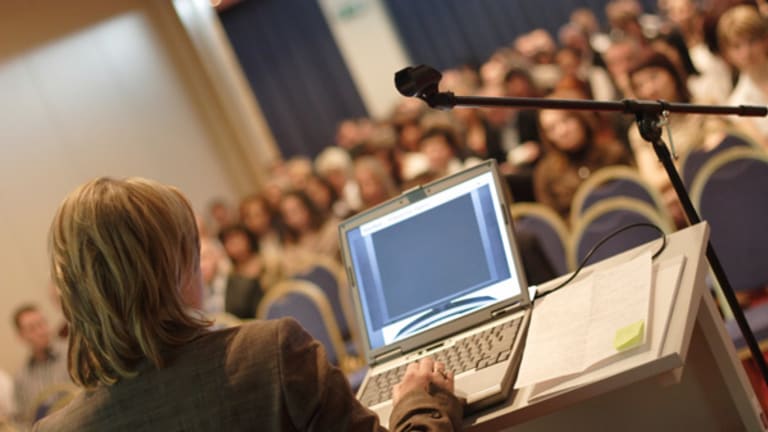 Can You Lead in a Hoodie? Mark Zuckerberg Thinks So
There are already tons of lessons the business community can learn from Facebook's Mark Zuckerberg.
PALO ALTO, Calif. (MainStreet) -- In less than 10 years, Mark Zuckerberg has gone from Harvard dropout to chairman and chief executive of one of the most hyped and soon-to-be largest public companies in the U.S. Yet can you lead a $100 billion company with the dress code of a socially awkward teenager?
According to management experts, Zuckerberg -- who just turned 28 on Monday and is already one of the youngest billionaires in history -- can teach the business community plenty when it comes to leadership.
If you haven't seen it already, Zuckerberg's touching and now famous message posted on his Facebook page following the October 2011 death of
Apple's
(AAPL) - Get Apple Inc. (AAPL) Report
shows just what this young entrepreneur and innovator aspires to be.
Facebook co-creator, chairman and CEO Mark Zuckerberg
Zuckerberg wrote: "Steve, thank you for being a mentor and a friend. Thanks for showing that what you build can change the world. I will miss you."
Like Jobs, Zuckerberg's social media giant has changed the world.
And similar to Jobs, Zuckerberg defies traditional ways of doing things.
While Jobs had his black turtle neck and jeans, Zuckerberg has been getting a lot of attention lately regarding whether his non-traditional dress is appropriate (add to Jobs predilection for jeans, Zuckerberg's hooded sweatshirt, or "hoodie," and sneakers). His age has also been highlighted as an inhibitor to running a company that is being valued at $100 billion. Facebook's IPO is expected to price after the markets close on Thursday.
However, proponents say they are impressed with young Zuckerberg's strong sense of self-awareness, knowing his strengths and weaknesses as the head of a company.
Here are a few lessons that small and large business leaders can take from Mark Zuckerberg's example:
Lessons from the Bard: How Shakespeare Would Run a Business >>
1. An unwavering dedication to the company's vision.
"The one thing we can take from Mark is complete belief in what he is doing and his determination to succeed," says Craig Libis, CEO of
Executive Recruiting Consultants
.
"Mark is a constant reminder that it's always easier to ask for forgiveness than permission. From some of the stories I've heard, he just does things when he wants to do them and he will ask for forgiveness later. It's worked for him. Does it work for everybody? No, I don't think so," Libis says.
Libis notes that many wanted the IPO to come several years ago, but Zuckerberg wasn't ready. He had to do it on the schedule he thought was best for the company.
This is also true of several takeover attempts, such as those by
Yahoo!
(YHOO)
and
Google
(GOOG) - Get Alphabet Inc. Class C Report
, which were rebuffed.
Having strong conviction when running a company contributes to strong leadership. You will earn the respect of advisors, investors and employees who will trust your judgment. This also means that there is a strong culture and a sense of loyalty to the firm. If you portray that you want the company to succeed, your subordinates will follow.
"No one is going to follow a wet blanket," Libis says. "People follow someone who is passionate and has true conviction in what they're doing and what they're saying."
2. Just because you're the boss, doesn't mean you are finished learning.
Some CEOs and business owners let their egos (and pride) get the best of them to the point where it not only detracts from the business, it is downright harmful.
Allan Cohen, Professor of Management at Babson College and leadership expert, has studied this trend.
"I spend a lot of time trying to figure out what it is that happens to people who get to the tops of organizations that then either believe they don't have anything to learn or pretend to everybody they don't have anything to learn," Cohen says.
While Zuckerberg might be a tough manager, he is willing to listen - and that's encouraging to employees.
"What's impressive about Zuckerberg is he's been very explicit about the need to learn. He sought out mentors. He hired
former Google executive Sheryl Sandberg. He clearly relies on her a lot," Cohen says. "He isn't pretending that he knows what he doesn't know."
The best entrepreneurs and small-business owners are those that understand that surrounding yourself and interacting with intelligent people can only add to the success of the company, particularly if the person is able to take constructive criticism, he says.
"Be willing to face contradictory advice. Be willing to change direction when you have to. It's not make a great 10-year plan and stick to every detail. There is a lot of improvisation," in running a company, particularly a small one, he says.
Stay focused on the big picture.
Once Facebook is public, Zuckerberg is surely aware of the scrutiny he will come under from individual and institutional investors. He is also surely aware that with a board of directors, he will have to give up some of the control he is used to having.
"That will probably be a little difficult for him, but maybe he is ready for it," Libis says.
10 Stocks to 'Like' When Facebook Goes Public >>
Cohen says remaining focused on the larger vision and long-term goals will help Zuckerberg remain successful.
"I don't think he is going to be a micro-manager in the trenches. He's thinking about the big issues. He's surrounded himself with a lot of people and if he makes some good judgment
calls at key times he'll do fine," he says.
So will Zuckerberg have to ditch the hoodie?
"What he wears is irrelevant and in the industry he is in it's not inappropriate. Steve Jobs certainly was an example of that," Cohen says.
-- Written by Laurie Kulikowski in New York.
To contact Laurie Kulikowski, send an email to:
Laurie.Kulikowski@thestreet.com
.
To follow Laurie Kulikowski on Twitter, go to:
http://twitter.com/#!/LKulikowski
Disclosure: TheStreet's editorial policy prohibits staff editors, reporters and analysts from holding positions in any individual stocks.