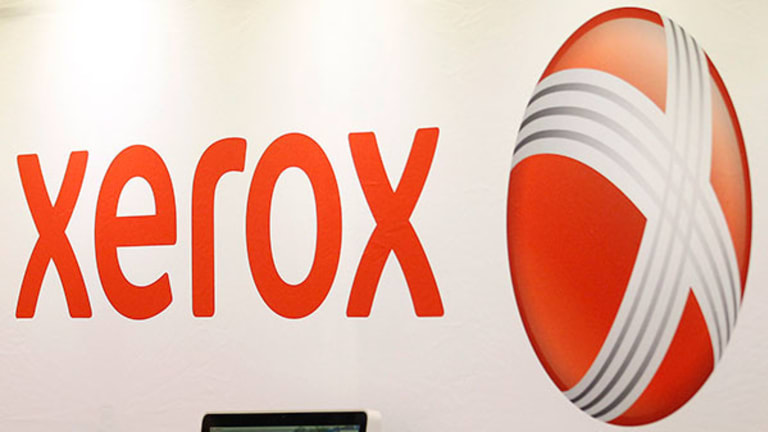 Can Xerox Copy HP's Profits?
The hardware company has been reorganizing itself, spinning off a less-profitable segment and tightening its business model.
For more than 100 years, Xerox has been a pioneer -- first as a manufacturer of photographic paper, followed by making inroads into photocopy technology and home computing. Its name has become synonymous with the act of making paper copies.
However, the market for printers and copiers is rapidly shrinking -- by as much as 5% in the coming year. So Xerox is turning its business around with a focus on new technologies.
But while the company moves into newer markets with more high-tech products, there are still plenty of reasons why Xerox could make a compelling play for investors... especially if it follows the lead of rival HP (HPQ) - Get HP Inc. Report .
Back in 2015, bloated information technology company Hewlett-Packard split into two, spinning off its PC and printers business as HP, as well as organizing its enterprise services business as Hewlett Packard Enterprise (HPE) - Get Hewlett Packard Enterprise Co. Report . At the time investors and analysts had seemed more excited about the prospects of the B2B company, given the attention surrounding software as a service.
But hardware company HP became one of last year's biggest profit-makers for investors, churning out stock price gains of more than 40%.
Xerox has been attempting to replicate HP's success, spinning off its own business processing segment as Conduent (CNDT) - Get Conduent, Inc. Report in late 2016. Conduent's services included E-ZPass systems for toll roads, as well as traffic-monitoring technology, and they were weighing on Xerox's bottom line. In 2016, Xerox's market value was $5 billion less than it had been before it purchased this segment in 2010.
But Xerox hasn't been content with just spinning off this less-profitable business. Under new CEO Jeff Jacobson, the company has begun a cost-cutting program that aims to save as much as $1.5 billion over the next three years.
The company is also hoping that it will see new growth thanks to further targeting of small to mid-size companies. Xerox is rolling out 29 new products that should appeal to this segment of the market, which has proven more dynamic than large-scale businesses. The company is also moving into the Internet of Things with smart-label technology directed at food and drug companies. The market for smart labels is expected to reach higher than $16 billion within five years.
Until the company starts profiting from these exciting product lines, there's still plenty to reward Xerox investors. Currently, the company pays out a 3.4% dividend yield and has plans to hand investors at least 50% of its $145 million to $345 million free cash flow by 2018.
And, if HP's stock performance is any guide, investors can continue to expect stock gains as the company streamlines itself, becoming leaner and meaner. Year to date, Xerox's stock is up by more than 30%, but there could still be more room to grow. In fact, some analysts are expecting the stock to double in the next two years.
With more than a century of making history, Xerox looks poised to forge ahead in years to come.
---
As we've explained Xerox is an excellent income opportunity. If you're looking for other income opportunities we know another way you can add a steady stream of dividend income every month... and it's practically guaranteed by the IRS. The company signing the checks might not be one that you've heard of. However, Silicon Valley's top CEOs - think Mark Zuckerberg and Larry Page - know that its product is invaluable.Click here for the full story.
The author is an independent contributor who at the time of publication owned stock in Xerox and Conduent.