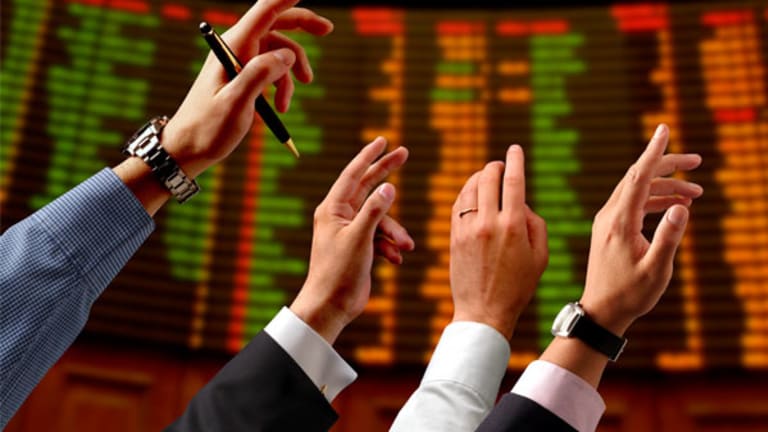 Can't Keep This Market Down; Not Too Late to Get In: Jim Cramer's Best Blogs
Jim Cramer ponders how this market simply can't stay down and also discusses how it isn't too late to get in.
Jim Cramer ponders how this market simply can't stay down and also discusses how it isn't too late to get in.
Jim Cramer fills his blog on RealMoney every day with his up-to-the-minute reactions to what's happening in the market and his legendary ahead-of-the-crowd ideas. This week he blogged on:
How you can't keep this market down
How it isn't too late to still get in
Click here for information on RealMoney, where you can see all the blogs, including Jim Cramer's -- and reader comments -- in real time.
Cramer: You Can't Keep This Market Down
Posted on Nov. 25 at 11:41 a.m. EDT
Why doesn't this market go down? Here are five reasons: European banks, oil, Brexit, rate hikes and Trump.
These were part of major retreats in the market.
Last year, we had a rip-roaring, unsustainable bull market in Chinese stocks. People were opening four, five accounts and using margin to buy anything that moved. Of course, that had to end, and end in hideous fashion. Stocks got cut in half. Lots of companies couldn't get their stocks open. The market had a couple of 7% plummets. We thought the popping of the big Chinese bubble would lead to world catastrophe. I remember checking the markets every night at 9 p.m. to figure out how much my charitable trust would lose the next day.
Then one day the Chinese made a series of moves, removing the boss of stocks, bringing in someone new, banning short-selling and criminalizing the act of rumor-mongering stocks down. The West laughed. No government had ever been bigger than "the market." But these people were speaking about democratic government, not totalitarian governments.
The methods worked.
China started flat-lining at the 3000 level. You don't hear much talk about it anymore. The bottom marked a colossal buying opportunity.
Back at the end of January and the beginning of February, we had a decline in oil of epic proportions. People put pen to paper and calculated there could be $300 billion in high-yield paper that could simply cease to pay. There was another $500 billion - minimum -- in bank loans that would not be repaid. As oil plummeted to the low $20s, we saw that Wells Fargo (WFC) - Get Report , Bank of America (BAC) - Get Report and JPMorgan (JPM) - Get Report had far more exposure to the oil companies and service companies than we thought. (Wells Fargo is part of TheStreet's Action Alerts PLUS portfolio.)
A huge number of people bailed out of both the oils and the banks.
But then, looking back, for no particular reason, oil began to rally to the point where loans that had been "criticized" were now solvent and the companies that were marginal and seemed they could tip were able to raise equity.
Next thing you know, oil had doubled, and while some firms did indeed cut or eliminated their dividends and many small ones were obliterated, the losses turned out to be minimal vs. what we thought would occur. If you sold rather than bought, you lost. Another colossal buying opportunity.
I was on a plane coming back from San Francisco--an all-nighter--with my daughter when the Brexit vote occurred. I was distraught when I landed and saw the futures so low.
My 25-year-old daughter asked me what the big deal was. I explained it all to her, to which, at the end, she said, who cares? It doesn't hurt us. I explained it again. She said it made even less sense to her given how small the United Kingdom is as a percentage of world commerce.
I went out hard with her view that morning, although I didn't identify it as her view as such. I said it was just too hard for most people to understand why it would be bad for us given how small the United Kingdom was to us vs. the rest of world trade.
Colossal buying opportunity.
How about when the European banks were supposed to go bust again? This time Deutsche Bank (DB) - Get Report because of the Justice Department and the usual host of bad loans that they hadn't reconciled or owned up to.
Of course, the Justice Department has rules since the closing of Arthur Andersen that include not wiping big companies out with indictments.
So just take it off the table.
But the media wouldn't. The negativists wouldn't and it all turned out to be a non-event. DBank can now do a gigantic rights offering and hold out until the Trump administration's Justice Department comes in. Trump uses Deutsche Bank. What's he going to do: decide that they should be put out of business here?
Just one of those worries that was misplaced. Boy, was a lot of time and money wasted talking about it, though.
Then, of course, there is the dramatic one-night bear market over the election of Donald Trump. I remember thinking, OK, you fooled me with Brexit, you miserable pollsters, so I had done a couple of shows and many articles about a Trump victory so there was no going back about how good that could be.
Rate hikes? For several years we dreaded them. Unlimited downside. Now, because the market leaders are the banks, there could be some real downside to no hike. Plus, out of nowhere we stopped caring about the dollar except for the consumer packaged-goods stocks. Higher rates have given pension plan deficits a shot at easing. The savers are happy.
Yep, hikes? They are now requisite.
When you consider that litany of things that scared people and caused pundits with a degree of standing to say, "Get out now," you have to admit that you do feel pretty dumb if you sold.
So I think that right now when you get scared, the propensity is to say, "I gotta be careful not to lose too much stock as it is near year end and the selloffs in the last year were all colossal buying opportunities."
And that's why I think that when we should go down or give up the ghost, there is more fright about not buying than buying.
Just a change in how people think. A change in attitude.
A change in behavior that makes it much more of a liability to take action than to stand pat.
The new world.
At least for now.
Action Alerts PLUS, which Cramer co-manages as a charitable trust, is long WFC.
Cramer: Just When You Thought It Was Too Late to Get In ... It Isn't
Posted on Nov. 23 at 12:02 p.m. EDT
Wednesday is the hated-stock portion of the rally, the one for companies that nobody really believes in or has much hope for but fit the thesis of either "can't get worse" or "has to get better," with the corollary that they have all moved so it seems just way too late to get in ... but it isn't.
Deere (DE) - Get Report is the quintessential one of these stocks. This company's stock has moved up for months from the summer when it indicated things weren't so hot, but people started the process of saying, "How could it get worse, the farmers haven't bought new equipment in ages."
It is a classic, counterintuitive rally because what the farmers make--the actual commodities--have plummeted in price--and the company itself has had to deal with weak overseas markets and a strong dollar.
But what they have managed to do on the cost side is nothing short of amazing. It's almost as if they make as much selling one machine as they did selling 10.
There's still no real revenue story. This was all earnings, but the earnings are so powerful--as I think they will be for Caterpillar (CAT) - Get Report , too--that it doesn't really matter. Suspend your beliefs and buy? That's been the mantra for 25 points now.
United Rentals (URI) - Get Report is another "wing and a prayer" story, one that is a bet there will be a lot of building going on and that the oil patch will return to growth. Lots of people were burned by this one back at the end of 2014 when the company, which had told you it wasn't all that susceptible to an oil decline, got shocked itself--I really believe that--and disappointed multiple times.
But when Donald Trump won the election, the "can do" mob that believes in shovel-ready projects as well as those who think pipelines and drilling will be back in vogue have jumped on and it has become a "too good to check out" story.
Or how about Freeport (FCX) - Get Report ? Boy, have people fought this rally--there are still many negative analysts--even as it has fixed its balance sheet "enough" to be able to handle the future while copper has gone up. I call this one a play on oil stabilizing and the bulk freight index and JJC copper subindex going higher. It just keeps going up by dribs and drabs and you keep thinking this can't go on.
But it does.
Then there is Signet (SIG) - Get Report . This is one of those relentless shorts, the intractable kind where no one is going to declare victory on the short side even as we know now that it is a credit giver for those who want jewelry as opposed to a marketing company for jewelry.
The last quarter? Not good. But the thesis is still intact. More important? As the economy gets stronger, the lending side does well.
It goes from being a good short to a bad short.
That, oddly, defines what is going up now: bad shorts. Stocks like Wynn (WYNN) - Get Report and Tiffany (TIF) - Get Report fit the bill, too.
It's just a lousy time to be short heavily shorted stocks.
And that should inform you of what can go wrong at this particular time.
When is the right time to short? I continue to believe that health care has way too much enthusiasm given the strong dollar, weaker new products and an inability to raise price. It's the most overvalued portion of the stock universe, as you can see from the boutique bios, the big drug companies--the hype artist known as Lilly (LLY) - Get Report --as well as anything having to do with devices or generics.
All awful. All still shortable.
Action Alerts PLUS, which Cramer co-manages as a charitable trust, has no positions in the stocks mentioned.
Cramer: The Market Still Loves Higher Oils
Posted on Nov. 22 at 5:33 a.m. EDT
Perfect confluence? First we have Putin checking off on an oil output freeze and Iran and Iraq not been asked to cut output but to hold it right here, something that OPEC ministers say they are amenable to. Russia had been a bit of a question mark, but Iran and Iraq? That would be big news.
No matter, it all came together. And now if a deal happens, it's not done going higher and the market still loves higher oil. At least one thing hasn't changed post-election day.
Second we had a cold snap that finally awoke the natural gas bulls and had them snapping up the fuel and the stocks, notably Range Resources (RRC) - Get Report , Chesapeake (CHK) - Get Report and Southwestern (SWN) - Get Report , the big proxy plays.
Third, we had Elliott Management taking a position in Marathon Petroleum (MPC) - Get Report and asking them to split into several parts to unlock value. The company's been pretty good at doing so, but Elliott can get things to happen. One of the reasons why we own Arconic (ARNC) - Get Report in the Action Alerts PLUS charity portfolio is that Elliott is out there pushing for more change.
Fourth, Energy Transfer Equity (ETE) managed to find a way to make more money for its shareholders, even though it was at the expense of Energy Transfer Partners (ETP) , the MLP, by merging it with Sunoco Logistics (SXL) . It's a convoluted situation, but it does show that there's more consolidation coming and the consolidation won't all be as bad for the MLP holders as this one was.
All of these happened in one day; all within the umbrella of a Trump presidency.
What's incredible here is that, frankly, it happened again. Last week when oil hit $43 I said that OPEC would talk it right back up. That's just what happened. Right back up.
But the cold snap was unexpected and it came at a time of record inventories for natural gas, so let's just say the timing was impeccable.
Action Alerts PLUS, which Cramer co-manages as a charitable trust, is long ARNC.
Cramer: Don't Fight the Tide of Potential Good News
Posted on Nov. 21 at 2:26 p.m. EDT
The analysts are fighting this rally tooth and nail. So many of them don't believe in it, don't want it and are betting on it to end and end quickly.
Last week, for example, we got multiple downgrades of the bank stocks, which have been huge winners since the election of Donald Trump. We have seen regional banks be downgraded. We have seen major banks be downgraded. We have read that they have gotten overvalued and are away ahead of themselves.
And all they did was power higher. Why not? Despite their monster moves they are so far behind the rest of the market it's pretty humorous.
Bank of America (BAC) - Get Report , which has rallied from $16.60--it's tangible book value--to $20 since the election, is only back to where it was in April 2010. The Dow was at 10,625 back then. It's now at almost 19,000.
KeyCorp (KEY) - Get Report is only half of where it was in 2007 before the Great Recession but I could easily argue it is a much better bank now.
Action Alerts PLUS holding Citigroup (C) - Get Report , which just boosted its buyback by $1.75 billion, giving it $12.2 billion in firepower, isn't even back to where it was in July 2015. Yet it has cleaned up its balance sheet, boosted its earnings power and has a tangible book value of $64. That means every dime it spends on its stock down here at $55, admitted up from $47 before the election, is additive to earnings. It's supposed to earn $5.17 per share next year but I think it can earn a lot more if it keeps buying back stock and we get a couple of rate hikes, which, frankly, seem to be in the cards.
How can these banks be ahead of themselves when they are nowhere near where they used to be but we are facing an easing of regulation, rate hikes instead of rate cuts and the possibility of ending costly litigation and slimming compliance and legal departments that are all negative for earnings? The group's a buy not a sell.
Or how about this morning when Goldman Sachs goes buy to hold on Illinois Tool Works (ITW) - Get Report and 3M (MMM) - Get Report . Look, I totally get that these stocks have had nice runs. Illinois Tool Works traded as low as $79 in January of this year. It is now at $123. 3M, at $171, is 37 points from its low.
But when do you get back into these stocks if you sell them? 3M is up 13% for the year. You want to get back in when it is down five? Seven? Ten? Too cute by half.
Plus, I don't want to rub it in anyone's face, but on Jan. 22, 2016 Goldman Sachs took Caterpillar (CAT) - Get Report from a hold to a sell because of what it called an "extended commodity infrastructure downturn." The analyst used a price target of $51.
Today the stock is at $92. Ill-advised.
Finally, consider Monday's trashing of Apple (AAPL) - Get Report by Oppenheimer in a piece called "The First Crack." Opco said it expects Apple iPhone sales to peak in fiscal year 2018 and that it has nothing else to take up the slack. Why? "We believe Apple lacks the courage to lead the next generation of innovation; instead it will become more reliant than ever on the iPhone." (Apple is a holding in Action Alerts PLUS.)
What will happen to Apple then? "We believe Apple is about to embark on a decade long malaise. The risks to the company have never been greater."
OK, put aside that the company might get as much as $40 a share back if the government does a massive repatriation of overseas cash.
Can we stipulate that this company's stock may be inexpensive on 10 times that fated 2018 year's earnings? Can we say that its services revenue from the tired old iPhone with more than a billion users could be gigantic, larger than a Fortune 100 company next year? Can we accept that its R&D budget will produce something new different and better? Yes, I wanted Apple to buy Harman (HAR) . No, I don't think its best days are behind it. We resolved that when the stock was at $93; here it is at $111.
I don't want to fight that tide of potential good news for Apple or for any of these stocks. So be my guest. Battle the move. But accept that you aren't necessarily selling expensive stocks. You are just selling stocks that have run, and there's a great deal of difference between the two.
Action Alerts PLUS, which Cramer co-manages as a charitable trust, is long C and AAPL.
At the time of publication, Action Alerts PLUS, which Cramer co-manages as a charitable trust, is long WFC, ARNC, C and AAPL.