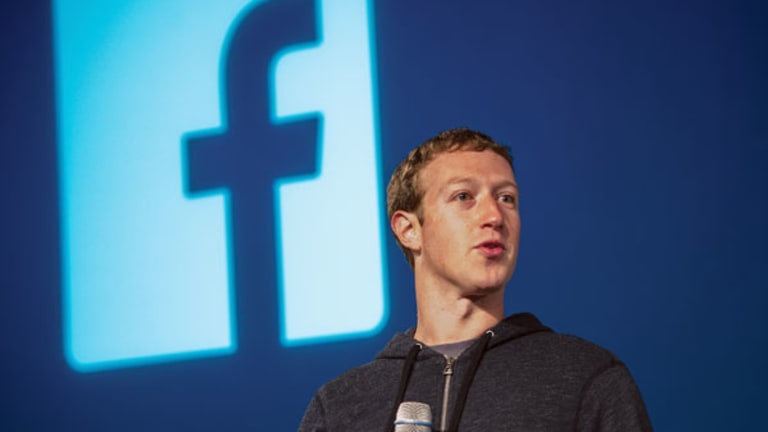 Can Facebook Crush Earnings Expectations Yet Again?
Mobile, Instagram, Messenger, WhatsApp and Oculus all appear to be doing well, but the social media giant faces tough quarterly comparisons.
Updated with additional analyst comments. 
Mark Zuckerberg will tell investors Wednesday if Facebook's (FB) impressive growth continued in the second quarter, or whether SnapChatand other forces are slowing the social media giant.
Wall Street expects the company to generate earnings of 81 cents per share from just more than $6 billion in sales, according to FactSet.
Video is also likely to be a point of emphasis.
"Zuckerberg says we are at the beginning of the golden age of online video," Jefferies analyst Brian Pitz wrote in an earnings preview on Monday, noting that live videos generate 10 times as many comments as regular videos.
While video is promising, Pitz cautioned that millennials are increasingly connecting on Snapchat. "Given that engagement is the key ingredient to [Facebook]'s recipe for success, any engagement declines should be viewed with caution," the analyst wrote.
Wall Street expects the company to generate earnings of 81 cents per share from just more than $6 billion in sales, according to FactSet.
"Mobile has been the main driver of growth to date," Cantor Fitzgerald analyst Youssef Squali wrote in an earnings preview. Video and Instagram will begin to "move the needle" in the second half of the year, he wrote, while Messenger, WhatsApp and virtual reality offering Oculus provide longer-term opportunities.
TheStreet's Jim Cramer, who owns Facebook in his Action Alerts PLUS Charitable Trust Portfolio, said he is concerned that confidence in Facebook has gotten "a little too high," but noted that large companies like Coca-Cola (KO) - Get Report are advertising on Facebook.
With over 1.6 billion monthly active users and 3 million advertisers, Michael Pachter of Wedbush suggested that the company has a "virtually insurmountable competitive advantage," in a second-quarter preview.
"We  expect Facebook  to  continue  its  rapid  growth  overseas,  and  expect  it  to  expand monetization  of  under-penetrated  Instagram,  WhatsApp  and  Messenger  assets over the coming years," he wrote. Instagram should add $4 billion to $5 billion in sales in the next two years, the analyst suggested, while WhatsApp and Messenger could contribute more than $3 billion in sales over that period.
Facebook's CFO David Wehner cautioned during the first-quarter call that comparisons to prior quarters would become more difficult this year "given the accelerating ad revenue growth we experienced throughout 2015," during the first quarter earnings. Other revenue sources could also be lower than last year.
While BTIG analyst Richard Greenfield noted that Facebook has "crushed" expectations lately and lauded its commitment to developing new lines of business, he downgraded the stock from buy to neutral ahead of the second-quarter call. The stock has traded above the $117 per share he set a year ago, and the analyst suggested that Facebook will have a tough time topping its recent success.
"Facebook remains one of the only ways to play the shift of legacy media ad dollars to mobile and its advertising growth rate remains staggeringly high, especially for a $348 billion market cap company," Greenfield wrote. "However, investor expectations over the past year have risen dramatically and we now feel the bar is simply too high."
While comparisons may get tougher, Facebook could get a lift from political advertising and the Olympics.
MKM Partners analyst Rob Sanderson suggested that Facebook and Instagram are in a good position to grab digital ad dollars, and suggested that political and Olympic spending could add $300 million to $500 million in sales in the second half of the year.
On Wednesday afternoon, Facebook shares were trading up 0.8% to $122.06.