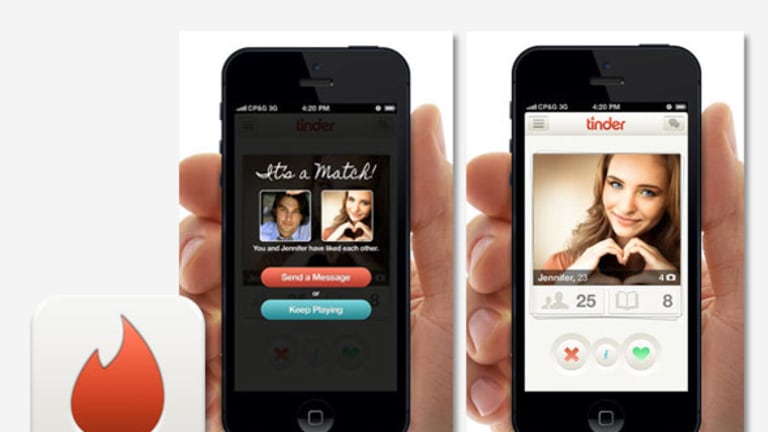 True Love May Take IAC Stock Past $80 With Tinder Plus App
Despite weaknesses elsewhere at Barry Diller's media conglomerate, the fledgling subscription mobile dating service should help shares of IAC continue its upward march.
LOS ANGELES (TheStreet) -- IAC/InterActive (IACI) first-quarter earnings gave Wall Street a tantalizing sliver of Tinder Plus, its weeks-old subscription dating service that analysts largely agree should push the company's stock past $80 and make up for declines in other businesses.
Shares of Barry Diller's media conglomerate, whose holdings include search engine Ask.com and video-streaming service Vimeo, rose as much as 2.1% in early trading Wednesday before slipping with the broader market, to fall 0.7% to $70.94. New York-based IAC has gained 16% compared with a 4.3% gain for the S&P 500 Media Industry Group.
IAC, which has labored to reverse slowing growth at its search and some web properties, has been spurred in large part by Wall Street's bet on Tinder, the mobile dating app that connects users near each other. The app, first popular on college campuses, has earned a reputation for its popularity among young people who can connect with just an approving swipe on their smartphone.
"This is a game of critical mass, and they have it," said Mark Brooks, chief executive officer of online-dating consultancy Courtland Brooks.
In the search for modern love, Tinder also has a wide appeal as actress and former Nickelodeon teen star Hilary Duff said this week she found the service "wildly addicting." But the international roll out of the fledgling Tinder Plus at the tail end of the quarter that ended in March has Wall Street believing IAC has found a way to generate meaningful revenue from the 3-year-old matchmaker.
"Investors are increasingly optimistic about the monetization potential for that asset," said Barclays analyst Chris Merwin. "That's the main thing that's changed in the last few months."
Merwin has a target price of $83 for IAC, whose Match Group includes Tinder and online dating services OKCupid and Match.com.
Merwin estimates Tinder could generate quarterly revenue of up to $12 million, but its significance would allow IAC to create value without singular events, like spinning off assets.
"Increasingly, people are more focused on the opportunity for estimates to move higher organically as they monetize Tinder, and so the stock doesn't require an event like it used to," Merwin added.
Brooks believes Tinder should also bring in more money from subscriptions than it could from selling ads.
IAC on Tuesday reported better-than-expected first-quarter income of $26.4 million, or 30 cents per share, due in large part to more subscriber revenue from dating sites and strong early response to Tinder Plus. Excluding some items items, the company earned 43 cents a share, topping analyst estimates of 35 cents a share, according to a Thomson Reuters survey.
Tinder Plus's "payment and renewal rates came in solidly against expectations," Match Group chairman Greg Blatt said in a statement.
Although the company doesn't release Tinder Plus subscriber figures, it said subscriptions in its dating business grew 16% in the quarter while revenue from the sites increased 2%. Some estimates peg Tinder users at about 24 million while the app has been downloaded more than 40 million times.
UBS's Eric J. Sheridan has set a price target of $82 despite first-quarter revenue from its dating services falling below his estimates.
RBC Capital Markets analyst Mark Mahaney has price target of $65 and cited risks from general slowing online ad sales and e-commerce as well as many challenges among IAC's search and apps segment.
"Its Match/Personals segment, on the other hand, shines, with clear market-share leadership, significant revenue and profit visibility, thanks to a subscription model, and a surging play (Tinder) on 'alternative dating' solutions," Mahaney wrote in a research note.
But Tinder's road ahead could be bumpy "with a greater deal of uncertainty than usual, just by virtue of its early stage of development," IAC's Blatt cautioned.
Tinder has already weathered early skepticism when it unveiled a tiered pricing plan for Tinder Plus based on age, charging users 30 and older $19.99 per month in the United States, double the fee for 20-somethings.
Brooks said the pay service should by nature hold down some growth, but he also was surprised the company unveiled it as soon as it did.
"The reason they have started charging this early is that they can't let mobile dating become entirely free," Brooks said. "If the (free) category as a whole gets too big, it kills market for them. ... It is actually quite strategically critical that they don't let mobile dating be too free."
Competing against larger services like IAC's fellow sites and market leader Plentyoffish.com, Tinder Plus lets the company establish new consumer expectations.
"They needed to at some point start branding," Brooks said. "It's the brand leader that will win this game."
This article is commentary by an independent contributor. At the time of publication, the author held no positions in the stocks mentioned.