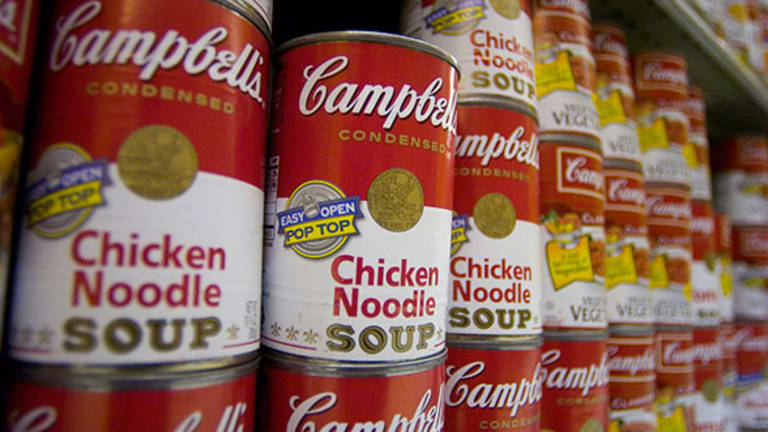 Campbell's Soup CEO: 'I Have Never Seen Industry Conditions Like Today'
The head of the storied soup company says it must completely rethink how it does business amid "revolutionary change" in the food industry.
NEW YORK (TheStreet) -- One storied maker of canned tomato soup is finding that in order to grow amidst the rapidly changing food preferences of U.S. consumers, it must find life beyond the can.
"In my career, I have never seen industry conditions like today," Campbell's Soup (CPB) - Get Campbell Soup Company Report President and CEO Denise Morrison said in a presentation to investors today.
Referring to the packaged-food industry as being in the middle of a "period of revolutionary change," Morrison stated that conditions are "far from the Rockwell-esque picture us in the food business are accustomed to." Morrison citied major cultural changes, changes in the size of American households, and a growing movement toward simpler foods and organics. 
The rapid changes well underway in the packaged-food sector, which are mostly hurting sales in the less-trafficked centers of supermarkets, has caused Campbell's to rethink how it does business. For one, the company unveiled a new food-information website called whatsinmyfood.com, where it will allow consumers to surf for details on how Campbell produces and sources its packaged food.
According to Morrison, consumers in the U.S. have a yawning distrust of the origins of the food made by big food manufacturers. The new website, rich in ingredient information and general product facts, will be an initial step in reestablishing waning consumer trust.
More food transparency means it's back to the drawing board for Campbell's Soup to reformulate ingredients and introduce more organics. The company plans to remove artificial colors and flavors from nearly all of its North American products by the end of fiscal 2018. Additionally, Campbell's will move away from using high-fructose corn syrup in certain products, including the complete line of Pepperidge Farm fresh breads by the end of fiscal 2017.
While investors may be clamoring for Campbell's to more quickly rework its recipes to bake up better sales, doing so is no easy task. 

"There is no silver bullet, there is no way to do some huge product makeover overnight, it is a bit of a long march to do this," Mark Alexander, the president of Campbell's Americas Simple Meals and Beverages business, said in an interview with TheStreet. 

Alexander said the slow reformulation process stems from Campbell's producing more than 1,000 stock-keeping units, or SKUs, requiring a new recipe to be created for each one. "Every product has a different blend of ingredients, different vegetables, different rice, different potatoes, different meat -- and then it has to taste great as well," Alexander said.
In August, the company will launch three new organic chicken noodle varieties designed for kids. The new organic soups will be free of controversial genetically modified organisms (GMOs) and will use ingredients sourced from certified U.S. organic farms.
An early benefit from Campbell's ingredient revamp is some love from major retailers like Wal-Mart (WMT) - Get Walmart Inc. Report and Target (TGT) - Get Target Corporation Report, which are devoting more prime space in their giant stores to healthier products. "Clearly we are getting more and more shelf space for our better-for-you product lines," Alexander said.
Campbell's recent actions follow earlier ones taken to remain competitive, mainly cutting costs to free up money to invest in new food trends such as fruit and vegetable drinks, salsa and hummus. To do that, Campbell's unloaded its European simple-meals business in 2013, and in June of this year it shelled out $231 million to acquire Garden Fresh Gourmet.
Garden Fresh produces refrigerated salsa in the U.S. and also makes hummus, dips and tortilla chips that are found in the well-trafficked perimeters of supermarkets. The purchase of Garden Fresh Gourmet now gives Campbell's Soup a formidable presence in the deli area that is often jam-packed with fresh food, complementing its Bolthouse Farms brand. Campbell's spent $1.55 billion in 2012 to purchase Bolthouse Farms, the maker of super-premium juice beverages in the U.S., as well as refrigerated salad dressings and bagged carrots.
Campbell's recent sales and profits demonstrate why it's important for Morrison and her team to aggressively remake the business. Organic sales for Campbell's declined 1% in the third quarter ended May 3.  Adjusted profits fell 2%. U.S. soup sales plunged 10%, driven by volume declines, while sales at the Bolthouse and foodservice division fell 1%, owing to volume declines in carrots.
On Wednesday, Campbell's increased the amount it expects to save under an ongoing restructuring plan by $50 million, to $250 million. Executives plan to achieve the goal by the close of fiscal year 2018. But, in a nod to competitive industry conditions, the company issued a new long-term organic sales growth goal.
Campbell's now is looking for organic sales growth of 1% to 3%, compared to a previous target of 3 to 4%. Long-term adjusted earnings growth targets, which exclude currency translation, remained unchanged in a range of 5% to 7%. 
"The actions we have taken have not been sufficient to meet our expectations," Morrison said. "It's simply not enough."
Investors may at least think Morrison is headed down the right path with her series of actions. Shares of Campbell's have gained 9.6% this year, outperforming the Dow Jones Industrial Average's modest increase and the S&P 500's 2.7% advance.
Morrison's comments echo several made by others in the packaged-foods industry that are also dealing with more demanding, time-starved consumers and changes within the family dynamic. 
"We have, over time, reduced the amount of sugar in our cereals," General Mills (GIS) - Get General Mills, Inc. Report CEO Ken Powell said in an interview with TheStreet, when asked how the company would reignite sluggish sales of sugary cereal. "They are all 10 grams or less now [per serving], and talking to consumers, they think single digit grams is OK. I think the perception out there is slowly changing."
General Mills will release new gluten-free cereals this summer, along with new organic soups from its Annie's brand.
Smaller family sizes have also triggered some changes at PepsiCo's (PEP) - Get PepsiCo, Inc. Report Frito Lay division in order to continue serving up solid profits. "The biggest thing we have done is repositioned some of the packaging," PepsiCo Vice Chairman and CFO Hugh Johnston said in a July 9 interview. "We are featuring more of what we call the XL size and less of the XXL size."