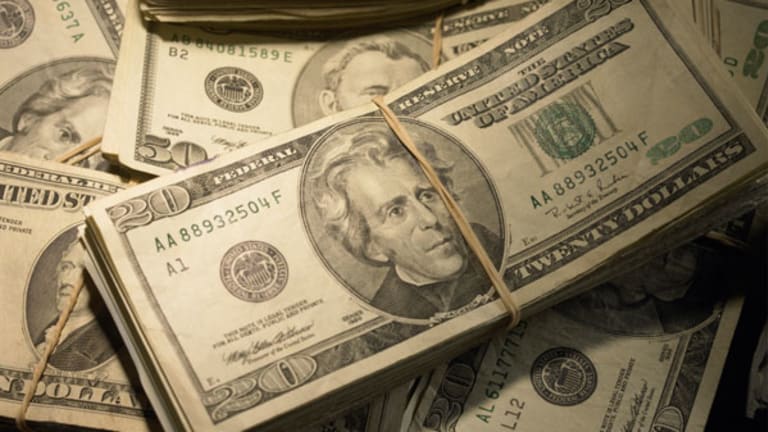 Publish date:
Campbell Soup, Hartford Financial, Starbucks: Doug Kass' Views
Doug Kass shares his thoughts on soup, insurance and Starbucks.
Doug Kass shares his thoughts on soup, insurance and Starbucks.
Doug Kass shares his views every day on RealMoneyPro. Click here for a real-time look at his insights and musings.
Looking for Mr. Goodbar in the Soup and Insurance Aisles
Originally published Oct. 19 at 7:57 a.m. EDT
Theresa: "Go set the world on fire."
Tony Lo Porto: "On a couple of bucks!"
Theresa: "Find a smaller world."
--Looking for Mr. Goodbar
Sisters Diane Keaton (who was nominated for a Golden Globe Award for Best Actress--it was the year she won an Oscar for "Annie Hall") and Tuesday Weld (who received an Academy Award nomination for Best Supporting Actress) looked for Mr. Goodbar at bars and clubs in the iconic movie during the sexual revolution in the mid-1970s. It was the movie that introduced and launched the careers of three male actors: Richard Gere, LeVar Burton and Tom Berenger.
Importantly, from my perch, the movie's soundtrack was par excellent and included a number of famous disco songs (and others) such as "Lowdown" (Boz Scaggs), "Machine Gun" (Commodores), "Love Hangover" (Diana Ross), "Try Me, I Know We Can Make It" and "Could It Be Magic" (Donna Summer) and, my fav, "Back Stabbers" (O'Jays).
Many investors (me included) often "look over and check out" the potential for takeover stocks throughout the marketplace. Rumors are always swirling in that "pursuit," and the reality is that most are false, and few deals are identified properly.
But we try as the ecstasy of having a takeover target in one's portfolio is invigorating!
Campbell Soup (CPB) - Get Report and Hartford Financial Services Group (HIG) - Get Report , are my two current takeover candidates. Both are now included in my portfolio.
Just as critics found "Looking for Mr. Goodbar" as lurid and muddled, both have operating challenges, so the stocks are not without risks--CPB in its core product lines and HIG in its underperforming auto line.
But, Campbell Soup and Hartford Financial are appropriately sized to be acquired, have large opportunities for return-on-investment improvement and have saleable non-core assets and are currently priced at a reasonably large discount to private-market value.
Maybe I will "get lucky" and be kissed by one of them sometime in the future.
Position: Long CPB small, HIG large .
The Good, the Bad and the Ugly
Originally published Oct. 18 at 4:00 p.m. EDT

"I've never seen so many men wased so badly."
-- Blondie in The Good, the Bad and the Ugly."
And now it's time to run down "The Good, the Bad and the Ugly" ...
The Good

The market was up from the get-go.
(T)FANG is the world's fair. High beta was generally at the market forefront today, e.g. Priceline (PCLN) .
Bonds continue to get bid for. Yesterday I made the case why the big decline in bond prices and rise in bond yields might abort for a few weeks or months. I covered my large iShares Barclays 20+ Yr Treas.Bond ETF (TLT) - Get Report short and reduced to small. (Gundlach, Tepper expressed an opposite view on CNBC yesterday). That said, I still believe a generational bottom in bond yields was made in early July.
Best Ideas member and my favorite large-cap long, DuPont (DD) - Get Report , was "DuLovey" again and looks like it has a date with $70.
Radian (RDN) - Get Report was up 3% to a new multi-month high and, since it became a Best Ideas List idea, is now up 45%.
Gold rose $7 an ounce, which was good for SPDR Gold Trust ETF (GLD) - Get Report and Direxion Shares Exchange Traded Fund Trust (JNUG) - Get Report. I have been adding GLD.
Banks and brokers both gained.
Fertilizers rose despite lower commodities prices.
The Bad

Retail continues to lag.
Biotech and big pharma rebounded from recent weakness.
Junk bonds rallied with a small increase in crude oil prices (+$0.36).
W.W. Grainger (GWW) - Get Report follows a disappointing EPS from Fastenal (FAST) - Get Report . Signpost of slowing manufacturing growth.
Disney (DIS) - Get Report and Action Alerts PLUS holding Starbucks (SBUX) - Get Report continue as conspicuous underperformers. I continue to see lower guidance and EPS headwinds.
The Ugly
Johnson & Johnson (JNJ) - Get Report was off more than $3, and International Business Machines fell $4 on EPS disappointments.
Position: Long GLD, DD, RDN, SDS; short SPY, TLT small, FAST small, SBUX small, DIS small.
Action Alerts PLUS, which Cramer co-manages as a charitable trust, is long SBUX.
At the time of publication, Kass and/or his funds were long/short XXX, although holdings can change at any time.
Doug Kass is the president of Seabreeze Partners Management Inc. Under no circumstances does this information represent a recommendation to buy, sell or hold any security.