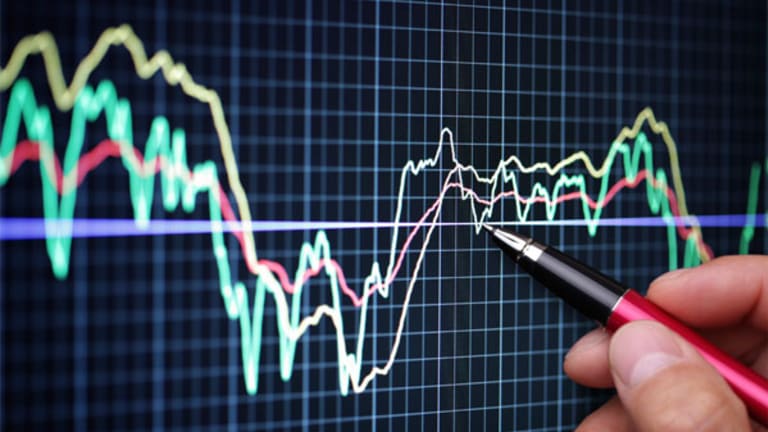 Calling an Audible; The Merits of Contrarian Thinking: Best of Kass
In highlights from this week's trading diary and posts, Kass discusses calling an audible and ponders the merits of remaining contrarian.
Doug Kass fills his blog on RealMoney every day with his up-to-the-minute reactions to what's happening in the market and his legendary ahead-of-the-crowd ideas. This week he blogged on:
Why he's calling an audible.
How being contrarian is still a good idea.
Click here for information on RealMoney, where you can see all the blogs, including Doug Kass'--and reader comments--in real time.
Calling an Audible
Originally published May 17 at 3:35 p.m. EST
Break in!
With the S&P Index now down by nearly 40 handles (and SPDR S&P 500 ETF Trust (SPY) down by -$3.85) I am calling an audible and selling my large ProShares UltraShort S&P500 (ETF) (SDS) and ProShares Trust UltraPro Short QQQ ETF (SQQQ) longs.
I am also taking off my PowerShares QQQ Trust, Series 1 (ETF) (QQQ) short (with the ETF down by nearly $3/share)
This is a tactical move for the short term--as I suspect (or am hopeful!) that I will have a chance to reload at better prices.
Moreover, I will be travelling tomorrow and I will be out of the office. And in these volatile times I recognize anything may happen--so I will reduce as I will not be "on watch."
These moves will move me all the way back to small net short.
In no way am I changing my market negative market view that we have essentially seen a market top for this year.
But it is important to remember that leveraged ETFs (whether bullish OR bearish) are trading vehicles and short term rentals--not long term leases--because of the premium decay and poor tracking (which I have written intensively about in the past).
Position: None.
The Ongoing Merits of Contrarian Thinking
Originally published May 16 at 8:53 a.m. EST
About nine months ago I wrote about a contrarian thesis onf " Peak Autos," owing to the intersection of record-high incentives, inventory to sales (on lots) back to 2007 levels, lower used-car prices, deteriorating auto loan paper, and a record number of cars coming off of lease.
Many hedge funds disagreed with my thesis; indeed, several high-profile hedgehoggers took large positions in General Motors (GM) .
And, at that time, the business media was still talking about the continued cyclical recovery in auto shipments.
Recent evidence over the last three to four months clearly indicates that the automobile industry has indeed peaked.

I recently suggested that production cuts lie ahead for the car industry, though Ford (F) and GM disclaimed this.
Late yesterday, Ford announced that 10% of the company's global labor force would be laid off.
I continue to view the car companies' earnings estimates and guidance for 2017-2018 as materially inflated and the major auto stocks remain value traps despite their seemingly low valuations.
Position: None.
Action Alerts PLUS, which Cramer manages as a charitable trust, has no positions in the stocks mentioned.