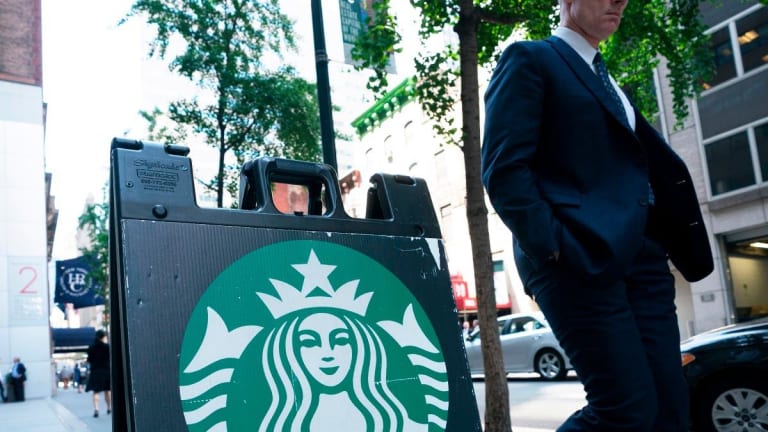 California Supreme Court Rules Against Starbucks in Wage Case
State high court sides with employees that all time worked must be compensated.
The Supreme Court of California ruled that a Starbucks Corp. (SBUX)  employee was entitled to full compensation for all hours worked in a ruling on Thursday, July 26, that could have significant implications for employees and employers alike.
The high court ruled in Douglas Troester v. Starbucks Corp. that small time periods worked by the employee must be compensated by his employer, a divergence from federal law.
"We have said that application of a de minimus rule is inappropriate when 'the law under which this action is prosecuted does care for small things," the justices wrote in the decision.
"This will bring about a sea change in wage-and-hour disputes in California and invite a slew of class action suits against employers," Grant Alexander, a partner for Alston & Bird, told TheStreet. Alexander is not involved in the case.
Troester's attorney Shaun Setareh, a partner at the Setareh Law Group of Beverly Hills, told TheStreet on Tuesday:"We are very happy that the Supreme Court ruled in our favor." 
In the suit, Troester alleged that Starbucks Corp. required him to clock out before completing tasks which were mandated by the company. Those included a store closure procedure to transmit sales, profit and loss and inventory data to Starbucks headquarters. 
At issue in the case was whether the federal Fair Labor Standard Act's de minimis doctrine applies to unpaid wages under sections of the California Labor Code. The doctrine's standards deal with whether the time is insignificant, infrequent and difficult to record.
Troester was a shift supervisor at a Los Angeles Starbucks earning minimum wage, around $8 an hour. Setareh told TheStreet that Troester could very well have been fired had he not performed the off-the-clock tasks outlined in the brief. After Troester left Starbucks' employ, the coffee-house retailer changed its policy so that its employees in California are paid for the time and tasks in dispute by Troester.
"With this decision, there's going to be increased scrutiny on California employers who use rounding," San Francisco attorney Kirstin Muller, a partner at Hirschfeld Kraemer LLP, told TheStreet on Tuesday.  Muller is not involved in the case. "Rounding" is a method whereby employers either round up or round down employee hours. 
She believes that this decision will result in more monitoring of employees by employers, but also more money for employees, both in wages, and potentially in class action suits against employers. Some experts have estimated that the case could cost Starbucks alone seven figures, and that all California employers with hourly workers could find themselves in legal and financial jeopardy if they aren't paying their workers for all the time they've worked.
Starbucks, which reported earnings on Thursday, said through a spokeswoman: "We are disappointed with the court's decision. We will await further disposition of the case before the 9th circuit as the appeal process continues."
The case next goes to the U.S. Court of Appeals for the Ninth Circuit.
Muller said the decision was not unexpected, because "the California Supreme Court has been vocal about protecting rights, right to breaks, right to time off and right to be paid for all hours of work."