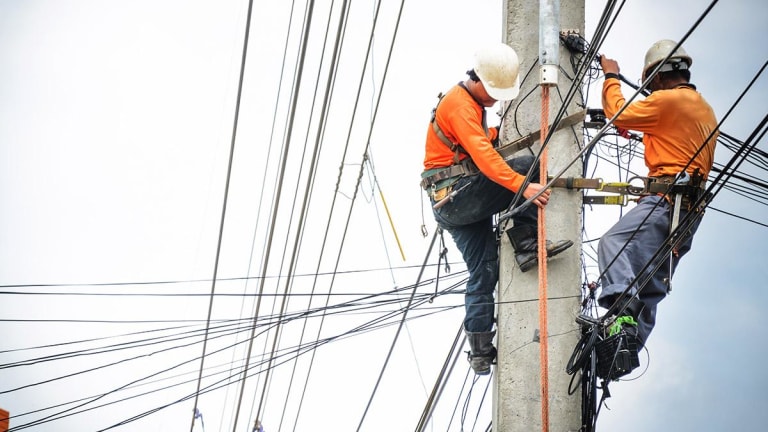 California Launches Probe of PG&E Power Shutoffs
State regulators vow utility won't be allowed to repeat massive shutdowns.
California regulators launched a probe Monday into PG&E Corp.'s (PCG) - Get PG&E Corporation Report use of public safety power shutdowns (PSPS) to reduce the risk of wildfires during dry and windy conditions in the state.
Millions of Californians have been without electricity since Saturday as the utility shut off service in dozens of counties due to an unprecedented high-wind event. Near hurricane force winds Sunday fanned a wildfire north of San Francisco, causing it to double in size to more than 100 square miles. The fire has been linked to a failure of a PG&E transmission line. A year ago another fire blamed on PG&E equipment failure destroyed the entire town of Paradise, California, killing more than 80 people.
The utility was cleared of causing another fire in 2017 that killed 22 people by a state investigation. However, a judge has allowed victim lawsuits to go forward on the basis of new evidence suggesting the utility's equipment was to blame in that case as well.
PG&E sought bankruptcy protection in January under the weight of billions of dollars in liabilities from the fires.
The utility has provided few details to customers affected by the current outages about when they can expect to have service restored.  In addition, another strong wind event is predicted for Tuesday which PG&E says may prompt more shutoffs, or extensions of service cuts to people already without electricity.
"The state cannot continue to experience PSPS events on the scope and scale Californians have experienced this month," California Public Utilities President Marybel Batjer said in a statement announcing the investigation.
Shares of PG&E fell $1.20, or 24%, to $3.80 Monday after losing about 30% on Friday.