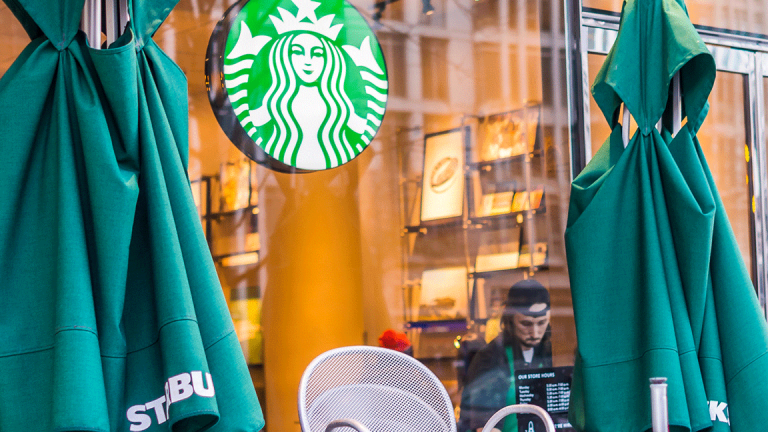 California Justices Focus on 'Seconds, Not Minutes' in Starbucks Labor Case
Some justices expressed surprise that with ever-present smartphones, technology isn't used to record employees' off-the-clock time.
Starbucks Corp.  (SBUX) - Get Starbucks Corporation Report  is under fire for a number of things, chief among them is a case in California Supreme Court, where the company is disputing whether small amounts of work time should be compensated. The ramifications for the world of retail, or really any industry where the workers are predominantly hourly wage gainers, are huge.
Justices of the California Supreme Court on Tuesday, May 1, focused their questions to attorneys on how to track off-the-clock work performed by employees, seemingly dispensing with the de minimus doctrine, during oral arguments in the wage-dispute case Troester v. Starbucks, an attorney told TheStreet.
"A lot of questions were slanted to how do you capture time worked by employees? The justices were concerned with seconds, not minutes," Grant Alexander, a partner at Alston & Bird in Los Angeles, where he handles wage-and-hour disputes for employers, told TheStreet on Tuesday after listening to oral arguments in the case.
In plaintiff Douglas Troester's suit, he alleges that Starbucks Corp. required him to clock out before completing tasks at a Los Angeles County store, which were mandated by the company. Those included a store closure procedure to transmit sales, profit and loss and inventory data to Starbucks headquarters.
Some experts have estimated that the case could cost Starbucks alone seven figures, and that all California employers with hourly workers could find themselves in legal and financial jeopardy if they aren't paying their workers for all the time they've worked.
Some justices expressed surprise that with ever-present smartphones, technology isn't used to record time, no matter how short. Justice Goodwin H. Liu questioned whether an app exists to record employees' off-the-clock work. Justice Ming W. Chin asked whether any amount of time performed by an hourly worker is not indeed compensable. 
Starbucks' attorney Rex S. Heinke, of Akin Gump in Los Angeles, argued that a reasonable standard must be applied for small amounts of time that are difficult for employers to record.
The plaintiff's attorney Stanley D. Saltzman, a partner with the Agoura Hills, Calif., firm of Marlin & Saltzman, countered that all work performed by an hourly employee must be paid. He added that employers could determine which employees haven't been paid for all their time and be compensated for an extra four to seven minutes, for example, when it applies.
At issue in the case is whether the federal Fair Labor Standard Act's de minimis doctrine, as stated in the U.S. Supreme Court case from 1946, Anderson v. Mt. Clemens Pottery Co., and Lindow v. United States from 1984, applies to unpaid wages under sections of the California Labor Code. The doctrine's standards deal with whether the time is insignificant, infrequent and difficult to record.
In Troester's suit, he also alleges that he routinely wasn't paid for the required tasks of locking the store and escorting coworkers to their cars, which he maintains the company required as part of its safety guidelines. The plaintiff alleges that these tasks took four to 10 minutes daily and that during the 17 months he worked for the company, he racked up some 12 hours and 50 minutes of unpaid closing-shift time, which is a full day-and-half in unpaid minimum wages. The period covers mid-2009 to October 2010. The alleged nonpayment owed Troester is some $120.
Troester was a shift supervisor at Starbucks earning minimum wage, around $8 an hour. Troester's lead attorney, Shaun Setareh, a partner at Setareh Law Group in Beverly Hills, told TheStreet that Troester could very well have been fired had he not performed the off-the-clock tasks outlined in the brief. After Troester left Starbucks' employ, the coffee-house retailer changed its policy so that its employees in California are paid for the time and tasks in dispute by Troester.
San Francisco attorney Felicia R. Reid, with the law firm Hirschfeld Kraemer LLP, where she specializes in primarily on wage-and-hour class action defense, told TheStreet Tuesday that federal cases have ruled that 10 to 20 minutes of unpaid work is insignificant, or de minimus. She believes that the California justices were gauging how to factor every second worked into employee wages. 
Reid also noted the potential reach of the case. "This is an example that we see in wage-and-hour law that looks like angels dancing on the head of a pin," she said, "but the consequences for Starbucks could be multi-millions of dollars."
The justices are expected to rule on the case in 60 to 90 days.