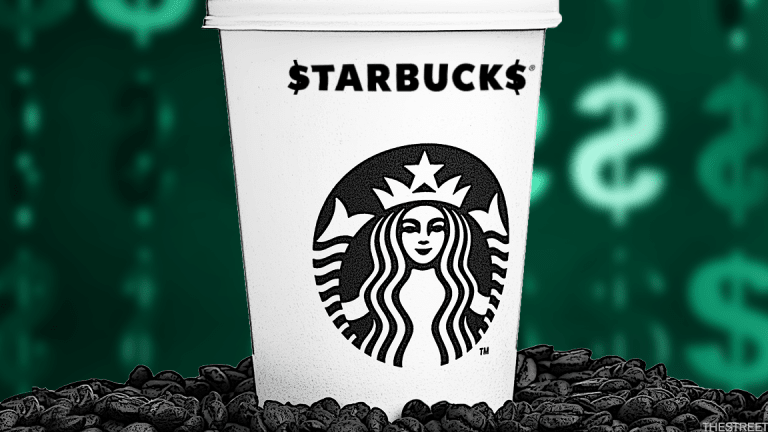 Starbucks Could Pay Some 'Seven Figures' If Wage Dispute Becomes Class Action
An ex-Starbucks shift supervisor in Los Angeles County claims the coffee-house retailer owes him back wages for off-the-clock work that was mandated by the company.
Starbucks Corp. (SBUX) could end up paying "seven figures or more," if a wage-and-hour dispute with an ex-employee in California leads to a class action suit involving thousands of current and former employees, Grant Alexander, a Los Angeles attorney who represents employers in wage-and-hour disputes, told TheStreet on Tuesday, April 24.
The six-year-old case of Troester v. Starbucks Corp. is set for oral arguments on May 1 before the California Supreme Court. If Troester prevails, his attorney Shaun Setareh, a partner with Setareh Law Group in Beverly Hills, told TheStreet on Tuesday that he would file to certify the class of affected Starbucks workers, which he estimates to be in the thousands, with the Central California Court. The plaintiff Douglas Troester, a former shift supervisor at a Starbucks in Los Angeles County, is suing the company for lost wages.
A ruling in favor of Troester "has the potential to open up a whole new area of wage-and-hour disputes" for retail and other companies throughout the state, said Alexander, a partner at the firm Alston & Bird, who is not involved in the case. "It's a deep breath before the plunge. Everyone is watching to see what the court decides."
If Troester prevails, Alexander added, many California employers may need to assess whether they, like Starbucks, are vulnerable and owe employees for unpaid work. 
In Troester's suit, he alleges that the company required him to clock out before completing tasks mandated by the company. Those included a store closure procedure to transmit sales, profit and loss and inventory data to Starbucks headquarters. In addition, he alleges that he routinely wasn't paid for the required tasks of locking the store and escorting coworkers to their cars, which he maintains the company required as part of its safety guidelines. The plaintiff alleges that these tasks took four to 10 minutes daily and that during the 17 months he worked for the company, he racked up some 12 hours and 50 minutes of unpaid closing-shift time, which is a full day-and-half in unpaid minimum wages. The period covers mid-2009 to October 2010. Setareh said that Troester could very well have been fired had he not performed the off-the-clock tasks outlined in the brief. 
Central to the case is whether the federal Fair Labor Standard Act's de minimis doctrine, as stated in the U.S. Supreme Court case from 1946, Anderson v. Mt. Clemens Pottery Co., and Lindow v. United States from 1984, applies to unpaid wages under sections of the California Labor Code. Both cases deal with interpretation of what constitutes compensable wages for employees. In such cases, plaintiffs claim that all work for a company should be paid, whereas the defendants take the position that the time and amount are so small that it can be burdensome for employers to track it. 
The back wages that Troester is claiming is small, $120. Troester worked for Starbucks at a minimum wage of around $8 an hour. However, if the case covered the same ground for current and former employees of Starbucks as a class of thousands, the settlement, interest and attorney and court fees, add up to a high figure.
"Although Starbucks is claiming that the amount is so miniscule, the company is nickel-and-diming hardworking Americans, while fattening the wallets of corporate America," said Setareh. He added that because for many American workers, an extra $100 or so, makes a difference in whether they can feed their families, the amount is meaningful, not minimal.
With 2,874 Starbucks in California, it has the most of the coffee retailer's stores of any state: 2,001 are company-owned and 873 are licensed by Starbucks. 
After Troester left the company, Starbucks changed its policy and now pays employees for the tasks in dispute by Troester. Starbucks declined to comment on why it made the policy change, the Troester case or other company details, saying it's because it is in the "middle of litigation." Starbucks' attorney Rex S. Heinke, of Akin Gump in Los Angeles, declined to return a call to TheStreet.
Troester originally filed his suit in 2012 in Los Angeles Superior Court. From there, Starbucks filed a motion for summary judgment in Central California Court, which it received. Troester appealed the summary judgment in the Ninth Circuit Federal Court, then requested that it be heard by the California Supreme Court, because he and his attorney don't think the de minimus defense applies to California minimum-wage claims.
Alexander estimated that the Supreme Court could rule in 60 to 90 days.