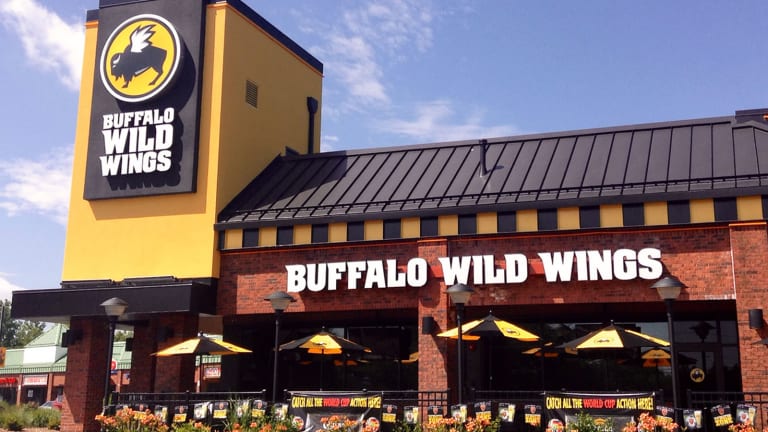 BWLD, DRI, PG, KMB: Jim Cramer's Views
Jim Cramer shares his views on pricing disappointment and rate hikes and the dollar. Buffalo Wild Wings, Darden, Procter & Gamble and Kimberly-Clark are among the stocks discussed here.
NEW YORK (Real Money) -- Jim Cramer shares his views every day on RealMoney.Click here for a real-time look at his insights and musings.
The Prevailing Question: What Went Wrong?
Posted at 3:10 p.m. EDT on Thursday, Oct. 29, 2015
How do you price in disappointment? How does a market decide whether some company's weaker results have pin action, or are indicative of some broader trend and a whole sector has to be avoided and the bear let loose?
That's what's confounding people today, and the confusion, alas, is justified.
Let's start out with a company that's been known for its consistency through the years, Buffalo Wild Wings (BWLD) . This chain's been one of the best performers of the era. Five years ago, it was at $50. Now it is at $150. But a month ago it was at $207. And it has fallen an astounding $33 or 18% in one session.
What went wrong? Perhaps the better question to ask is what didn't go wrong? Same-store sales, the key metric to measure retail, showed a dramatic deceleration, with franchise restaurants gaining only 1.2%. It might not be getting any better because, quarter to date, the company's generating 2.8% same-store sales, which sounds like a pickup until you recognize that analysts were estimating the company's sales were running at a 5.5% rate Net earnings guidance went from 13% to single digits. Plus, raw costs are stubbornly high. Wage pressures helped reduced the net. It was an ugly set of facts, mitigated only by the fact that some sports programming didn't go their way.
What does it mean, though, for the rest of the group? We know what happened. As to be expected, almost every restaurant stock got hammered. Darden (DRI) - Get Report, parent of Olive Garden, was smashed down by a couple of bucks. DineEquity (DIN) - Get Report, parent of IHOP, fell more than two bucks to a 52-week low. Panera (PNRA) , which I like very much for my charitable trust, was obliterated, falling five bucks on the heels of a previous decline of a similar magnitude after it reported an unloved quarter.
The already beaten-down Chipotle (CMG) - Get Report fell another five points, but that's not as bad, given that it's on a $650 basis.
Now we have to ask, is this right? First, unlike the other chains, except Chipotle, Buffalo Wild Wings was priced for perfection. Second, it's possible the whole thing was just a momentary pause; you get a couple of big football games like a Sunday night game between the unbeaten Broncos and Packers on NBC and maybe October gets a big boost, especially if the Mets come back after faltering in Kansas City.
But then again, you come back to labor costs. Insurance costs. Food costs. These are across the board, with the possible exception that the rest of the chicken's cost has declined more than wings. These are not good trends, so the disappointment makes some sense.
Making things more palpable, there are two restaurant stocks that barely got dinged: McDonald's (MCD) - Get Report and Domino's (DPZ) - Get Report. Unlike all the other stocks, McDonald's is a special-situation turnaround. Domino's has that fabulous business model of franchises coupled with a monster $800 million buyback just announced. Domino's, however, is the antithesis of the rest of the group. Not comforting.
Bottom line: Buffalo Wild Wings is a very negative story with a ton of justifiable pin action: higher costs, lower customer count despite cheaper gasoline, in other words, stay away. The saving grace? As these stocks come down, they get cheaper. I am inclined to wait three or four days to see the lay of the land and see which babies were thrown out with the bathwater.
Then there's the incredibly curious case of NXP Semiconductor  (NXPI) - Get Report, the ultimate Internet of Things player that gave shockingly cautious guidance including this curious verbiage: The company has seen "increased and significant degree of uncertainty" including "lower than planned sell-through and higher channel inventory." In other words, prices have to be cut for their semiconductors across the board.
NXPI is often lumped in with Avago Technologies (AVGO) - Get Report and Skyworks Solutions  (SWKS) - Get Report, both of which were clubbed in the guilt-by-association trade as all three supply chips to the same plethora of customers.
Yet, when you think about it, something's wrong here, too. NXPI has plenty of automotive business and that's the hottest business in the universe. And it has terrific near-field communications chips that allow for lots of mobile applications that are all the rage. Plus, we just heard from Apple (AAPL) - Get Report that cellphones are incredibly strong and the inventories are lean and the sales for the future sound so positive that I think the stock's got legs, perhaps back to its all-time high in the $130s from the $119 breakout level it's at now.
My take? There should be no read-through. NXPI has issues that the others might not have. That guidance makes no sense with the vast majority of chip companies I follow. I want to buy this group, not sell it, although Avago and Skyworks are too risky for the moment. Texas Instruments (TXN) - Get Report and Intel (INTC) - Get Report are more my cup of tea. I particularly don't want to buy Ambarella (AMBA) - Get Report, as that's the chip maker for GoPro (GPRO), a company with a stock that justifiably hit its all-time low, given that the company admitted its new product isn't a hit and it got complacent and underinvested in the future. That's a real bad pastiche of pain.
Finally, there's Delphi (DLPH) - Get Report and BorgWarner (BWA) - Get Report, the auto parts makers that severely disappointed Wall Street, sending their stocks down 6% and 8%, respectively. This is a rough one. Here's why. Lear (LEA) - Get Report, another parts maker, is flying high with strong earnings momentum. Ford (F) - Get Report and GM (GM) - Get Report just reported earnings, and while international had issues for both, you can't dismiss the strength in GM, and at a certain point Ford's a buy, too, although it did miss and a miss is, well, a miss. To me, there's no auto slowdown. I just think these two companies just aren't doing well. (Ford is part of TheStreet's Dividend Stock Advisor portfolio.)
Of course, you got some positive read-throughs today as well. Sherwin Williams (SHW) - Get Report, the paint company, gave you very good numbers. So hold on to your Home Depot (HD) - Get Report and your Stanley Black & Decker (SWK) - Get Report or Masco (MAS) - Get Report and Fortune Brands Home & Security (FBHS) - Get Report. If you get a selloff, you go back to these.
And the market is still valuing the darlings known as FANG with robust pleasure because Facebook (FB) - Get Report, Amazon (AMZN) - Get Report, Netflix (NFLX) - Get Report and Alphabet (GOOGL) - Get Report, the artist formerly known as Google, remain the best ways to play social, mobile, the cloud, connectivity and artificial intelligence other than Salesforce.com (CRM) - Get Report. Netflix has repaired itself. My charitable trust had a high-quality problem with Facebook. Because of its rapid appreciation it's become too big a part of the portfolio, which meant it was a good stock to trim ahead of earnings next week because without a spectacular quarter you could expect a bit of a selloff. I was feeling a tad greedy on this one. (Panera, Apple, Facebook and Alphabet are part of TheStreet's Action Alerts PLUS portfolio. Amazon and Skyworks Solutions are part of TheStreet's Growth Seeker portfolio.)
And I once again want to circle back to Apple. So many people told me, because of the law of large numbers there's no way Apple can keep going higher no matter what it reports. Wrong! When you saw so many millions of phones being sold at average selling prices dramatically higher than Wall Street was looking for, you know the all-time high could come back into play.
You know me. I am steadfast. I want you to own it, not trade it. However, there's more than one lesson about Apple. May this be the last quarter where we try to get more of a read for how it's doing from the companies with products that go into the iPhones? You want to play Apple? I say, stop playing. Just invest in it.
Yep, trying to figure out pin action's a lot harder than going to the bowling alley and knocking down the 1 pin and watching all the other pins skedaddle. Some stay up. But we have to divine why. And when we do, we have a chance to buy a stock we like at our prices simply because someone drilled a lucky strike, and no more.
At the time of publication, Action Alerts PLUS, which Cramer co-manages as a charitable trust, was long PNRA, AAPL, FB and GOOGL.
What a Rate Hike Means for the Dollar
Posted at 3:19 p.m. EDT on Wednesday, Oct. 28, 2015
If you think that the Fed is definitely going to raise interest rates in December, you had better be ready for a super spike in the dollar.
The move we are seeing today in the greenback is searing, and I have bad news for those who think it is good (and I am at CNBC's Republican presidential debate, where many people think it is good): The big international stocks can get crushed here, as most of their earnings projections included a stable dollar, not a skyrocketing one.
I don't know, for example, whether Procter & Gamble (PG) - Get Report deserves to be up after its lesser quarter. To me, a strong dollar can really put a hurt on the stock. The same goes for Kimberly-Clark (KMB) - Get Report, although I like its stock very much.
I also am less certain about some of the big internationals, particularly the techs, where there's so much riding on the dollar no longer climbing.
This is a sea change -- as much as a sea change can be -- for the banks, which are soaring on the possibility of a hike. Remember the bank most levered to higher rates is Bank of America (BAC) - Get Report, which is why that stock is breaking out and I think can go much higher if the December scenario does indeed play out.
At the time of publication, Action Alerts PLUS, which Cramer co-manages as a charitable trust, was long BAC.