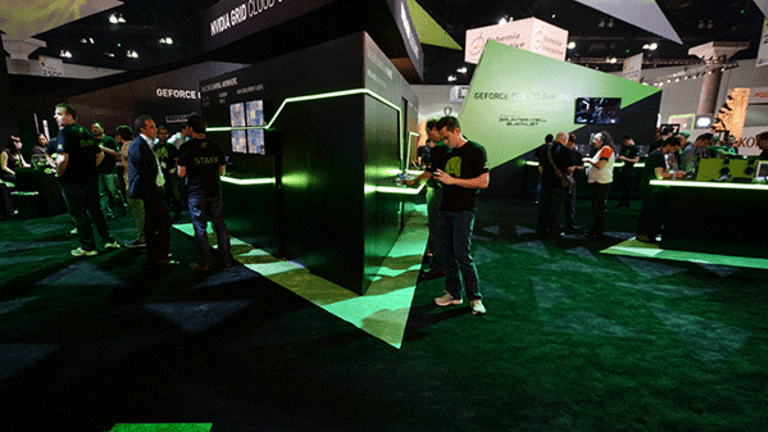 Buying Nvidia Now Is Like Getting Intel Way Back in 1993, Jim Cramer Says
Intel went on to rise some 17-fold over the next few years. Will Nvidia do the same thing?
Jim Cramer thinks Nvidia (NVDA) "still has room to run" -- and looks lot like Intel (INTC) did back in the early 1990s before a multiyear rally that took that stock up some 17-fold.
"Take a look at where Intel was in '93, '94 [and] think like that, OK?" Cramer said during an exclusive conference call with members of his Action Alerts PLUS club for investors. "Go back and look at the way that Intel ran all through the '90s. This is an Intel-like story."
Nvidia shares have been hot recently given the fact that many cryptocurrency "miners" favor the company's chips. They recently touched an all-time high. 
But Cramer, who recently bought Nvidia shares for his charitable trust, noted that the firm's chips stand at the center of not just the cryptocurrency craze, but many of the tech world's other red-hot areas.
"Nvidia's products set the standard in graphics, in artificial intelligence and in deep learning," he said. "Talk about the three trends that we have to be most involved in. Their cutting-edge processors are the industry's leader because of advanced software language, and are used in gaming, autonomous driving, the cloud ... and yes, cryptocurrency mining, just to name a few."
Want to join in on Jim's monthly conference calls? Click here for a free 14-day trial subscription to Action Alerts PLUS and hear all of the latest call, plus get e-mails before Jim makes any trade and enjoy lots of other exclusive material.
More of What's Trending on TheStreet:
Action Alerts PLUS
, which Jim Cramer co-manages as a charitable trust, is long Nvidia.