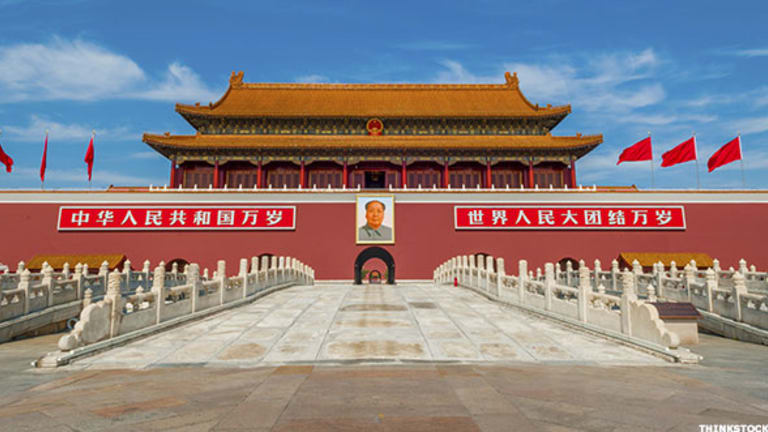 Buyers Beware of Chinese Property Stocks
Prospects look particularly bearish for China's real estate sector, which makes up half of all lending in the country. Stocks could sell off fast.
This column originally appeared on Real Money, our premium site for active traders. Click here to get great columns like this from Jim Cramer and other writers even earlier in the trading day.
Stock analysts are notoriously optimistic -- particularly, it seems, about prospects at companies that are clients of their own company! So I sit up and take notice when someone makes a bearish call.
China property analyst Alan Jin is a grizzly standing tall when it comes to Chinese real estate right now. He's predicting a downturn in transactions, prices, and stocks.
"We advise investors to take profit and be very selective on Buys amid mounting policy pressure," Jin writes in a report released Tuesday. He calls Chinese real estate stocks for Mizuho Securities, and has several downgrades or negative calls.
China property stocks have "staged a spectacular rally" so far this year, second in recent history only to their post-crisis rally in 2009. Retail investors drive the China market, are notoriously momentum-driven, and are highly likely to head for the door at any sign of trouble. They have a strong track record of selling the names in which they've seen the biggest gains. 
Why? Well, they say "Don't fight the Fed." But central bankers are only going to duff you up a little. If you want a real bruising, try a punch-up with Beijing.
With home prices running away from them, both the national government as well as a lot of provinces and cities have brought in tough cooling measures. And believe me, in the end, they will work. 
You can say what you want about the effectiveness of a command-and-control system of leadership. I actually think that Beijing does a pretty good job of running the world's second-biggest economy. Let's just forget about little issues like civil rights and freedom of speech!
The last thing the communists want is instability. And whether they can buy an apartment or not is top of the list of issues that will make mainland Chinese happy or give them heartache. Hell, a lot of brides-to-be won't even marry their suitors, unless they can front up for a flat.
A long rally in Chinese home prices is coming to an end, Jin believes. Sales will flag in May and June as the cooling measures put in place nationally and locally chill enthusiasm among buyers. That's sure to feed into share prices, with the values of many Chinese property developers at or above their post-crisis averages.  
"This round of tightening is much stricter than in the past," he explains, adding that investors should not underestimate the hold that the government has over the property market. 
Sales volumes are already off 20% to 30% at the start of this year in many cities, compared to the year before. The 16 cities with the staunchest curbing measures in place have understandably been hit hardest, their sales down 35% in the first quarter of this year.
Like most governments, Beijing tends to leave restrictions in place for too long. Policy changes are never the nimblest way of controlling a market, so it's highly likely that once prices start to sink, they'll fall for a while, and hard if buyers get spooked. Like the stock market, the property market in China is highly driven by sentiment.
Developers also risk getting into a cash crunch. Interest rates are rising in interbank borrowing and the local bond market. Debt issuance in China has therefore fallen in favor of offshore lending. That requires the company to pay higher rates to draw investors skeptical of mainland China's transparency and corporate governance.
Beijing is also pushing its financial system to reduce leverage and risk, and is particularly firm on squeezing the life out of the dodgy shadow banking system. The real-estate industry is likely to be hit harder than others, since it is so dependent on loans to back future construction. Tighter credit is likely to continue for a while.
Real-estate loans accounted for 54% of all new lending last year. But that proportion fell to 41% in the first three months of this. That's obviously still high, and with Beijing looking hard at the sector, has plenty of room to fall.
Jin believes developers will "consume" their strong cash positions throughout the year. That will leave highly geared companies in a particularly tough spot heading into 2018.
Mizuho is downgrading Guangzhou R&F Properties (GZUHY) two notches due to its high gearing. The company, which has its primary listing in Hong Kong, wants to list in the mainland as well, where stocks trade at higher multiples. But Jin believes the market is too optimistic about that happening.
R&F joins ridiculously highly leveraged China Evergrande Group (EGRNY) , mass-market producer Country Garden Holdings (CTRYY) and state-owned China Jinmao Holdings HK:0817 on the "underperform" list. Jinmao operates mainly in the two most expensive cities, Beijing and Shanghai.
Jin is also knocking KWG Property HK:1813 down a spot, after it recently started buying land aggressively. That's an ill-timed move, the analyst believes, and could well result in thinner margins and higher gearing.
He is also downgrading China Overseas Land & Investment (CAOVY) , which just reported weak results and gave a muted guidance for its prospects. Both it and KWG are now "neutral" calls.
China Resources Land (CRBJY) is Jin's top pick in the property sector, and one of only two positive calls he's willing to make. The earnings visibility is good. Its business balance between development and investment is solid. It has a strong balance sheet. Oh, and it doesn't hurt that it's state-owned when the government is taking on the sector!
Agile Properties (AGPYY) is the other sunny stock pick. It may sag a little with the other names, Jin concedes. But the stock valuation is still attractive and earnings prospects look good.
Jin has "buy" recommendations on Central China Real Estate HK:0832 and Sino-Ocean Group (SIOLY) , too. But peculiarly, they aren't "top picks. He warns investors to be highly selective about "Buys," let's not forget.
However, even the best of the bunch may not taste great, if the whole industry sours.
At the time of publication, Alex McMillan had no positions in the stocks mentioned.