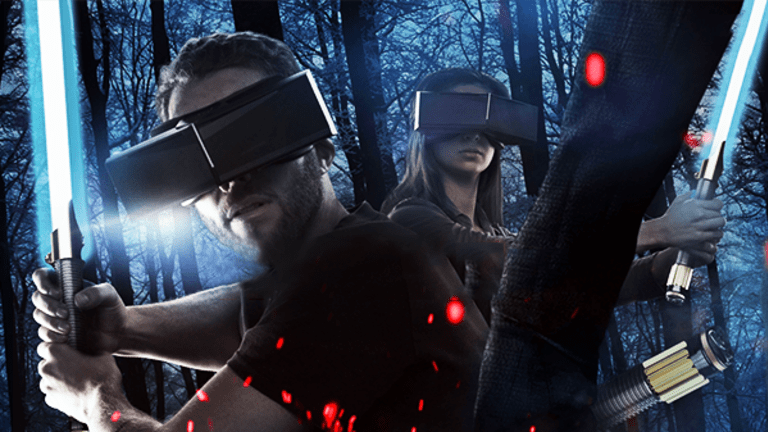 These Are the Most Hated Stocks in the Universe Currently -- Jim Cramer Reveals What's Next
Cramer shares his views on how to buy on weakness like a pro and discusses the state of some tech stocks that are rallying.
Cramer shares his views on how to buy on weakness like a pro and discusses the state of some tech stocks that are rallying.
Here are Jim Cramer's top thoughts on some of the biggest stories of the week.
Jim Cramer: Despised Tech Names Are Rallying

The most hated stocks in the universe, sans Amazon (AMZN) - Get Report , are rallying Friday and you have to ask yourself, if it is the end of the world how is it possible that the tech stocks that led us down are now rallying, especially the now-despised Alphabet (GOOGL) - Get Report ?
I think that if you haven't bought your first tranche of what you have been looking at -- we have done our buying -- you have to do it now and then hold off until closer to the end of the day.
That dip held and while I still expect the bears to come out once again -- time to call Gartman perhaps? -- the selloff that really started with Alphabet on Monday night is coursing through.
Couple of notables: the rails are stabilizing, the oils are holding in and Netflix (NFLX) - Get Report is back.
But the one thing that isn't yet back are the semi capital equipment stocks, notably Lam (LRCX) - Get Report and that's because of a sense that there's too much flash building in the system.
I don't know if that's the case. See our note on Western Digital (WDC) - Get Report for Action Alerts Plus.
That stock, however, does hold the key because it was a monster quarter. That plus Intel (INTC) - Get Report , need to turn around to get a solid tech rally.
Away from tech I expect some of the industrials to come back now that Boeing (BA) - Get Report is again in the plus column. We are buying one right now for AAP.
We just put out a note on the extremely suboptimal situation at Starbucks (SBUX) - Get Report , which is the other source of turmoil.
Suffice it to say there are better fish to fry.
Originally published July 28 at 2:37 p.m. EST.
Jim Cramer: Here's How to Buy Weakness Like a Pro
So, I am listening to Dennis Gartman Friday morning, and I think he represents the conventional wisdom for the moment. He was pretty definitive about the big top, even though he didn't call it that, and how there's a sea change in the Nasdaq.
Unfortunately, it did feel like his call to get out now from oil when it broke down to $43 not that long ago. Now, it is always possible to say "that's not exactly what I said," but that, for the moment, doesn't matter. I am trying to get into the market's mindset about the failure of the Nasdaq and the return of the boring as witnesses from the island reversal up to down in one session Thursday for the NAZZ that has "historically" signaled the top in the NAZZ.
Here's the issue with that. Ever since the bottom in 2009, we have had, I don't know, 10 "tops" in the Nazz? Maybe this time is different and it is a real top.
I don't know. It is so easy to do. I have often debated doing it. I did it once here in the second week of March of 2000, when I went short and bought bonds -- all of which is available and on record here in the archives.
I said the same thing in October of 2008.
So, I have called two of them. Fortunately, I am two for two.
Last I looked, that's not the record of many others who come on TV.
I give you this background for one particular reason: because it infuses the game plan I gave you Thursday about what to do
I can be more granular now. The decline I talked about Thursday using my Advanced Micro Devices (AMD) - Get Report example -- we are using a similar plan for Action Alerts PLUS this weekend for our stocks -- suggests that the stock goes down at the opening, but you can't bite on the first decline because there should be a mid-morning rally and then a failure that hits yesterday's low or even takes it out.
That's the first buy, which will be timed with any margin calls that are out there that get executed. That's usually at 1 p.m., just so you know.
Second buy will be if the market fails to hold at 2:45 p.m. when we get a sense of the close.
So, there should be two tranches of buying today.
If you want to have a full position on, then Friday you need to do no more than half. NO MORE THAN HALF.
Monday, we should open up. Don't chase, because it's day three and we can't ever buy up.
If it goes up and stays up, you are done. You have a half position, which is better than nothing.
But day three usually produces an up move that fails and then a down move that succeeds. That's when you would put on the next quarter position.
You save the last quarter if it fails. But it shouldn't.
We keep the last quarter back just in case this time is different.
Too damn hard. Or, as Karen Cramer would tell you, you should have done that Wednesday.
Originally published July 28 at 8:09 a.m. EST.
Jim Cramer fills his blog on RealMoney every day with his up-to-the-minute reactions to what's happening in the market and his legendary ahead-of-the-crowd ideas. This week he blogged on:
Click here for information on RealMoney, where you can see all the blogs, including Jim Cramer's--and reader comments--in real time.
Jim Cramer shares his views every day on RealMoney. Click here for a real-time look at his insights and musings.
More of What's Trending on TheStreet:
Action Alerts PLUS, which Jim Cramer co-manages as a charitable trust, is long GOOGL, SBUX and WDC.