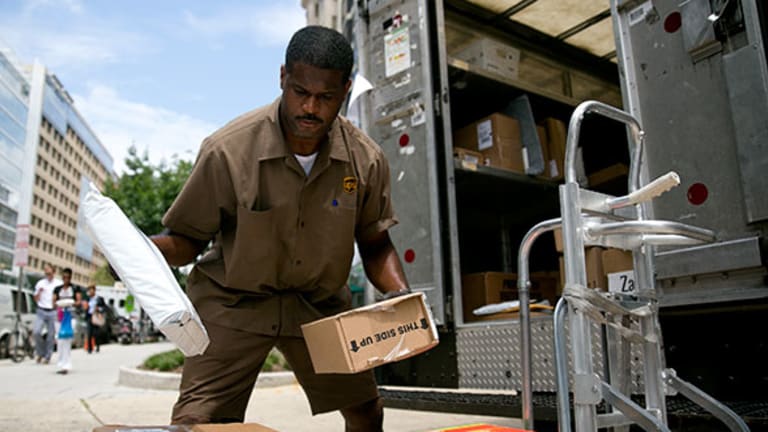 Buy United Parcel Service for the Dividend
UPS delivers exceptional income as well as packages.
UPS delivers exceptional income as well as packages.
Smart investors looking for income also look to fast-growing, dominant companies. They take advantage of companies with large cash flows that ensure consistent dividend payments every year.
As far as package delivery is concerned, no company is bigger than 109-year-old United Parcel Service (UPS) - Get Report . As the largest package delivery company in the world, it offers shareholders a 3.2% dividend yield. That is at least three times the average for the air delivery and freight service industry.
The more than $90 billion company dominates the package delivery business. UPS is nearly twice as large as competitors FedEx (FDX) - Get Report and Deutsche Post (DPSGY) (DPSTF) .
Among global parcel shipment companies, UPS is considered one of the leaders, and it enjoys a wide moat when considered among other freight transportation companies. UPS delivers parcels each business day for 1.5 million shipping customers to 7.9 million receivers.
The company controls over half of the market, driven mostly by e-commerce shopping at Amazon (AMZN) - Get Report and other websites.
UPS is expected to continue its dominance by deploying technology-enabled operations, industry-specific customer solutions, and expanding its global network to 220 countries.
Big companies sometimes face growth hurdles. For example, retail giant Wal-Mart (WMT) - Get Report has struggled to grow sales in the past three years. And net profits have actually dropped.
From 2014 to 2016, UPS grew annual sales from $58.2 billion to $60.9 billion and profits from $3 billion to $3.4 billion. The numbers could be better, but remember, UPS is a huge company.
It could be argued that FedEx is a better bet. But it operates at a 65% gross margin while UPS has maintained about 75%-80% for the past decade.
UPS has grown dividends for seven consecutive years with annual dividends per share jumping from $1.80 to $3.12 in 2016.
Debt is another important metric to look at. Large companies often have huge amounts of debt, which may force huge cash outflows during maturity and the suspension of dividends during downturns to repay debt.
The company's $12 billion debt is manageable and the company has cash and short-term investments worth $4.6 billion.
With Wall Street analysts projecting UPS to grow earnings by over 8% annually for the next half a decade, UPS will face no problems generating cash and increasing its dividend.
---
As we've explained United Postal Service is an excellent income opportunity. If you're looking for other income opportunities we know another way you can add a steady stream of dividend income every month ... and it's practically guaranteed by the IRS. The company signing the checks might not be one that you've heard of. However, Silicon Valley's top CEOs--think Mark Zuckerberg and Larry Page--know that its product is invaluable.Click here for the full story.
The author is an independent contributor who at the time of publication owned none of the stocks mentioned.