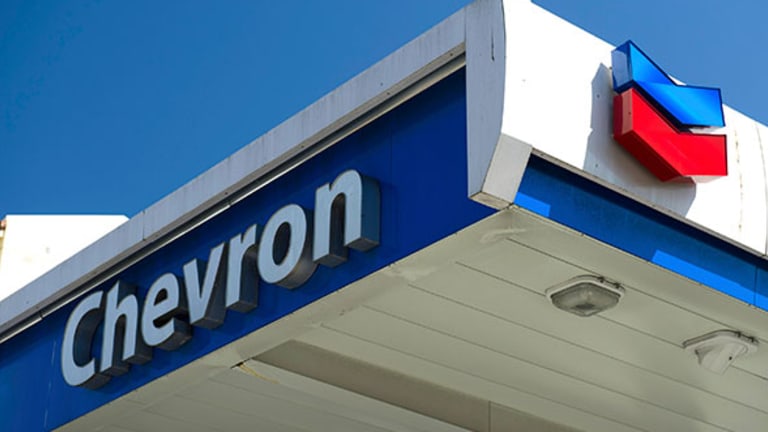 Buy These 5 'Dogs of the Dow' for Gains in the New Year
The 'Dogs of the Dow' has been one of the most widely circulated investment strategies out there. Does it work?
BALTIMORE (Stockpickr) -- Don't break out the champagne and start singing Auld Lang Syne just yet; the New Year is mere hours away, and now's the time to get positioned for a profitable 2015. How?
Simple -- buy the stocks that look like real dogs.
For the last two decades, the "Dogs of the Dow" has been one of the most widely circulated investment strategies out there, offering individual investors a simple formula to beat the market: simply buy the 10 highest-yielding Dow Jones Industrial Average stocks at the start of each year, and hold on.
So, which names fit the criteria as the calendar flips to 2015?
When Michael O'Higgins introduced his strategy in 1991, it took the market by storm -- backtesting showed that the Dogs of the Dow strategy significantly beat the broad market from the 1920s on. The justification was that the big names of the Dow don't kowtow to market conditions, so their high dividends reflect strong businesses trading cheaply. But the strategy got a black eye during the 1990s, when it trailed the market by a significant clip.
It shouldn't have been a huge surprise that the Dogs of the Dow failed to beat the market during the bull run of the 1990s -- during the tech bubble, staid Dow names couldn't possibly move as much as the more volatile tech names that were gaining increasing weight in market indices. But times have changed. We're in a bull market that's been rewarding more staid names with major flights to quality. As investors get anxious about stocks pressing up against new all-time highs, these big Dow names with big dividend yields offer an attractive way to get positioned.
It can get even simpler than that. More recent research shows that paring down the Dogs of the Dow to a more concentrated portfolio of five stocks, rather than ten, has delivered some stellar outperformance in the last decade. So today, we'll take a closer look at five Dow Dogs to buy for the new year.
AT&T
Up first is telco giant AT&T (T) - Get AT&T Inc. Report . AT&T has been the highest-yielding Dow component for a while now, cutting an annual dividend check per share that works out to 5.4% of its stock price. Even that hefty payout hasn't been able to get traction for AT&T's price performance in 2014 -- but with a couple of major catalysts on schedule for 2015 and a relative bargain valuation, AT&T still deserves top billing on our list of Dow Dogs.
AT&T is the No. 2 cellular carrier in the U.S., with almost 100 million mobile phone subscribers. It's also the incumbent local phone company in 22 states, with approximately 27 million fixed phone lines and 17 million Internet subscribers. The pending deal to buy DirecTV (DTV) will add 20 million satellite TV subscribers to AT&T's Rolodex when it closes, and it'll also remove a lot of risk overhang from the stock as short interest from the merger gets unwound. Ultimately, AT&T is investing in its ability to sell lucrative triple play packages to its existing subscriber base, and DirecTV's network adds a big chunk of potential customers to the mix.
Perhaps most importantly of all, AT&T looks like a significant bargain compared to top rival Verizon (VZ) - Get Verizon Communications Inc. Report . The company has a comparable subscriber count in its core cellular business, with less debt relative to its total assets. (In my view, Verizon overpaid to buy the rest of its wireless business from Vodafone (VOD) - Get Vodafone Group Plc Report .) AT&T currently trades for just 10-times trailing earnings, a valuation that looks cheap compared to the more ambitious multiples found elsewhere in this market.
Chevron
It's not hard to see why Chevron (CVX) - Get Chevron Corporation Report has earned "Dog" status this winter -- with oil prices crashing hard, CVX is earning materially less for every barrel of crude that it pulls out of the ground. That has a direct, and obvious, impact on profitability, and it's led to a 10% decline in CVX's share price over the course of 2014. But the negative sentiment shift is presenting an attractive opportunity in Chevron for patient investors.
Chevron is one of the largest integrated energy companies in the world, producing 2.6 million barrels of oil equivalent a day. As I write, the firm has another 11.3 billion barrels of proven reserves in the ground. Chevron's slightly outsized exposure to oil (vs. the natural gas that peers have been buying up) has hurt, but the firm unquestionably has the wherewithal to hold out for higher prices. That's the key here -- as smaller, more leveraged operators become distressed, CVX is going to have a big opportunity to acquire assets at fire sale prices. With big investments in established wells already behind them, Chevron only cares about cash flow at many sites, and many analyst estimates put that cash flow positive as low as $40 a barrel.
One important factor in all this is Chevron's financial health. Chevron is the best-positioned supermajor from a financial standpoint -- it currently carries $16.6 billion in net cash and investments, the least-leveraged balance sheet in big energy right now. At current price levels, that net cash level is enough to cover nearly 8% of Chevron's market capitalization. That also provides investor comfort over Chevron's 3.78% dividend yield.
Expect shares to be under pressure during the first quarter of 2015 as oil prices continue to squeeze profits -- patience is needed for the Chevron trade to pay off.
General Electric
Industrial conglomerate General Electric (GE) - Get General Electric Company Report is the next name on our shortened Dow Dogs list. The $260 billion firm has been an underperformer for most of 2014, dropping 8.7% over the past year while the market rallied. But some big shifts in GE's business this past year should help the firm make up for lost time in 2015. Right now, GE pays out a 3.45% dividend yield.
General Electric has a hand in making everything from jet engines and wind turbines to refrigerators and medical equipment. That may seem like a hodgepodge of unrelated businesses, but in fact GE has found great success in making the puzzle pieces fit together and leveraging its expertise across multiple units. One common thread is that GE's products are capital intense for their customers -- that means that a liquid credit market is critical for GE's success. That makes this nearly zero interest rate environment an excellent opportunity for GE to book growth.
GE's exposure to rates is ramped up through its GE Capital arm. That captive finance arm almost sunk GE just a few years ago thanks to huge bets on the consumer sector, but most of the skeletons have been shaken out of the closet at this point. As the firm unwinds some of its exposure to the financial sector (the firm is targeting only 25% of earnings from its finance unit), it should return to being an attractive long-term holding for investors again. In the meantime, the Dogs of the Dow strategy says "buy."
McDonald's
Fast food behemoth McDonald's (MCD) - Get McDonald's Corporation Report is another huge blue-chip name that's in the middle of effecting a major turnaround. McDonald's is one of the biggest fast food restaurant chains in the world, with more than 35,900 locations spread across 125 countries. More than 80% of those locations are franchisees, giving McDonald's huge operating leverage with a fraction of the risk. Right now, the Golden Arches pay a 3.44% dividend yield.
McDonald's has been implementing a turnaround plan that's been noticeable both internally and externally -- most recently, the company's Create Your Taste advertising has been highlighting its new flexible menu choices here in the U.S. Although many investors don't realize it, MCD has a lot more in common with a REIT than a conventional restaurant chain. That's because the firm actually owns the land beneath many of its restaurant locations, leasing the location back to franchisees. That adds to the stream of sticky cash flows that McDonald's corporate collects from franchised restaurants.
International growth is a major opportunity for MCD, particularly because of its more upmarket perception in other parts of the world. As growing middle-class populations in emerging markets seek to eat more meals outside of the home, MCD stands to be a major beneficiary. The firm has financed much of its growth in markets like China by opening stores itself, and increased franchisee activity in those markets should help boost margins and lower risks overseas. Earnings at the end of January should give investors a major peek at the progress the firm is making on its improvements.
Pfizer
Pfizer (PFE) - Get Pfizer Inc. Report is the biggest pharmaceutical company on the planet. It's also one of the highest-yielding names in the Dow today -- at current price levels, its yield stands at 3.25%. Pfizer's presence on our Dow Dogs list adds some welcome blue-chip health care exposure to round out the set.
Pfizer invented the household name drug. The firm's deep bench of valuable names includes Lipitor, Celebrex, and Viagra among many others; in total, we're talking about more than $51 billion in annual sales from the pharmaceuticals that wear the Pfizer logo. And although the black clouds of patent expirations have overshadowed the whole industry in recent years, PFE has leveraged its huge profits during the fatter times to acquire valuable pipelines from big rivals such as Wyeth and scores of smaller pharmaceutical developers in the last several years.
Over the next several years, expect that pipeline to bear fruit with some blockbuster drugs. Investors must be patient, however, while this plays out. In the short term, drug losses will likely translate into lower revenues in fiscal 2014 and 2015. A solid financial situation at PFE should help to offset that shrinkage; for instance, profit margins have been growing as Pfizer streamlines its operations. Shares of PFE have been in rally mode since mid-October, and that momentum looks attractive as we head into 2015.
-- Written by Jonas Elmerraji in Baltimore.
Follow Stockpickr on Twitter and become a fan on Facebook.
Follow Jonas on Twitter @JonasElmerraji
At the time of publication, the author had no positions in the stocks mentioned.
Jonas Elmerraji, CMT, is a senior market analyst at Agora Financial in Baltimore and a contributor to
TheStreet.
Before that, he managed a portfolio of stocks for an investment advisory that returned 15% in 2008. He has been featured in
Forbes
,
Investor's Business Daily
and on
CNBC.com
. Jonas holds a degree in financial economics from UMBC and the Chartered Market Technician designation.