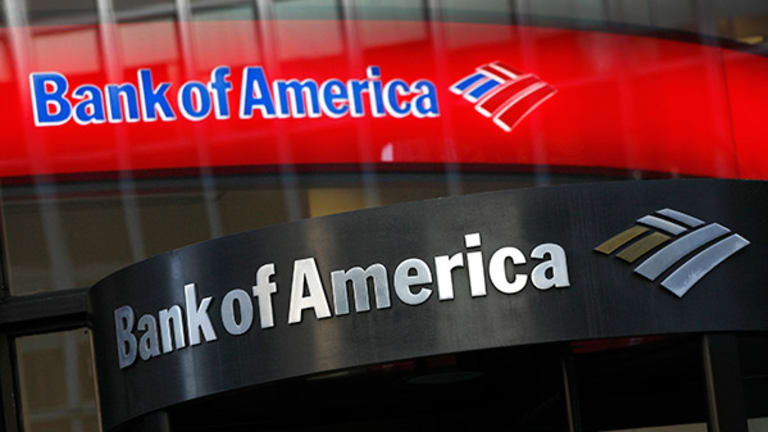 Buy These 4 Bank Stocks on the Cheap and for the Long Run
David Ellison of Hennessy recommends four beaten-down bank stocks that look promising now.
Editors' pick: Originally published Jan. 21.

Bank of America (BAC) - Get Bank of America Corporation Report shares lost 5% in 2015, and the mega-bank's stock is down another 15% since the start of 2016. David Ellison, portfolio manager of the Hennessy Large Cap Financial Fund (HLFNX) - Get Hennessy Large Cap Financial Fd Inv Cl Report and the Hennessy Small Cap Financial Fund (HSFNX) - Get Hennessy Small Cap Financial Fd Inv Cl Report , said investors should ignore the recent past and look instead to the bank's bright future.  
"The stock is trading at about 90% of book and nine times earnings, so the valuation is attractive," said Ellison. "The question is really what they do for the next three to five years not what is happening right now -- and that's why you own it."
Before yesterday's market open, Bank of America reported 2015 fourth-quarter earnings of 28 cents a share on revenue of $19.5 billion. Analysts had forecast for earnings of 26 cents per share on revenue of $19.86 billion.
Ellison is also bullish on New York Community Bancorp (NYCB) - Get New York Community Bancorp Inc. Report , which was up over 8% in 2015, yet has fallen over 9 percentage points so far in 2016. Shares of the New York-based lender sank in October when the company announced its plan to buy Astoria Financial (AF) . Ellison said he started buying the stock during the Astoria selloff.
"They are a traditional lender, well-run, with high returns on equity and assets," said Ellison, adding that this deal will make NYCB a "real player in the New York market."
Independent Bank (INDB) - Get Independent Bank Corp. Report , rose 11% in 2015, but has given back almost eight percentage points of those gains since the start of the year. Ellison is positive on the Rockland, Mass.-based lender, saying it is tried and true, and also has no oil exposure like many Midwest or Southern banks.  
"The whole market has come down, but this one is a good long-term value in the banking space," said Ellison.  
Finally, Ellison is a fan of Yadkin Financial (YDKN) , which soared 29% last year, but has dropped 13% so far in 2016. He said the Raleigh, N.C.-based bank will increase its reach and revenue after completing its deal with Greensboro, N.C.-based NewBridge (NBBC) . After that deal is cemented, the combination could be a takeout play for a larger regional player like BB&T (BBT) - Get BB&T Corporation Report .  
"That's what some people think," said Ellison. "We'll see what happens."