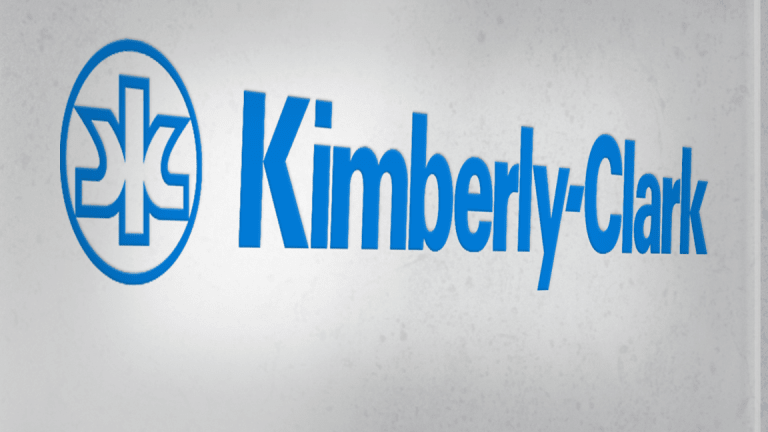 Buy the Breakout in Kimberly-Clark Stock on Earnings?
Kimberly-Clark stock is jumping to new highs on earnings. Here's how to trade it from here.
Shares of Kimberly-Clark (KMB) - Get Kimberly-Clark Corporation (KMB) Report are ripping higher on Monday, starting the week with a notable bang.
The stock was up 5.4% to $130.25 and hit new 52-week highs in the session. The move comes after a top- and bottom-line earnings beat for the company's fiscal first quarter. Earnings of $1.66 per share came in 11 cents a shares ahead of expectations, while revenue of $4.63 billion beat estimates by $80 million but declined 2.1% year-over-year. Is it good enough to justify bulls initiating a new position?
We'll have to see how the stock handles itself on Monday and what investors choose to do over the ensuing trading sessions. For now, I would consider Kimberly-Clark a buy on pullbacks, given how overbought it is in the short-term.
Trading Kimberly-Clark Stock
Kimberly-Clark stock is bursting above its prior channel, highlighted on the daily chart above with blue lines. The move thrusts shares to new highs, as the stock is now quite overbought in the short term with the Relative Strength Index, or RSI, standing at 85. That should give tempted bulls some pause, even if Kimberly-Clark stock has the potential to run over the next few days.
A better trade may be to watch for continuation higher or a pullback into support. On a decline, aggressive bulls can look for a retest down to $128 while conservative bulls may wait for a drop down to $125.
On a continuation trade, look for a lower open on Tuesday that quickly turns positive. If we get that type of setup, bulls can plan for a short-term day trade by going long once Kimberly-Clark stock turns positive and use the day's low as their stop-loss. If KMB stock trades higher and is acting well, it may be a candidate for a solid swing trade.
On a longer term look, such as the 30-month weekly chart above, investors can see why $125 is such a vital zone. Kimberly-Clark stock topped out at this level in 2017, forming a double top, before retesting this zone earlier this month. Now blasting through it, it's important that KMB stock holds this level. At this mark, the stock will also pay a 3.3% dividend yield, making it more enticing to buyers.
Given that shares are not yet overbought on the weekly charts, we may not get a pullback to $125 any time soon. But if we do and this level holds, bulls would be wise to buy the dip.
This article is commentary by an independent contributor. At the time of publication, the author had no positions in the stocks mentioned.