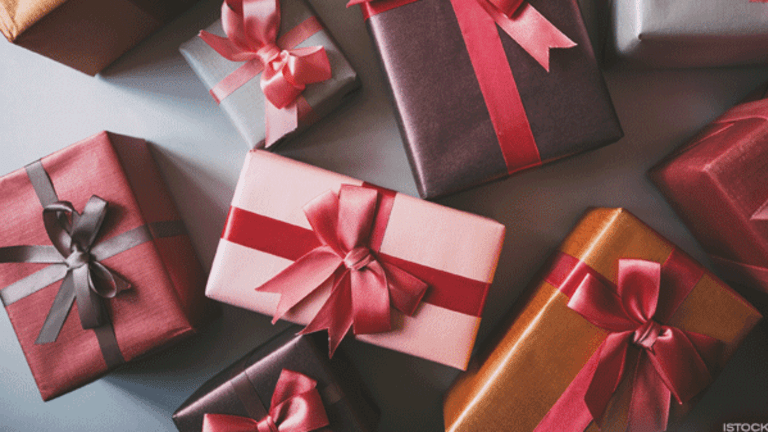 Buy Target, Wal-Mart and UPS for a Happy Holiday
Here's a good way to play the looming shopping season.
Here's a good way to play the looming shopping season.
(This article originally ran at 4:14 p.m. ET on Monday, Nov. 21, on Real Money, our premium site for active investors. To get great columns from Jim Cramer and other Real Money writers earlier in the trading day, click here.)
Everybody overspends at the holidays, right? You go into the period with a budget in mind, but you max out that projected dollar figure a couple of days into the shopping experience and still have some folks left on the list that you haven't bought for. Wouldn't an investment offset be ideal?!
Well, Stephen Guilfoyle of the blog Sarge's Market Recon recently laid out an investment strategy for exploiting the holiday season -- a quick ride on some strong retailing stocks, followed by a switch to the stock of package shippers.
Specifically, he recommends getting into Target (TGT) - Get Report and Wal-Mart (WMT) - Get Report ahead of the first reports of early-season sales, then flattening out that position and pushing into a delivery service like UPS (UPS) - Get Report . Guilfoyle wrote that TGT and WMT were the last several holiday seasons' leading retailers, while UPS rallied hard into the year end in 2011, 2013 and 2014.
Now, Guilfoyle acknowledged in his posting that e-commerce has subverted traditional holiday retailing. Amazon (AMZN) - Get Report "is the undisputed king of non-store retail," he wrote, acknowledging that he himself is long AMZN. But that's the very definition of a "crowded trade."
Instead, Guilfoyle's strategy of favoring Target and Wal-Mart stems from looking at recent years of trading patterns. "They have in common awesome national distribution," he wrote in his posting, adding: "There's at least a seasonal trade here."
Guilfoyle said in a recent interview that investors should "look at those two names," noting that both stocks have outperformed the broad market over the past five years during November's second half. For example, Target jumped more than 6% just last week after beating analyst forecasts for both quarterly revenues and earnings per share. Guilfoyle said TGT's big boost in results came from e-commerce, which posted a 26% bump over the year-earlier period.
His strategy looks to me like the equivalent of buying the arms merchants rather than picking who'll win a war. Investors don't have to choose which retailer's merchandising and promotional strategy has been correct, they just gain exposure to this season's expected overall uptick in consumer spending.
Charlie O'Shea, national retail analyst at Moody's, added that despite the surge in online activity, the overwhelming majority of retailing (up to 90%) is still done in person at a physical location.
Natalie Kotlyar, consumer business leader at BDO, also said that the traditional holiday shopping calendar has been upended -- something that obviously jibes with anecdotal evidence. After all, which did you see first this year: Halloween pumpkins or a Kmart holiday ad?
"The whole calendar has expanded," Kotlyar said. While so much of investors' focus remains on Black Friday and Cyber Monday -- the tent poles of holiday spending -- retailers are actually spreading promotions more evenly across the calendar.
All told, investment firm D.A. Davidson's holiday-sales forecasts calls for 3.4% growth this year -- a bulge over the 10-year average of about 2.5%. "We're anticipating the largest gain since the recession," said Brien Rowe, Davidson's managing director of consumer and retail investment banking.
However, neither Rowe nor his colleague Michael Smith are enthusiastic about what they described as "four-wall retailers."
"Our perspective is that e-commerce is going to be the winner again [this holiday season]," Smith said, although he added that there might be some special situations that could outperform the group.
For example, Smith said Dick's Sporting Goods (DKS) - Get Report , which has seen some longstanding rivals evaporate, could outperform. Wal-Mart's investment in Jet.com and other other bricks-and-mortar retailers' accelerated push into e-commerce could also provide returns in subsequent years. And eventually, all of those e-commerce transactions have to end up in the back of a delivery truck owned by UPS or some other shipper.
Employees of TheStreet are restricted from trading individual securities.