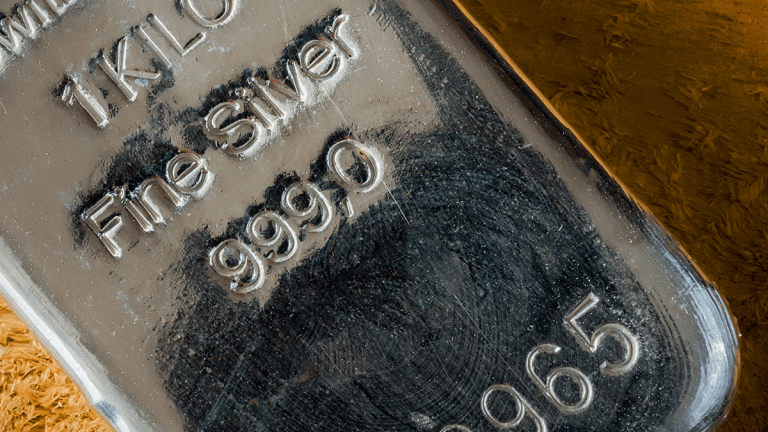 Why Silver Will Be a Better Bet Than Gold if the Precious Metals Rally Continues
The white metal is far more volatile and that can be used as an advantage by savvy investors.
Anyone bullish on precious metals should consider silver instead of gold.
The white metal tends to see far more volatility, which is an advantage for traders in an up-trending market. Plus, silver prices are still playing catch-up with gold based on historical price analysis.
To profit from the phenomenon, investors should consider buying the iShares Silver Trust (SLV)  exchange-traded fund, which tracks the price of silver bullion. Alternatively, they could try the Global X Silver Miners (SIL) ETF, which tracks silver mining companies. 
The Small-Cap of Precious Metals
When you invest in anything, you need to consider how to make volatility work for you.
In a bull market, volatility is okay as long as it is upward trending volatility, which is exactly what we see right now in the precious metals market. In such a case, savvy traders should take a more volatile route.
"Precious Metals bulls are one thing, but Silver bulls are on a whole other level," writes JC Parets, founder or technical analysis firm AllStarCharts and an expert in reading price charts. "When Metals market participants are bullish, they'll be buying Silver for the exact same reasons equity bulls buy Small-Caps."
As Parets explains, silver tends to outperform gold when the market is moving up, just like small caps frequently outperform large caps in an equity bull market.
In fact, we already see some of this action. Over the past month, the iShares Silver Trust ETF has jumped 9%, while the SPDR Gold Shares (GLD) ETF, which tracks gold prices, has risen 3%, according to data from Yahoo.
Product of Being a By-Product Metal
Part of the reason that silver is more volatile than gold is that supply of the metal tends not to move that much in response to price changes.
When most commodity prices move up or down, the producers tend to change how much of the stuff they produce. When the price of copper falls, for example, so may output, and vice versa.
But silver is a rare exception.
That's because silver production is overwhelmingly the result of miners pursuing other minerals such as gold and copper. In 2018, 74% of silver production was the result of this so-called secondary production, according to the Silver Institute.
When gold and copper miners make decisions to increase or decrease their mining activities, they look at the price of copper or gold, not the price of silver.
The net result is that silver supplies don't jump around much in response to changing prices. That can make a silver rally much bigger than a gold rally.
The Gold-Silver Price Ratio
Silver prices are also low now when compared to gold using something known as the gold-silver price ratio. Currently one ounce of gold trades for 87 times the value of one ounce of silver. 
Historically, that ratio has been in the range of 40 to 80, says Matthew Miller, a mining analyst at New York-based research firm CFRA. Or in other words, gold is now trading at a premium valuation to silver based on history.
That doesn't mean gold prices are going to drop -- this time at least.
Miller says gold should hit $1,500 a troy ounce by the end of the year, up from $1,430 recently. The reason for that is multifaceted, but some of the major catalysts are U.S.-China trade-war worries, rising inflation and other geopolitical uncertainties.
Such a move should help lift silver prices as well. But the white metal could get a double lift if it were to trade at the historical gold-silver ratio of say 60, versus the current 87.
If that happened, then silver could fetch $25 an ounce, says Miller, up from its current price of roughly $16.40.
"Even at the more conservative 80 ratio, then you are still looking at $18.75," Miller says. 
That would mean gold would rally 4% to $1500 while silver would rally 14%.
"That's still a decent return," Miller notes.
Peter Schiff: Inflation and Monetary Policy Mistakes Will Push Gold to $5,000
Save 76% with our Summer Break Sale. Subscribe to our premium site Real Money and become a smarter investor! Click here today to sign up!
The author owns none of the securities listed in this story.