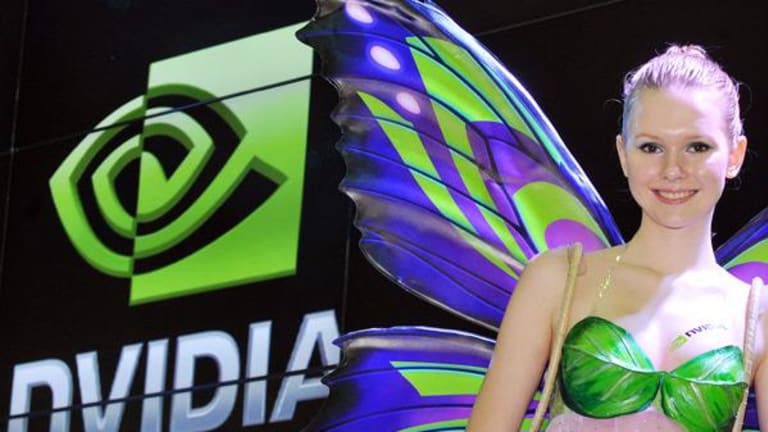 Buy NVIDIA Amid the Uncertainty
The star chipmaker of 2016 is a fantastic growth opportunity that trades at a reasonable price again.
The star chipmaker of 2016 is a fantastic growth opportunity that trades at a reasonable price again.
Graphics chipmaker NVIDIA (NVDA) - Get Report offers a robust growth proposition with its broad focus on gaming, data-visualization and automotive segments.
However, word on Wall Street turned negative after several analysts' downgrades bared down on the stock.
Can NVIDIA address its naysayers and keep pushing the envelope?
We believe that the $52 billion enterprise is a rock-solid contender and could deliver significant returns, if investors ignore the market's skittishness regarding the stock and buy now.
At least two analysts have already downgraded NVIDIA.
Instinet's Romit Shah expects a gaming slowdown for NVIDIA which would have a negative impact on the company's largest segment. Shah instead recommends that investors sell NVIDIA and buy Intel (INTC) - Get Report .
BMO Capital's Ambrish Srivastava said that NVIDIA is overvalued at current levels. Srivastava reasoned that the company's competitive environment is changing rapidly, and NVIDIA will not be able to maintain the earnings upside that it delivered in 2016.
Neither analyst made any reference to NVIDIA's promising growth prospects in data-visualization and autonomous driving markets that should more than offset any perceived slowdown in gaming chip sales.
It is for this reason that investors should ignore these dubious downgrades by the same investment banks that pushed NVIDIA's share price beyond $115 in the first place
Notwithstanding the nearly 8% decline in 2017 so far, NVIDIA gained 368% since the start of 2016 and hit an all-time high of $119 on Feb. 7. Chip giant Intel gained a mere 11.7% over the same period.
Analysts are probably affected by this stellar run that made NVIDIA the best-performing NASDAQ stock in 2016, and are wary of an eventual downturn.
Remember, NVIDIA has always traded at a premium when compared to other chip stocks. Can the company keep that momentum going?
In the fourth quarter, NVIDIA grew sales by 55% year over year, beating consensus estimates. The third quarter saw NVIDIA deliver a 54% spike in revenues beating estimates by $130 million.
Looking ahead, NVIDIA expects growth to remain steady for the first quarter of fiscal 2018. Revenue should come in at $1.9 billion, which would represent an increase of 46% compared to the same quarter in the previous year.
Across the board, acclaim for its dependable numbers is markedly on the rise. Goldman Sachs has re-issued NVIDIA as a 'Conviction Buy'. It has anticipated that NVIDIA will witness favorable revisions to estimates over the coming quarters and consequently share price would outperform.
The company's graphics processing unit computing platform is experiencing rapid adoption in artificial intelligence, cloud computing, gaming, and autonomous vehicle segments. NVIDIA has ongoing collaborations with Audi, Mercedes-Benz, Tesla (TSLA) - Get Report and Volvo (VOLVY) .
In addition to its stellar growth prospects, NVIDIA expects to return $1.25 billion to shareholders through dividends and repurchases for the fiscal 2018.
While the dividend yield currently sits at a negligible 0.57%, the company's robust free cash flow of $1.49 billion in fiscal 2017 might entice NVIDIA to raise its dividend.
The company's financials are strong with more than twice the cash and short-term investments ($6.8 billion) in its coffers compared to its debt-burden of less than $2 billion.
As things stand, NVIDIA should ride out any temporary dent on its profile and keep surging ahead. At its current price this will probably be one of the last opportunities to buy NVIDIA shares for under $100.
---
As we've just explained, NVIDIA is an excellent growth opportunity. If you're looking for other growth opportunities, we've found a genius trader who turned $50,000 into $5 million by using his proprietary trading method. For a limited time, he's guaranteeing you $67,548 per year in profitable trades if you follow his simple step-by-step process.Click here now for details.
The author is an independent contributor who at the time of publication owned none of the stocks mentioned.