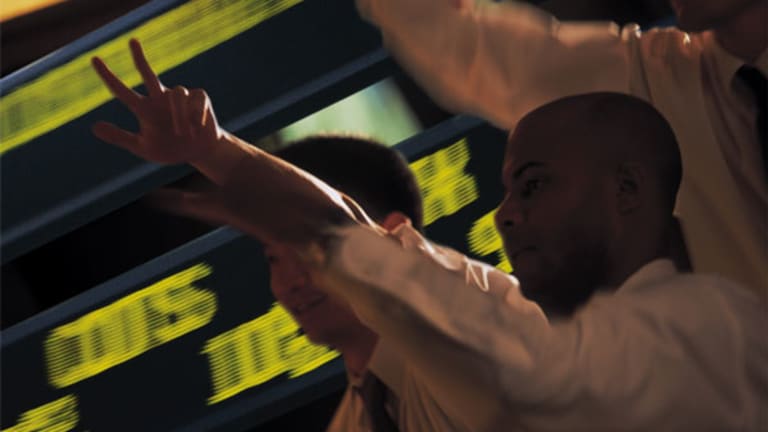 Buy Munis, Gold; Volatility with a Capital 'V': Best of Kass
In highlights from his trading diary of the past week, Kass backed his closed-end municipal bond funds and gold bets as the global economy lags and volatility spikes.
NEW YORK (Real Money) -- Doug Kass of Seabreeze Partners is known for his accurate stock market calls and keen insights into the economy, which he shares with RealMoney Pro readers in his daily trading diary.
This past week, Kass backed his closed-end municipal bond fund and gold calls as volatility spiked amid a slowing global economy, saying the European Central Bank's announced quantitative easing program won't boost growth as intended.
Originally published on Jan. 23, 2015 at 2:39 p.m. EST
Still Favor Munis
Nothing derails the group in first half of 2015.
For the last 13 months my largest single sector bet has been closed-end municipal bond funds.
Given slowing global economic growth's salutary impact on bond prices (coupled with an aggressive ECB Q-E), I see nothing that derails the group over the first half of this year.
I continue to favor this sector both on a relative basis and an absolute one.
Discounts to net asset values still about 6% and non-taxable yields are at the same 6%!
Originally published on Jan. 22, 2015 at 8:02 a.m. EST
Europe's Problems Are Structural
Lowering the cost of money won't help.
After leaving its benchmark rates unchanged, we'll have to wait until 8:30 a.m. Thursday for the details of the QE initiatives when Draghi's press conference commences.
Here are a few stats to keep in mind before the news.
European banks own about 28% of the sovereign eurozone bond market, and if they sell their bonds to the ECB (or national banks), they would be penalized 20 bps if they deposit the proceeds with the ECB. If the ECB buys bonds in a ratio similar to the ECB capital key, 18% would be from Germany, 14% from France, 12% from Italy and 9% from Spain. So, about 50% of all purchases would be in these four countries.
Lastly, 80% of loans to European businesses flow from banks, not the capital markets. Banks have clearly shown an unwillingness to aggressively lend. At the same time, demand for bank loans has been very slow. Only a liberalization of labor laws, an easing of restrictive regulations and lower tax rates are answers to what ails the eurozone.
In other words, lowering the cost of money is not a solution to the Europe's economic stagnation.
The problems are structural.
Originally published on Jan. 22, 2015 at 9:36 a.m. EST
More on Volatility
Again, for emphasis, expect a lot more volatility than we have grown accustomed to over the last few years. Already this morning, bonds have rallied by more than two points from the lows and gold is advancing smartly (now up $9) and making new recent highs.
I sold the ECB ramp aggressively Thursday morning.
And the 10-year US note just dropped by 12 basis points from its high of Thursday morning. Volatility with a Capital "V."
At the time of publication, Kass and/or his funds were long GLD, VPV, VGM, VCV, NQU, NQS, NPM, NPI, NMO, NMA, NAD, ETX, BTT, BKN, and short the SPY and QQQ, although holdings can change at any time.
Doug Kass is the president of Seabreeze Partners Management Inc. Under no circumstances does this information represent a recommendation to buy, sell or hold any security.