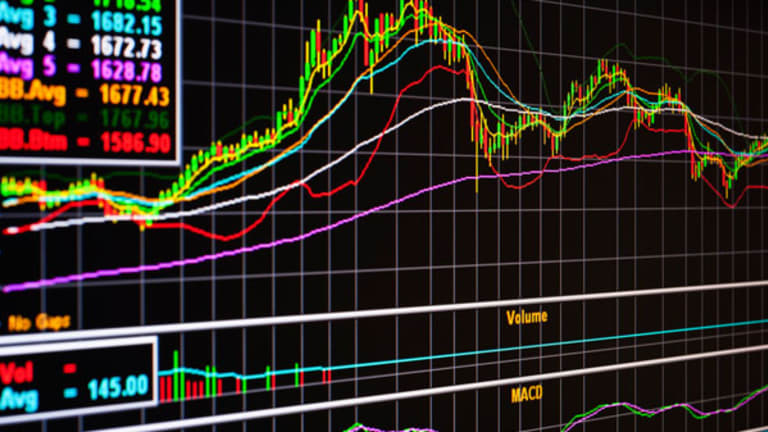 Buy Ken Fisher's 5 Favorite Stocks
Here's a look at five stocks Fisher Investment bought in the last quarter.
BALTIMORE (Stockpickr) -- You may already be acquainted with Ken Fisher.
He's the author of "Portfolio Strategy," a long-running column in
Forbes
, and he's well-known as the biggest wealth manager in the U.S.: His firm, Fisher Investments, has more than $41 billion under management. He's also got a lot of wealth in his own right;
Forbes
estimates his worth at $1.7 billion.
>>4 Stocks the Pros Hate -- But You Should Love
In the investment world, Fisher has also made a number of contributions -- namely to behavioral finance, where he's published research with academics on a slew of investing topics. Today, we'll peek into this billionaire money manger's portfolio by taking a look at his 13F to see what new stocks Fisher Investments has bought in the last quarter.
Institutional investors with more than $100 million in assets are required to file a 13F -- a form that breaks down their stock positions for public consumption. From hedge funds to mutual funds to insurance companies, any professional investors who manage more than that $100 million watermark are required to file a 13F. That includes Fisher Investments.
>>ACTIVE STOCK TRADERS: Check out Stockpickr's special offer for Real Money, headlined by Jim Cramer, now!
By comparing one quarter's filing to another, we can see how any the firm manager is moving their portfolio around -- and what investments are faring the best for them. More importantly, we can figure out what new names are being bought up in the near-term - after all, they're likely to be fund managers' favorite stocks.
Today, we'll focus on
Fisher Investments' five favorite stocks
for the first quarter of 2012.
Morgan Stanley
The firm's biggest new buy in the last quarter was
Morgan Stanley
(MS) - Get Morgan Stanley Report
, the $28 billion investment bank. Financials actually made up a major part of Fisher Investments' new buy list for the first quarter, a fact that may surprise some market watchers. Sfter all, financials haven't exactly been a favored sector of late.
Still, Fisher and company picked up 12.4 million shares of Morgan Stanley in the latest quarter, racking up a $244 million position in the stock.
Morgan Stanley is one of the few financial firms that didn't take the axe to its investment banking business in the wake of the recession, opting to keep investment banking part of the legacy business rather than split it off. That move proved painful during the recession, but it could help MS gain more market share in the years ahead now that the market is less fragmented. Like other peers, MS has been working to diversify its revenue stream, focusing attention on the fees earned by its asset management arm and shifting its trading business from proprietary gains to client service.
>>5 Buy-Rated Bank Stocks With Safe and Solid Dividends
That doesn't mean that there aren't some black clouds overhead; there are. The firm may be regretting its decision to become a bank holding company in back in 2008, now that the increased regulation and capital requirements are hamstringing profitability. And the off-balance sheet liabilities that Morgan still holds could hurt the bank's liquidity if the market turns lower.
Still, margins are improving in 2012 and big financials are still trading at a large discount right now. Fisher is making a bet that it's not justified by the fundamentals.
Barclays
London-based
Barclays
(BCS) - Get Barclays Plc Report
is another massive financial name that Fisher Investments added to its portfolio in the latest quarter. The firm bought close to 15.6 million shares of the U.K. bank, taking on a $236 million position in the firm.
Barclays was the biggest U.K.-based bank to avoid taking government bailout cash when 2008 brought the system to a screeching halt, a feat that management deserves some credit for pulling off (even if it came at the expense of some shareholder equity).
>>7 Defensive Bank Stocks From FBR
Like Morgan Stanley, Barclays owns a thriving investment bank, which chips in around half of the firm's total profits. Unlike MS, Barclays unloaded its own asset management unit in late 2009, selling it to
BlackRock
(BLK) - Get BlackRock, Inc. Report
to create the biggest asset management firm in the world. The fact that Barclays retained 20% of BLK in return is a big benefit for shareholders. BLK has proven more adept than any bank at running its asset management business.
Again, Barclays isn't spotless; the UK economy is under serious pressure right now, threatening the bank's loan book. While a push to bank in emerging markets is a positive for BCS shareholders right now, buyers shouldn't forget about the health of those U.K. loans. The decision to buy the assets of Lehman Brothers at a massive discount should give BCS a big boost once economic engines get roaring again -- as long as it can keep costs like compensation from eating up too much profit. U.K. regulators should help with that.
HDFC Bank Limited
Another bank, another country.
HDFC Bank Limited
(HDB) - Get HDFC Bank Ltd. Report
is one of India's largest non-government-owned banks, with more than $60 billion in assets and 2,500 branches spread across the BRIC country. Fisher Investments picked up 1.59 million shares of HDB in the last quarter, building a $54.3 billion stake in the Indian bank.
In a very real way, HDB is a play on the burgeoning middle and upper class in India. HDFC Bank primarily lends to consumers (around 60% of its loans are retail), and then mainly to those in the higher echelons of economic status. That niche focus on borrowers with more means gives the bank higher lending standards, and has resulted in a very low level of nonperforming loans. As growth within India's borders continues to grow the number of Indians who meet the middle class threshold, HDB's business should find plenty of room for organic growth.
>>5 Big Financial Stocks You Should Buy
Government regulation on who constitutes a "priority borrower" and currency fluctuations are two of the biggest concerns for HDB right now -- especially with the dollar continuing to be a safety net for investors. But there's reason to believe that risk currencies will get more attention in the latter half of 2012.
If they do, HDB's business should continue to thrive. The firm remains one of the most interesting ways to get exposure to emerging market growth.
Tata Motors
But Fisher Investments isn't content with just one Indian play. Instead, the firm is doubling down with
Tata Motors
(TTM) - Get Tata Motors Ltd. Report
, a $70 billion automaker based in Mumbai. Fisher and company initiated a $21.3 million position in Tata -- that's close to 800,000 shares bought in the latest quarter.
Tata Motors is the biggest carmaker in India, with more than 1 million cars sold for $27 billion in revenues last year. In addition to the firm's home base, countries like the UK, Spain, South Korea, and South Africa are big markets for Tata's cars. On the one hand, Tata is known for making some of the least expensive cars in the world, positioning that's garnered the firm leading market shares for entry-level personal and commercial vehicles. On the other hand, Tata also owns premium British marques in Land Rover and Jaguar, which the firm bought in 2008.
>>5 Stocks Immune to Europe's Problems
Jaguar and Land Rover gave Tata an immediate presence in the U.S. -- the world's biggest automotive market -- as well as emerging markets like China, where aspirational cars have found a lucrative market. The possibility of Tata's entry to the U.S. market with its sub $10,000 car offerings could shake-up the bargain-end of the spectrum in the next few years.
In the meantime, Tata is another good way to leverage middle-income growth in emerging market countries.
Gerdau
Last up is
Gerdau
, the second-biggest long steel producer in the world, with more than 25 million metric tons of capacity. In spite of a rough and tumble year for market performance (and GGB in particular), shares of the Brazil-based firm are up close to 14% since the first trading day in January.
Now, with a $15.5 million stake initiated in the first quarter, Ken Fisher and company are betting on continued strength for the rest of the year.
Gerdau certainly has the right exposure for growth-focused investors. The 111-year old firm generates around 60% of its sales in Latin America, a region where infrastructure projects have fuelled demand for long steel, even if economic metrics have ebbed and flowed over the years. And despite the commodity price-driven nature of the steel business, Gerdau has managed to operate profitably for more than a century, a feat that few firms worldwide have ever managed.
A low cost structure and impressive scale give Gerdau significant advantages, even if the firm's balance sheet is more leveraged than the norm. The firm should be able to sustain its 2.6% dividend payout for the foreseeable future, especially if borrowing costs remain near historic lows for the next couple of years.
To see these stocks in action, check out the
Ken Fisher New Buys Q1 2012 Portfolio
on Stockpickr.
-- Written by Jonas Elmerraji in Baltimore.
RELATED LINKS:
>>5 Stocks Set to Soar on Bullish Earnings
>>7 Stocks Under $10 With Relative Strength
>>4 Stocks Poised to Break Out
Follow Stockpickr on
and become a fan on
Facebook.
At the time of publication, author had no positions in stocks mentioned.
Jonas Elmerraji is the editor and portfolio manager of the Rhino Stock Report, a free investment advisory that returned 15% in 2008. He is a contributor to numerous financial outlets, including Forbes and Investopedia, and has been featured in Investor's Business Daily, in Consumer's Digest and on MSNBC.com.