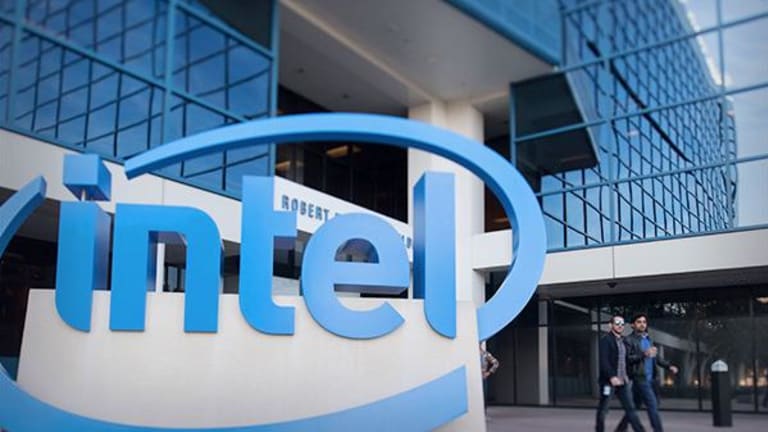 Here Are Several Reasons to Buy Intel Stock Now
The semiconductor giant could surprise investors with huge gains.
The semiconductor giant could surprise investors with huge gains.
Intel has been battling a barrage of downgrades after the $15.3 billionMobileye (MBLY) deal came through. Wall Street, it seems, would much rather prefer a riskier proposition like Advanced Micro Devices (AMD) - Get Report that's shot up nearly 7-fold over the last 12 months.
Experts have said Intel's management took their eye off the ball, while investors continue to doubt the company's ability to drive growth.
We think such pessimism is unwarranted. Intel's initiatives in the data center, internet-of-things (IoT) and security markets should keep it in good stead.
What's more, the stock trades at an inexpensive 11.96 times forward earnings and could possibly deliver double-digit gains over the next 12 months.
Intel's 2016 earnings results beat analysts' expectations. More important,  the company exhibited a sharp focus on diversifying beyond the central processing unit (CPU) market. The long-term success of this transformation will depend on Intel gaining traction in the security, IoT and data center markets.
Beyond the challenges of implementing a change, it'll be important for Intel to carve out a clear strategy. We've seen how companies with purpose can actually reinvent themselves, like International Business Machines (IBM) - Get Report did.
By moving away from its traditional semiconductor model to cutting-edge innovations in the cloud and smart devices, Intel is underlining its commitment towards becoming a company for the future.
Revenues for its conventional arms dropped by a 3% compound annual growth rate (CAGR) between 2014 and 2016, while new sector revenues galloped forward by a 13% CAGR over the same period.
The company is also shifting its capital allocation priorities, in a bid to stay prepared. The repositioning is essential since, by 2020, the tech landscape will be very different from what is it today. Research & development as a share of revenue will stay at 22%, essentially flat compared to fiscal 2016.
Strategic merger and acquisitions will also come into play. Mobileye could become a massive revenue generator when one imagines the data created and compiled by self-driving vehicles. The more than $15 billion deal could be a smart approach for Intel to effectively utilize its $17.1 billion cash balance.
By 2020, it's estimated that an average internet user will consume over 1 gigabyte of data every day. Autonomous vehicles and connected airplanes will also produce huge data volumes and we aren't even mentioning smart factories.
Imagine the computing capabilities necessary to process, cleanse and sort all that data - Intel could be a key driver in this digital landscape.
Expect low single-digit revenue growth this year and next. Over this period, earnings per share (EPS) will also grow in the range of 3%-5%.
Intel's valuation of 12 times forward earnings is in line with peers like Qualcomm (QCOM) - Get Report .
However, Intel does trade at a discount to other technology companies like Applied Materials (AMAT) - Get Report and Taiwan Semiconductor Manufacturing (TSM) - Get Report , and Texas Instruments (TXN) - Get Report with price-to-forward earnings ratios of 14.7, 13.9, and 21.3 respectively.
That said, Intel is equipped to boldly press forward on the road ahead. It may have been late for one key movement when Apple (AAPL) - Get Report asked for collaboration on its iPhones, but it should stay abreast of contemporary trends.
---
However, Intel isn't the only moneymaker out there. In fact, I know a trader who has been right more than eight times out of every 10 trades, turning $50,000 into more than $5 million for himself.Click hereto see how easy it is to follow his lead andcollect thousands of dollars in "Free Money" every month.
The author is an independent contributor who at the time of publication owned none of the stocks mentioned.