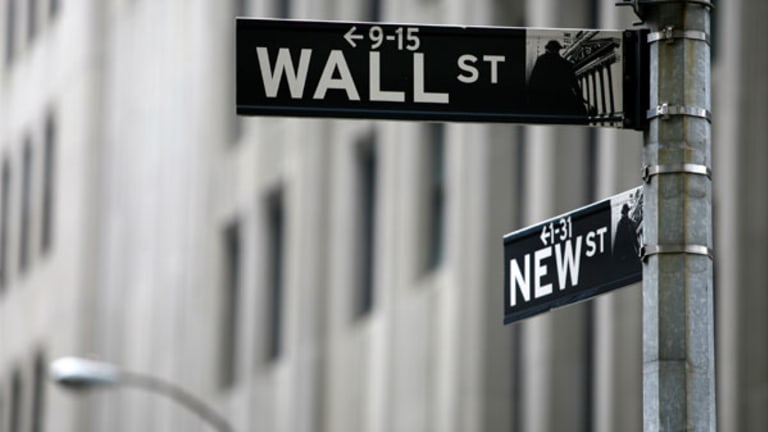 Publish date:
Buy in May and Go Away
The risk/reward outlook for equities has improved.
The risk/reward outlook for equities has improved.
This column originally appeared on Real Money Pro at 8:55 a.m. EDT on May 8.
NEW YORK (
) -- With the
S&P 500
trading (adjusted for the drop in stock futures this morning) at a near-9% discount to
my fair market value calculation
of 1485, investors should
buy
in May and go away.
I am under no illusion that the U.S. stock market is poised for a move straight up to the Promised Land -- rather I expect an irregular grind to higher levels. Given the technical damage and the ambiguous domestic economic releases, we likely need confirmation of my view of a self-sustaining recovery in additional data points.
On Monday, stocks rebounded from a Sunday night 1.5% drop in S&P futures after the results of the Greece and France elections left a sour taste in the mouths of traders. Throughout the day, the markets steadily regained their moorings, and by the close of trading, the S&P 500 closed higher than Friday's close and halted a three-day slump (which culminated in a 2.4% tumble last week).
Remember, at times, it is more significant how the market reacts to news than the news itself.
While one day does not a market make, yesterday may have been an important trading day, a day that may have set the foundation for the next leg higher into the summer months.
To be honest, I have no idea as to the short-term direction of the U.S. stock market. I have always viewed daily, weekly and even a month's market predictions as being no better than a coin toss. (Warren Buffett put it more visually when he once wrote that market prognosticators are like fortune tellers who should be locked up in a closet and kept away from children and portfolio managers who act like children.) But I do feel strongly, that those with an intermediate term prospective (of three to nine months) will be rewarded -- perhaps richly.
There are numerous reasons for my intermediate-term optimism and my belief that, if things work out as I expect, new highs in the S&P 500 remain a possibility.
Above all, investors' fear of a spring-summer stock market schmeissing caused by the potential of slowing economic growth (reflected in the recent share price weakness and manifested in a 10-year U.S. note yield of 1.85%) seems misplaced, as there are more noticeable dissimilarities than similarities between today and a year ago (when stocks began to slip into a meaningful correction mode). Nor does domestic economic high-frequency data dent the notion of a self-sustaining recovery.
I am not alone in my economic optimism. Late last week, Philly
Fed
President Charles Plosser (who doesn't vote on the FOMC) forecast 3% real GDP growth this year and next, with unemployment falling to 7% by year-end 2013.
Central to my bullish thesis is that the domestic economy will muddle through (with 2% to 2.5% real GDP growth) and slowly move toward its growth potential in the years ahead. Integral to this is that the U.S. housing market's recovery is being underestimated -- the economic consequences to a meaningful rebound in housing could be profound, providing construction jobs and lifting consumer confidence and spending.
Housing demand and home prices will likely steadily improve in the period ahead based on the underpinnings of record home affordability, low home prices relative to rental prices, underproduction of new homes, continued household formations (and natural demographic growth), a slow but constant improvement in the jobs market, an easing up in mortgage lending and generational low mortgage rates -- all of which will conspire to unleash pent-up demand by the 2013 spring selling season.
And, as I
recently in the four possible economic outcomes, it is now reasonable to expect some compromise by year end 2012 to avoid the full impact of a $540 billion fiscal cliff.
Last week, China's April manufacturing index came in at a healthy 53.3, slightly above March's 53.1 and at about the region's long-term trend rate. This should lessen fears of a hard landing as the April increase was the fifth consecutive monthly increase and the index is now at its best level in a year.
While the weaker, peripheral members of the EU have entered recession, the weakness in the euro should benefit Germany and the stronger members.
Let's, again, go through the 15 reasons why the U.S. economy and stock market are better positioned today than 12 months ago.
Economic growth: Most observers are more cautious regarding domestic growth today, even though the recovery's breadth is better -- employment has improved, and there is a nascent recovery in the residential real estate markets. Consensus (worldwide) GDP forecasts (here and abroad) are far more reasonable today. I do not view the April payroll report as the start of a weakening trend but rather a consolidation after warm weather lifted payrolls well above trend line growth in the December-February interim interval. Moreover, the combined manufacturing and non-manufacturing ISM in April remains slightly above its long-term average and is consistent with real GDP growth in excess of 2.5% in second quarter 2012.
Profits: Corporate profit momentum has turned positive -- the first-quarter profit beat was by over 500 basis points. Historically, this magnitude of upward earnings revisions has been associated with a near-8% rise in the U.S. stock market over the next six months.
Housing: The outlook for housing is markedly improved. Household formations are recovering, and the NAHB Index and buyer traffic are at five-year highs while inventories are at five-year low. The role of residential real estate markets cannot be overstated. Representing about one-third of household wealth and nearly half of bank assets, housing could add almost 1% to GDP in 2013.
Durable spending: Other types of durable spending are returning -- for instance, autos industry sales have risen sharply to a four-year high.
Household health: Household leverage has moved lower -- household debt/GDP has returned back to the long-term average.
Employment: Employment indicators have improved relative to a year ago. Claims data are lower, and ISM employment components are consistent with monthly private payroll gains in excess of 200,000. (For net monthly growth, subtract 15,000 to 17,000 for the likely contraction in government workers.) Hours worked are expanding at a 4% annualized rate.
U.S. monetary policy: 2012 is highlighted by massive global easing of monetary policy and excessive liquidity. Central banks were generally tightening 12 months ago.
European monetary policy: Europe's central bank has lost its obsession with inflation and austerity and has begun to pay more attention to the capital markets and economic growth. (This weekend's elections in Greece and France almost insure more easing of policy and could result in aggressive pro-growth initiatives, as austerity is put on the back burner.)
Commodities: Commodity prices are falling year over year. By contrast, a year ago commodity prices were rising. The recent $10-$12 drop in the price of oil (and $0.20-$0.30 drop in the price of gasoline) should serve as a tax cut for the consumer and will likely buoy corporate profit margins.
Banks: Banks have materially recapitalized and have passed very stringent stress tests. Pretax, pre- provision income is at near-record highs.
Balance sheets: Corporate balance sheets continue to improve and remain rock solid. Debt is low vs. the same time a year ago and liquidity is higher.
Investor sentiment: Investors remain risk-averse, and expectations are low. Unlike last year, investors are no longer aggressively positioned toward economic growth or markets. Inflows into domestic equity funds are lower through the first four months in 2012 compared to the beginning of 2011, and hedge funds' net long exposure is lower this year than a year ago. Volumes are low, indicative of nonparticipation of the retail investor, and I still see the big reallocation trade occurring in the fullness of time. (Steve Leuthold made an interesting observation on Monday that the Yale Crash Confidence Index, which measures how fearful large investors are of a crash in the next six months, is sitting on exactly the same reading which has marked four important market lows in the last 20 years.)
Valuations: Valuations remain subdued, and the earnings risk premium is still elevated. In Monday's presentation to the Value Investing Congress, I observed that when the S&P 500 stood at 900 in November 2008 and S&P earnings approximated $65 a share, stocks traded at under 14x when the high-yield index yielded 25%. Today, with earnings of $100-$102 per share, the S&P 500 trades at 1375, basically the same P/E multiple that existed in November 2008, even though the high-yield bond index had dropped by over 70% in yield (from 25% to under 8%). Taken another way, over the past five decades, stocks have averaged a P/E of 15.2x. During that period, the yield on the 10-year U.S. note averaged 6.67%. Today the 10-year yield is 1.87%, and stocks trade at under 14x. (In previous periods of low inflation and interest rates, the S&P 50 routinely traded at 18x-19x.)
Europe: European stress indicators are lower, reflecting a ring-fencing of the debt problems and facilities that have been put in place to insure funding needs for the next few years as well as improving current account balances in Italy, Spain, Greece and Portugal. The cost of interbank lending risk is low and falling -- it was rising last year -- and short-term note yields in Italy and Spain are well off their highs. I have long contended that the EU debt crisis has morphed from a near-fatal affliction to a manageable condition that must be monitored. The results of the French election were in line with expectations. (Betting parlor Ladbrokes had Hollande's odds of winning at 1:9 for the past two weeks.) I do expect some friction between Hollande and Merkel over the next few weeks regarding solutions on how to best address the debt contagion's impact on the peripheral nations. As to Greece, I believe the initial negative response on Sunday evening (that led to the dive in stock futures) was incorrect. To a large degree, Greece's problems are mostly their own, as Greek bondholders have already taken their hit. Though there will remain uncertainty regarding short-term funding, in all likelihood, there will be new elections in June. This election should have a more favorable outcome -- elderly voters stayed home in protest this weekend; they should return in greater numbers (helping the troika).
Black swans: In 2011 exogenous events negatively impacted worldwide growth. Thai floods and the Tohoku earthquake disrupted supply chains and hurt sales and resulted in nearly $100 billion of insurance losses.
In summary, the outlook for worldwide economic growth and corporate profits is nowhere near as bad as many fear.
Yesterday's market, which shrugged off European fears, could have been an important market tell. Based on a stable economic picture, reasonable valuations and low investor expectations, the risk/reward outlook for equities has improved.
Buy in May and go away.
Doug Kass is the president of Seabreeze Partners Management Inc. Under no circumstances does this information represent a recommendation to buy, sell or hold any security.