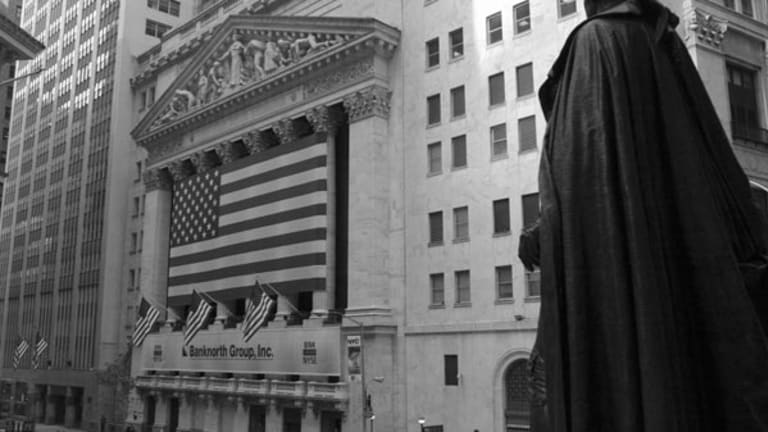 Buy Dow Growth Stocks on Debt-Ceiling Fear
Energy and industrial Dow components are attractive.
BOSTON (TheStreet) -- A culmination of negativity is weighing on stocks. A pending debt ceiling breach in the U.S. is perhaps the greatest contributor to investor pessimism.
But, it isn't time to abandon equities, especially given that the 10-year Treasury is yielding a paltry 2.9%. It may be best to look at international growth stocks.
Safe telecoms and utilities still offer value, with their high-yielding shares providing a steady stream of return, even if the market languishes. However, the true value remains in
Dow
equities. So far this earnings season, aluminum specialist
Alcoa
(AA) - Get Report
doubled its year-over-year sales. And, today,
JPMorgan Chase
(JPM) - Get Report
exceeded analysts' consensus earnings estimate by 13% on improving credit trends.
What's becoming increasingly clear, on a global basis, is that companies are exceptionally healthy and functional, whereas governments have proven incompetent in solving their fiscal problems. The latter is weighing on investors, who should purchase the shares of safe, internationally diversified companies, which can deliver top- and bottom-line growth.
The five cheapest Dow components, currently, based on forward earnings multiples, are:
Hewlett Packard
(HPQ) - Get Report
,
Bank of America
(BAC) - Get Report
,
JPMorgan Chase
(JPM) - Get Report
,
Chevron
(CVX) - Get Report
and
Pfizer
(PFE) - Get Report
. Also, the five highest-yielding Dow stocks are:
AT&T
(T) - Get Report
,
Verizon
(VZ) - Get Report
,
Merck
(MRK) - Get Report
,
Pfizer
(PFE) - Get Report
and
Johnson & Johnson
(JNJ) - Get Report
.
However, on the basis of international exposure and economic trends, the two most attractive Dow stocks currently are:
Chevron
(CVX) - Get Report
and
Caterpillar
(CAT) - Get Report
. Chevron is the world's second-largest energy company, after
Exxon
(XOM) - Get Report
, and has been a top performer in the benchmark index, having advanced 44% in the past 12 months and 15% in 2011 as crude oil has remained near $100 a barrel, a sweet spot for exploration and production companies.
With global demand continuing to increase as emerging markets flourish, integrated oils are still must-own stocks, regardless of domestic economic uncertainty. Chevron is both cheap and highly rated. It trades at a forward-earnings multiple of 8.4 and a cash flow multiple of 6.4, 33% and 34% discounts to oil-and-gas peer averages. About 77% of researchers following Chevron rank its stock "buy" and the remaining 23% rate it "hold." Analysts expect the company to have grown second-quarter earnings 33% to $3.59 and sales 28% to nearly $63 billion. Chevron will announce its quarterly performance on July 29th at the open.
Similar to Chevron, Caterpillar is a globally crucial firm. The maker of farming, construction and mining equipment, which purchased
Bucyrus
for $8.8 billion in the fall, has been a top-performing industrial stock since the recovery commenced, in large measure due to its sales growth in emerging markets, like China, which are investing heavily in their infrastructure. Cat has increased sales and net income 57% and 198% during the past 12 months.
The Illinois-based company has a reasonably valued stock, in spite of its 62% jump in the past 12 months. Cat trades at a forward earnings multiple of 12 and a cash flow multiple of 14%, 25% and 29% industry discounts. Researchers expect Cat to announce earnings growth of 61% and sales growth of 28% when it reports its second-quarter results on July 22. Of the analysts evaluating Cat, 15, or 65%, advocate purchasing its stock and eight, or 35%, recommend holding it. None suggest that investors cut and run.
Credit Suisse
expects a 37% rise to $148.
With pessimism abound, investors should investigate the mega-cap growth names for an ideal combination of safety, dividends and upside potential.
-- Written by Jake Lynch in Boston.
RELATED STORIES:
How to Make Money Off Oil, Gas Pains
Become a fan of TheStreet on Facebook.
Disclosure: TheStreet's editorial policy prohibits staff editors, reporters and analysts from holding positions in any individual stocks.