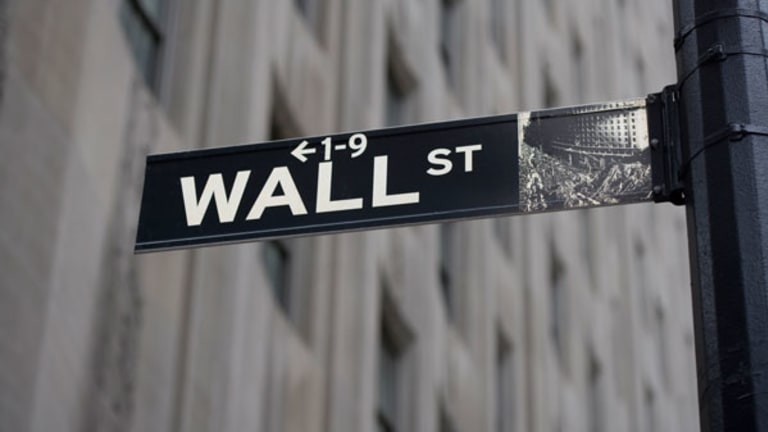 Buy American: 5 Stocks to Escape the Eurozone Crisis
These stocks have limited exposure outside of North America.
BALTIMORE (Stockpickr) -- Something doesn't make sense here: U.S.-listed stocks have been more affected by Spanish yields this summer than they have been by their own financial performance. That should be reason enough for investors to flee from eurozone exposure. But there's a double whammy working against investors in 2012.
The other half is our own U.S. dollar, which has been on the rise as drama in Europe sends investors fleeing for the relative safety of the world's reserve currency. And as a result, any U.S. company that has exposure abroad is getting shellacked by earning revenues in euros, for instance, and then converting them into dollars later on for financial reporting purposes.
How bad is it?
>>5 Hated Stocks Set to Soar on Earnings
In the last quarter alone, the EUR/USD currency pair has fallen by 8.55%. That's enough of a drop to materially impact the sales of big U.S. companies that do a lot of business across the pond.
Europe's bad. But don't think that it's the problem by itself.
Companies with international exposure may have some attractive diversification attributes, but they're being overshadowed by the increased risks of international investing right now. More than a little of the volatility in the broad market here at home is coming from abroad right now -- so it makes sense to "buy American" in 2012.
>>ACTIVE STOCK TRADERS: Check out Stockpickr's special offer for Real Money, headlined by Jim Cramer, now!
To do that, we're taking
that have limited exposure outside of North America. That doesn't mean that it makes sense to eschew foreign exposure outright, but it does mean that any money earned overseas needs a second look before a stock can make this list.
Duke Energy
If you want to get defensive, you can't do much better than
Duke Energy
(DUK) - Get Free Report
, one of the biggest regulated electric and gas utilities in the country. Duke operates in six states, providing gas and electric service to 7.1 million customers.
To be fair, Duke does have some overseas exposure: It owns hydroelectric generation plants in Latin America and a methanol joint venture in Saudi Arabia. But currency risks are mitigated by the fact that the cash those international businesses generate is tied to commodity prices, and more important, the costs of running them are sourced in those home currencies, not the dollar.
>>5 Rocket Stocks You Should Buy This Week
So while international assets have generated strong cash for Duke in the past few years, the firm's bread and butter remains its regulated utility business. Like most regulated utilities, Duke earns stable, consistent earnings from its regulated businesses, resulting in a hefty dividend payout that currently weighs in at 4.69%. And better still, even though Duke operates in a capital-intense business, cash coverage is more than sufficient to support a bigger dividend in 2012.
Duke has had a history of winning rate hikes from its regulators. If the firm can continue to keep those increases in the future, profits should continue to expand, especially as Duke reaps the cost savings benefits of its merger with Progress Energy.
I also featured Duke earlier this month in "
7 Dividend Stocks That Want to Pay You More Cash
."
Limited Brands
Limited Brands
(LTD)
, another name that has reduced exposure overseas, owns a portfolio of the world's leading intimate apparel and personal care brands, including Victoria's Secret and Bath & Body Works. That makes Limited a good play on consumer sentiment, a polar opposite from the consistency of Duke. But Limited has a mature retail business with powerful brands under its belt, which should help keep LTD outperforming the
this year.
It's true that Limited does have some overseas exposure. In fact, the firm has stores in more than 80 countries. But that doesn't impact the company's bottom line. That's because, while Limited does own its Canadian stores, units outside of North America are franchised and pay LTD in dollars. That significantly reduces the risks that Limited has to shoulder to capitalize on growth abroad.
>>5 Stocks Poised for Breakouts
Meanwhile, the Canadian dollar has ebbed and flowed more in line with the USD than more volatile currencies like the euro. And Limited hedges its exposure to CAD, a move that helps to flatten out the impact of foreign exchange on the company's income statement.
While competition continues to be fierce in the specialty retail space, Limited's strong brand recognition (and the paring down of less profitable divisions, including its namesake Limited Stores) should continue to spur sales growth in 2012.
Limited was included on a list of
20 Winning Stocks Set to Post New Highs in 2012
.
Cablevision
Multimedia giant
Cablevision
(CVC)
owns a cable TV and data network that passes through more than 5 million homes centered around New York City, a lucrative market for a high-margin, utility-like business. The firm also owns Newsday. Not long ago, those noncore businesses were more prevalent; the firm spun off
AMC Networks
(AMCX) - Get Free Report
and
Madison Square Garden
(MSG) - Get Free Report
in the last two years, focusing on its cable offerings instead.
Cablevision operates an enviable geographic footprint, and with enviable penetration rates. While its cable reaches 5 million homes, a full 3 million of those are actually Cablevision customers. While that tempers the firm's growth prospects, it also means that CVC is able to earn robust income and pay out a similarly robust dividend. Right now, the firm pays out a 4.13% yield.
>>8 Top-Rated Stocks With the Best Earnings Outlooks
An advanced cable network helps too. While the firm does carry a fairly hefty debt load, it doesn't have to deal with the ongoing capital expense of upgrading what it has now. That network also helps to attract customers who have become accustomed to high-speed connections. This U.S. centric stock is a good choice for risk-averse investors who want to collect income without dealing with losses from Europe.
As of the most recently reported quarter, Cablevision was one of
Julian Robertson's Tiger Management holdings
.
Dollar Tree
Dollar store giant
Dollar Tree
(DLTR) - Get Free Report
boasts a footprint of more than 4,000 stores spread across 48 states. Yes, this firm earns all of its money stateside.
If nothing else, the European crisis has brought fears of another economic meltdown back to a head. If the gloom-and-doomers are right, Dollar Tree offers some significant downside protection right now. That's because as consumers trade down and limit expenses, Dollar Tree is ready to serve them with bargains.
The firm is working on the higher-end of the consumption chain, too. It's been expanding the footprint of its multi-price point Deal$ brand, a move that should open the door to bigger-ticket merchandise at higher margins.
>>2 Stocks to Buy Because the Wealthy Rule America
When Dollar Tree's demographics changed in 2008, so did its store operations. The firm started accepting major credit cards and integrating EBT transactions into its new point-of-sale system, courting two new customer bases. And (surprisingly) Dollar Tree's net margins have historically stomped traditional retailers, sending more cash to the firm's bottom line, and giving DLTR the ability to pay off its $250 million debt balance last quarter.
While shares of Dollar Tree aren't exactly a deep value themselves right now (its P/E currently sits at 23), its defensive posturing and U.S.-focused income statement makes up for it.
Dollar Tree, one of the
10 Best-Performing S&P 500 Stocks in the Second Quarter
, also shows up on a recent list of
6 Stocks Benefiting From Lower Gas Prices
.
Express Scripts
Finally, there's
Express Scripts
(ESRX)
, the largest pharmacy benefit manager in the U.S. ESRX essentially acts as a middle man between drug companies and pharmacies, administering more than a billion (Medco merger-adjusted) prescriptions each year. Express Scripts benefits from economies of scale -- it focuses on controlling costs by administering drug benefits, and taking a small margin for its trouble.
While middleman roles are typically fraught with risk, Express Scripts showed investors just how strong its business was this summer when its feud with
Walgreen
(WAG) ended in the two companies' relationship. The split didn't last long. Ultimately, Walgreen suffered from the move when it lost patient volume, and it's likely that it yielded to Express Scripts' bigger reimbursement demands. That public scuffle is likely to be a warning to the other firms that pharmacy benefit managers deal with.
>>4 Biotech Stocks Under $10 With Relative Strength
Because Express Scripts operates within the U.S. healthcare system, it earns all of its revenues here at home. The recently upheld healthcare reform mandate is likely to provide a tailwind to ESRX when its pool of potential customers grows.
As of the most recently reported quarter, Express Scripts was one of
and also shows up in
.
To see these names in action, check out the
Buy American 2012 Portfolio on Stockpickr
.
-- Written by Jonas Elmerraji in Baltimore.
RELATED LINKS:
>>7 Stocks for a Housing Rebound
>>5 Big Stocks Ready to Slingshot Higher
>>5 Stocks Ready to Boost Dividends
Follow Stockpickr on
and become a fan on
Facebook.
At the time of publication, author had no positions in stocks mentioned.
Jonas Elmerraji is the editor and portfolio manager of the Rhino Stock Report, a free investment advisory that returned 15% in 2008. He is a contributor to numerous financial outlets, including Forbes and Investopedia, and has been featured in Investor's Business Daily, in Consumer's Digest and on MSNBC.com.