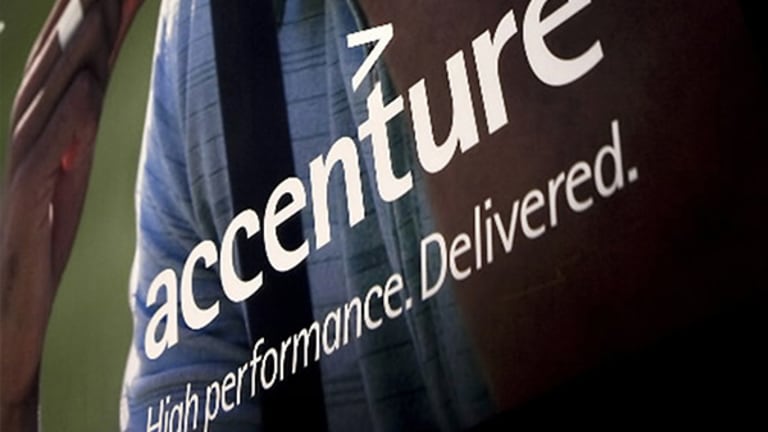 Buy Accenture's Stock on Dips
Investors are advised to wait for a 10% pullback before venturing into Accenture.
Technology consulting giant Accenture (ACN) - Get Free Report is largely recognized as a solid investment option. Accenture has cash reserves of more than $3 billion and virtually no debt. Long-term earnings growth is stable at nearly 10%, and the around 2% dividend yield is backed by seven years of rising payouts.
The chink in the company's armor is its bloated valuation. Investors would do well to hold for a while until there's a 5% to 10% pullback in share price.
Accenture's rich and diverse bouquet of services is well-known. Buttressed by the world's largest delivery network, the company has a workforce of 401,000, serving clients in over 120 countries.
Accenture's dominance is unquestionable, lording over its Indian counterparts such as Infosys (INFY) - Get Free Report , Wipro (WIT) - Get Free Report , Cognizant (CTSH) - Get Free Report and Capgemini (CGEMY) . International Business Machines (IBM) - Get Free Report is a larger rival compared to Accenture, but legacy issues have been a stumbling block for the time-weathered giant.
Accenture is usually the first go-to vendor when it comes to large transformational IT projects requiring deep consulting expertise. The company has also steadily acquired smaller entities, snapping up First Annapolis Consulting, SinnerSchrader, Endgame's federal cyber-security arm, Investtech Systems Consulting, as well as businesses from Seabury Group.
The plan is to chase after key assets and leverage consulting expertise and human resources that add immediate value.
Growth has been an undeniable constant for Accenture, which has more than tripled annual profits in the past 10 years. Peers like Capgemini have only doubled numbers in that time period, while Cognizant's outperformance hit a wall in 2016 when it posted a shocking annual drop in net income.
This year, Accenture will clock nearly 10% earnings per share (EPS) growth and will repeat those figures next year as well.
IBM is anticipated to show less than 3% annual growth over the next half a decade, and Cognizant is expected to slow down to 12% from its previous 19.2%.
Accenture's digital, cloud and security services divisions account for over 45% of revenue and are moving at a fast clip.
Since announcing Q3 results on March 23, several traders have chosen to grab a portion of the profits, weakening the stock by around 3% over the past five days ending March 28. The profit booking was driven by Accenture's stellar performance in the preceding period compared to the Standard & Poor's 500.
With a nearly 2% dividend yield and a 41.3% payout ratio, Accenture's numbers are ahead of outsourcing peers like Genpact (G) - Get Free Report , and software services rivals like Infosys, Convergys (CVG) and Amdocs (DOX) - Get Free Report .
At a valuation of nearly 19 times forward earnings, we recommend adding shares at every dip.
---
As we've just explained, Accenture is an excellent growth opportunity. If you're looking for other growth opportunities, we've found a trader who turned $50,000 into $5 million by using his proprietary trading method.Click here now for details.
The author is an independent contributor who at the time of publication owned none of the stocks mentioned.