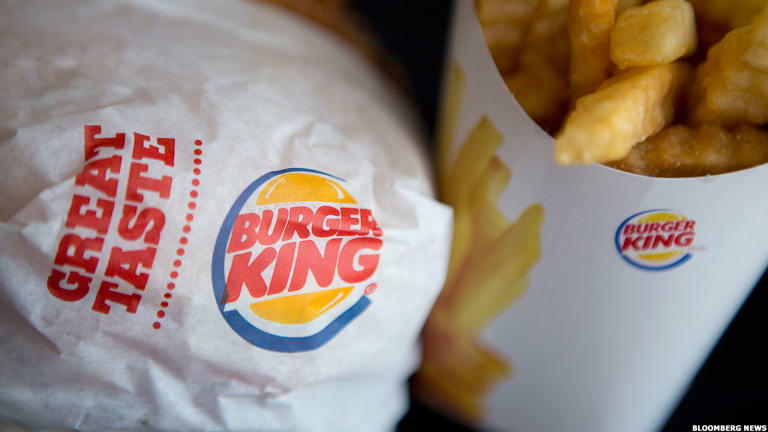 Burger King Says It Wants to 'Offend' Customers With New Menu Item
Burger King is hoping an extra spicy new item will help keep its strong sales momentum going.
NEW YORK (TheStreet) -- Burger King hopes consumers won't be too chicken to scarf down its latest fast-food concoction.
On Tuesday, Restaurant Brands International's (QSR) - Get Report Burger King brand begins offering its new Fiery Chicken Fries in all of its U.S. restaurants. The spicy new companion to Burger King's popular chicken fries took a year to develop, and is coated with a super-spicy breading of cayenne and black pepper.
"We wanted to create something as spicy as sh**, that it was so spicy that it may even offend you," said Eric Hirschhorn, Burger King's chief marketing officer for North America at an exclusive taste-test of the new product attended by TheStreet in New York City on Aug. 6. Hence, it's no surprise that Burger King's marketing plan for its latest product is called "Offensively Spicy."
In the taste test, TheStreet found the fiery chicken fries to be tame on the tongue at first, with a mild kick. As more of the fries were consumed, however, the level of heat built in the back of our mouth. A person from Burger King's test kitchen at the event explained the residual spiciness was caused by the black pepper in the breading.
Hirschhorn said the newest introduction to what is becoming a chicken fry franchise was borne out of strong consumer interest in spicy food being shared on social media and other tests done by the company. One of PepsiCo's (PEP) - Get Report most popular new snack products is a version of Doritos called Doritos Roulette, where one out of every handful of chips is super-spicy.
"It's the spiciest innovation we have ever had at Burger King," said Hirschhorn, noting that the fries land in the 50,000 to 100,000 unit range on the Scoville Scale, a widely used measure of the spice level of chili peppers and other foods. That makes them significantly spicier than a typical jalapeno pepper, which scores between 2,500 and 10,000 Scoville units, although nowhere near the 1.6 million to 2.2 million ratings of the spiciest item on the scale, the Carolina Reaper pepper.
So chicken fries are somewhere in the middle of the Scoville scale, not too spicy as to ruin the customer experience, nor disappointingly mild. Burger King likely sought to ensure that it found some middle ground on the product's spiciness so that it sells well across the country, not just in specific markets where spicy food is favored.
Burger King has a somewhat checkered history with its chicken fries. First introduced in 2005, the company got rid of the popular item in 2013 before bringing them back in August 2014 as a limited time offering amid outcries from consumers on social media.
After August, the item came off Burger King's menu, only to be made permanent in March of this year. "People are attaching chicken fries to all types of meals as a side item, in addition to the regular fries served in a meal," said Hirschhorn.
For Burger King, slowly building on the success of chicken fries is part of a new focus internally to develop fewer, but more impactful new items for its menu. Doing so has allowed the company to simplify the operations in its restaurants, and ensure order accuracy.
It's a strategy that continues to feed Burger King's hearty sales, especially compared to fast-food rivals such as McDonald's (MCD) - Get Report and Wendy's (WEN) - Get Report.
Same-restaurant sales at Burger King North America surged 7.9% in the second quarter, quicker than the 6.9% gain grilled up in the first quarter. "The sales results reflect restaurant 'reimages,' the introduction of more impactful products, and a broader marketing message," said Burger King CEO Daniel Schwartz on Jul. 27. In particularly, Burger King found success with its new A.1 Hearty Mozzarella Bacon Cheeseburger and Extra Long Pulled Pork Sandwich, as well as with its Chicken Fries.
On the other hand, struggling McDonald's has served up sales declines in the U.S. for seven straight quarters, as it battles to shrink its menu to improve operations and develop more interesting products. In the second quarter, the Golden Arches' same-store sales fell 2.0% amid a lukewarm reception to its new Angus Sirloin Third Pound burgers.
At Wendy's, North America same-restaurant sales at company-operated and franchise-owned locations increased by 2.4% and 2.2%, respectively, in the second quarter. Restaurant Brand's shares have rallied about 7.9% in the past six months, outperforming McDonald's stock which has gained 4.3%, and Wendy's which has dropped 11.5%.
McDonald's and Wendy's do not offer spicy fries, suggesting Burger King's differentiation with its latest offering could steal some sales from its competitors in the third quarter.
When asked by TheStreet if Burger King's budding chicken fries franchise might lead to a sweet, dessert-type fry on the menu next, Hirschhorn did not rule it out.
"Right now this is only the beginning. We'll see where it goes," said Hirschhorn.