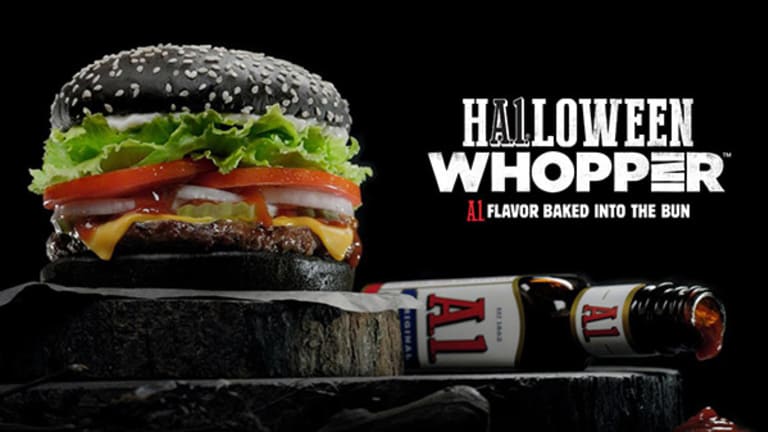 Here's What Burger King's New Black Whopper for Halloween Tastes Like
Coming off its success in Japan, Burger King will be making its popular black-colored burger available in the U.S. this fall.
Updated to include review of Burger King's Halloween Whopper. 
NEW YORK (TheStreet) -- Burger fans in the U.S. will finally get a taste of a bun that is far removed from the typical yellow potato or white bread ones typically used by fast food powerhouses.
On Monday, Burger King launched the Halloween Whopper sandwich for a suggested price of $4.99. It features an all-black bun and will be available only for a limited time.
According to a spokeswoman for Restaurant Brands' (QSR) - Get Free Report Burger King division, the bun's black color is derived from an A1 smoky black pepper steak sauce "baked right into the bread."
The U.S. edition of the all-black burger was inspired by Burger King's success with its "Black Burger" in Japan, which received considerable buzz on social media for its non-traditional appearance. Earlier in the year, Burger King also debuted an all-red burger in Japan.
"Our U.S. guests have been extremely curious about the bun flavors they've seen introduced in Japan and other countries, so we saw the opportunity to bring them an equally unique experience," said Eric Hirschhorn, chief marketing officer for Burger King North America, in a statement.

The buns on the Halloween Whopper were as black as advertised.
In TheStreet's taste test of the new sandwich, the product scored high in one key area -- the black buns looked virtually identical to the marketing materials, a rarity in the world of fast food. This will likely prevent some of the social media backlash that tends to stem from fast food fans that are upset with publicized new product releases. 
But the sandwich did fall a little short in two areas. First, the black buns only had a hint of the A1 steak sauce. And the inside of the sandwich was also light on the A1 sauce, and heavy on the typical Whopper mayo. 
Nevertheless, Burger King's clever, bold thinking with its new products and marketing has worked wonders for hard-charging Burger King recently.

The Halloween Whopper was light on A-1 steak sauce.
Burger King's adjusted second-quarter earnings per share came in at 30 cents, compared to the 25 cents analysts were estimating. Same-restaurant sales at Burger King U.S. surged 7.9% in the second quarter, quicker than the 6.9% gain grilled up in the first quarter.
Burger King's CEO Daniel Schwartz attributed part of the strength in the quarter to the return of Burger King's notorious King mascot, who made high-profile TV appearances at the Kentucky Derby in June and the Mayweather-Pacquiao fight in May to much social media fanfare.
More recently, Burger King aggressively took to social media to generate interest in new spicy chicken fries released in August. Name of the marketing campaign?
"Offensively Spicy."
"We wanted to create something as spicy as sh**, that it was so spicy that it may even offend you," said Hirschhorn at the time.