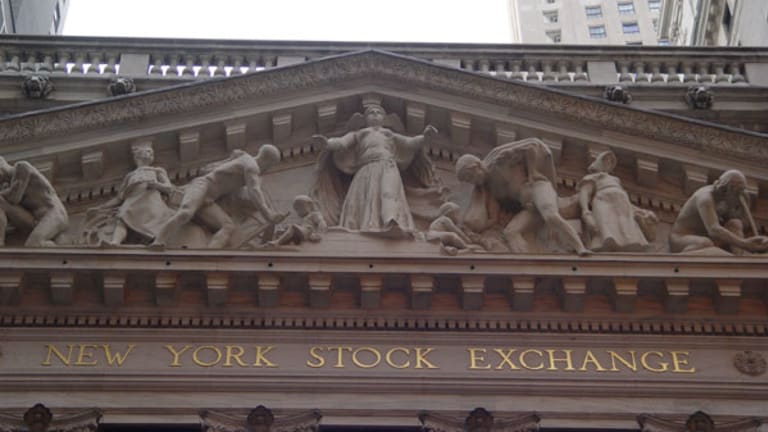 Bulls Needed a Breather; Are Things Getting Back to Normal?: Jim Cramer's Best Blog
Jim Cramer ponders how the bulls needed a breather, and wonders if things are getting back to normal.
Jim Cramer fills his blog on RealMoney every day with his up-to-the-minute reactions to what's happening in the market and his legendary ahead-of-the-crowd ideas. This week he blogged on:
How the bulls needed this breather
How it's possible the market is getting back to normal
Click here for information on RealMoney, where you can see all the blogs, including Jim Cramer's -- and reader comments -- in real time.
Cramer: The Bulls Needed This Breather
Posted on Dec. 16 at 2:45 p.m. EDT
These are the kinds of days the bull needs. They are the rest that the bull needs to get before it can charge higher.
Notice, for example, how tech's rolling over. That's very good. Tech's ultimately a crummy leader over time because it can be so narrowly focused. We wrote a note Friday about Adobe (ADBE) - Get Report for Action Alerts PLUS, which you simply must read because the quarter was superb. But the market has decided, after an initial up move, that one of the best quarters that has been reported this year was subpar.
That's about as long as the initial reaction to Honeywell's (HON) - Get Report numbers.
Plus, have you seen what Matthew Boss did to the retailers Friday morning, especially to Nordstrom (JWN) - Get Report , which the JPMorgan analyst took to a Sell? I know a lot of people who own the store because they want a robust stock to play the strength in retail.
But Blake Nordstrom told Boss he hasn't seen the mall this bad since 1972. Now that's a comparison. What does that tell you about how Amazon (AMZN) - Get Report might be doing? (Amazon is part of TheStreet's Growth Seeker portfolio.)
Ultimately it is a day of confused rotations and selloffs. We get a couple of days of back and forth, slop and chop, backing and filling, we might be ready for the next charge.
Action Alerts PLUS, which Cramer co-manages as a charitable trust, is long ADBE.
Cramer: Do Your Homework! Honeywell's Release This Morning Was Positive
Posted on Dec. 16 at 10:46 a.m. EDT
Honeywell (HON) - Get Report guides up organic growth.
That was the headline, but the nitpickers focused on a comment about 2017 guidance being at the low end of the range--and I am aghast that someone sold this stock down 10.
You can't make up how lacking in "horse sense" some traders can be. If you looked at the last quarter Honeywell reported, you saw that organic growth--the key metric for industrials--was down 3%. The release this morning represented a guide up in organic growth, of a surprising magnitude.
Was the earnings guidance at the low end? No more than 3M's (MMM) - Get Report was the other day--and that stock's screaming after being hit.
Plus, as when Janet Yellen outlined her forecast for 2017--with an itsy-bitsy roughly 100 basis points bump up to 2% and change for the GDP post election--Honeywell didn't factor in a possible growth spurt. Nor did it factor in some possible tax changes. Given the global nature of Honeywell's business, though, you know that the strong dollar has to rein in earnings.
All in all, this is exactly what I have come to expect from this market. It's in to the total "no homework" phase--including watching Mad Money, where outgoing CEO Dave Cote came on the show to explain why his last forecast wasn't downbeat; it was actually upbeat with some conservatism thrown in.
This time was no different, which is why HON proceeded to rally and make up all 10 points it shed ... and then some.
Action Alerts PLUS, which Cramer co-manages as a charitable trust, has no positions in the stocks mentioned.
Cramer: Are Things Getting Back to Normal?
Posted on Dec. 14 at 4:18 p.m. EDT
Something happened Wednesday that, for the past eight years, is pure heresy. The Federal Reserve raised rates by a quarter of a percent, the Fed chief said the economy's pretty good, good enough to raise rates more than we thought, and the market sold off, but not aggressively and not horrendously.
I think you could say, after a 2,000-point run up, we were going to get the selloff we were due.
But it wasn't wholesale. It wasn't a collapse. In fact, given the rarefied heights we got to ahead of the meeting, and how we actually ran higher into a Fed meeting, it's to be expected. It's an extraordinary time but not so extraordinary that we could maintain the rally right into and after the hike.
There was a brief moment where the market actually cheered the hike. The Dow looked like it would pierce the 20,000 mark. But the buyers who stormed those ramparts were thrown back by profit-takers who seemed motivated to lock things in and not to bail wholesale from the market.
You know what that relatively gentle selloff means, though, after this remarkable run? I think it means we may be actually getting back to normal. We may find ourselves focused on companies and how they are doing and whether they should be owned based on their futures, not on the fed fund futures or the S&P 500 futures, which have been the key metrics so many money managers have looked at.
I can't stress enough how seminal this normalization is. For as long as I have been investing, which dates back to 1979, we have always had to pay attention to the Fed and what it's up to. There are times when the Fed can crush any rally or even the market or the entire economy if it takes rates up too much, as we saw with 17 straight rate hikes before the Great Recession.
To ignore the Fed is moronic. Last year, the Fed raised rates a quarter of a percent and the market got clobbered. It was pretty clear neither the economy nor the stock market was ready for a quarter of a point increase, even as it was telegraphed. That's because the economic growth was so uncertain, and the outlook so cloudy and perhaps weak, that it seemed out of sync with the moment.
Now, here's the irony. Fed Chief Janet Yellen gave a press conference after the rate hike. Sure enough, once again, the economic growth is uncertain, cloudy even, but this time it's not about being too weak, it is about being too strong. This time it's about whether President-elect Donald Trump's going to get this economy so hot with his troika of business goodies, deregulation, lower corporate taxes and repatriation of overseas cash, that Yellen has to be concerned that gradual and sporadic rate hikes may not be enough, so she laid out a forecast of not two but three hikes, and I thought left the door open for more.
Last year that kind of talk crushed the market but good. We were in a stunningly weak holiday season. We had oil and gas rolling over to the point where we had $300 billion in debt at risk. We had worries that housing would be crushed by any rate increases.
This time, we said yep, it was time to raise rates, makes sense, the economy's strong enough that we have to go back to rates like we used to have when business is good, something in the twos and threes perhaps, maybe even more if Trump's gambit really pays off and the price we have to pay is that we have to have a lot of quarter-point increases to get there.
Traders still held on to Yellen's every word. When the statement on the need for the increase as well as the additional increases came out, the banks led the failed charge to Dow 20,000. But then when Yellen spoke in the press conference about the need to raise in a measured fashion because the economy's strong but not that strong, that seemed to slam the door on four rate hikes, which then caused the bank stocks to roll over, taking the rest of the market with it.
Then when she said the labor market looked like it did before the recession, we had another blip up.
But then the Fed reporters couldn't help themselves. They went all Trump. They went all stock. They even asked whether there is irrational exuberance, a reference to former Fed Chief Alan Greenspan, who famously--or you could say infamously--said the stock market might be up too much, only to see it vault much higher after.
Yellen didn't take the bait. Not the first time. Not the second time. Not the third time. But finally she kind of gave in and gave us that comment about how things are a little cloudy under Trump, and that's when the market took its maximum dip down before it found its footing.
So, what's the real takeaway here? I think it's pretty simple. We had the big, bad event. Rates went up. But all the rate hike really did was ratify what we all knew, which is it was time to raise rates because the economy's better.
To me, the more important story here might be: Does the Trump rally now pause? We expected a rate hike. We ran up into a rate hike. We got a rate hike. Now what do we do?
Earlier this week I suggested that we rallied but good on the tripod of lower corporate tax rates, deregulation and repatriation of funds.
Since then, the rally's been on the backs of the multitude of pro-business Cabinet employees.
But remember what I said about feeding the beast. Unlike Trump, Yellen's no beast feeder. She's not trying to stimulate the economy. She just doesn't want it to get out of hand.
Trump, on the other hand, thinks this economy is a heck of a lot more weak than Yellen does. He's still campaigning about the crummy economy that he ran against. He's still saying business needs help but not from the Fed. From the White House.
In fact, we saw him meet with tech leaders today in Trump Tower, a real summit of billionaire chieftains who are responsible for much of the economy's growth but also much of the automation that causes job loss, and he was incredibly encouraging. Why does that matter? Because for the most part it looked like a room full of people who voted against him. There were plenty of traders concerned that these non-Trump people might lead to some bombastic statements about how they could be so wrong in who they like.
Didn't happen.
Instead, Trump was gracious, telling them they should pick up the phone and call him or Gary or Wilbur, meaning Gary Cohn, late of Goldman Sachs, now the chief economic advisor to the president, or Wilbur Ross, the financier who will be commerce secretary.
I found myself thinking, hmm, would President Obama have said, "Give me a call"? Or would he be more standoffish given how rich everyone in the room is and the message it says about income inequality. Suffice it to say that the beast was fed enough by Trump that we reverted to thinking about that upbeat meeting instead of a downbeat scolding, and after a decent rally from the bottom we got another wave of profit-taking.
So, it ended up being another day at the office vs. what could have been a tumultuous day where the office--if it is a trading desk--could have been bedlam. Call it what happens when things are normal, at least as normal as they can be with this president-elect.
Action Alerts PLUS, which Cramer co-manages as a charitable trust, has no positions in the stocks mentioned.
Cramer: Ah, This Market Reminds Me of My Youth
Posted on Dec. 13 at 11:19 a.m. EDT
"Hey, IBM hasn't done anything: Go grab 50,000. And when you are at it, take 100,000 Nike because that's a laggard, too."
Yep, that's where we are right now. That's what's happening behind the scenes at trading desks throughout the country. I know this because I lived it. Yep, we are in a market that reminds me of all the great bull markets of yore, what I can clearly call my youth, when we would study the tape and look for stocks to buy that are way behind other stocks in their cohort and the market and bet they can start climbing simply because, once in motion, they stay in motion.
Now just to be clear, when I was running my hedge fund, we didn't just take stocks for no reason other than they hadn't done anything. We would do some research and find out whether there could be any catalyst. We were a catalyst-driven hedge fund betting that certain analyst meetings would be better than others or the market would fall in love with certain stocks in one of its willy-nilly rotations. We liked to think there could be good news coming sometimes simply in the form of upgrades because analysts take their cues from the stocks at times like these more than they take their cue from the fundamentals.
Case in point: IBM (IBM) - Get Report . We know that here's a company with a laggard stock when it comes to the entire market even as it just hit a 52-week high and is up 22% for the year. But almost four years ago, the stock was 50 points higher than it is now.
The company has a huge buyback: 500 million shares in the last 10 years, bringing the share count down from 1.4 billion to 957 million and they get little credit for that. You've got a 3.3% yield. The stock sells at 12x earnings. It's transformed the company much more to the cloud. The last quarter showed a very good acceleration in the fast-growing cognitive artificial intelligence business. It would be a huge beneficiary of lower corporate tax rates. It's a gigantic GDP play. And it's got Warren Buffett's backing.
On second thought, take 100,000.
Newer hedge fund managers and analysts aren't used to this behavior. They don't get the concept of buying a stock that's behind the market. They are only thinking about how IBM has disappointed repeatedly.
But I would come back and say, if you think growth is going to accelerate here and the rest of the world, then you have to think that a company like IBM will see an immediate improvement in the top line, which is what has been lacking. That will quickly fall to the bottom line given how lean the company is and how costs have been taken out.
Added to the positives? It is unlikely IBM will pre-announce a shortfall or upset the long-side apple cart. Fifteen out of 26 analysts have a hold. Four have a sell. That's a lot of people who could upgrade. Yes, you have to think that way.
Finally, when you are casting about for exposure, you can very quickly "put IBM on," meaning it is liquid and any firm will stop you out, meaning they will sell it to you up a few pennies and then try to work the order so that perhaps you can get it even lower.
We haven't seen this kind of activity since the 1990s. It's old school. But it's real and it has been happening every day since the Trump rally began.
Action Alerts PLUS, which Cramer co-manages as a charitable trust, has no positions in the stocks mentioned.
At the time of publication, Action Alerts PLUS, which Cramer co-manages as a charitable trust, is long ADBE.