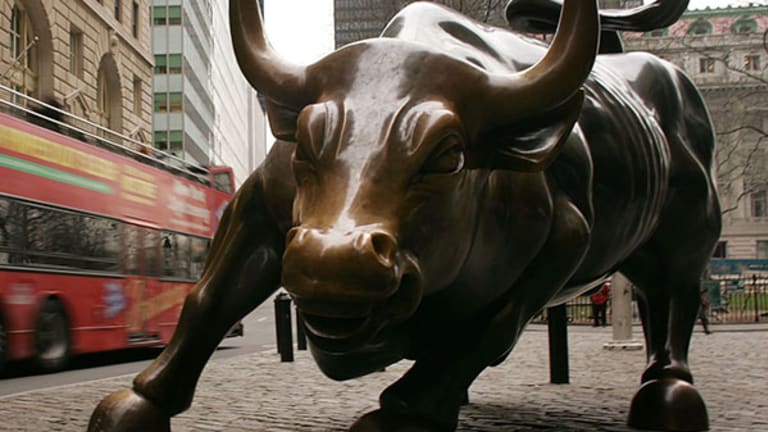 Bulls Catch a Break; Alternate Facts May Be at an End: Best of Cramer
Cramer explains why the bulls may have gotten a break with Steve Bannon's departure from the White House, and also considers whether the alternate facts narrative has finally ended.
Here are Jim Cramer's top thoughts on some of the biggest stories of the week. 
Jim Cramer: Bulls Catch a Break as Bannon Leaves
I don't know Steve Bannon from Adam. Have never met the man. He has been a faithful representative of the hard far-alt-right, or whatever they are called these days, that got Trump elected.
But I do know this. The market seems to like his departure as Trump's chief strategist because he is viewed as someone who likes what I would call creative destruction, which can be good in business but not so hot when the president needs creative construction.
But if I were to suddenly pop into the White House, which I can tell doesn't seem all that likely, I would place two books on the night table of the president: Fear and Loathing on the Campaign Trail by Hunter S. Thompson, and Nixon Agonistes by Gary Wills.
First, these are amazing books because they are all about the triumphant Nixon election over George McGovern, where McGovern only won one state: Massachusetts.
Second, they both accept the brilliance of Nixon and how he knew so much about politics. One of the key tenets? You own your base. It's yours to do what you want with, which is basically turn against it because they aren't going anywhere. You are in. They elected you. They will elect you again.
Nixon was then able to accomplish much more than anyone remembers. I say that because most of what people remember about Nixon is Watergate. Before that, he was someone who had great ease and success with a domestic agenda because, as Thompson described so well, Nixon found it so easy to make deals. He wanted a legacy that was actually fairly liberal, set largely by Daniel Patrick Moynihan.
Nixon never worried about losing his base because he recognized that his base had nowhere to go.
Trump's base has nowhere to go. So you don't need to stoke them or cheer them. You can throw them a bone but you have the luxury of trashing neo-Nazis and the KKK and any extremist, and whatever candidate the Democrats elect, they would rather die than vote for them.
Bannon seems like a guy who doesn't get this. My only interchange with him is that he wrote that I got his father out of AT&T (T) - Get AT&T Inc. Report in the Great Recession. He clearly hasn't read Get Rich Carefully, which has a whole chapter devoted to technicians and finding bottoms, which led to my big push to buy AT&T, not sell it. All pretty well documented.
That's all water under the Love Canal.
But here's what matters. The market viewed Bannon as the enemy of Gary Cohn, particularly when it comes to trade, because Cohn is virulently anti-tariff and Bannon is the opposite, especially when it comes to China, where he was pretty strong about the need to respond to the endless dumping the Chinese do here. They are the worst. I am actually with Bannon on this, not that he would care. I am actually a little tougher than him because I think we have the worst trade deals with every partner and no matter what exigencies caused them, they need to be reviewed.
So to put this all in perspective, if we were worried about Cohn leaving, we just got a big break. I think a purge of Bannon means Cohn stays.
Remember, Cohn is a practical man. He wants to get something done. Bannon? Nixon Agonistes and Fear and Loathing would say he's great for the election but needs to go spend some time at a think tank.
We should have been down Friday morning, at least from the follow-through from Thursday. But Applied Materials' (AMAT) - Get Applied Materials, Inc. Report quarter was fabulous and the company made it clear there's no boom/bust in their markets, just secular growth in the Internet of Things. Bingo.
The day is long. But with Cohn theoretically in and Bannon out, the bulls get a reprieve.
More of What's Trending on TheStreet:
Like Rats Off a Sinking Ship, Steve Bannon Out at White House
10 of the Most Worthless And Expensive Olympic Venues of All Time
Action Alerts PLUS, which Cramer co-manages as a charitable trust, has no positions in the stocks mentioned.
Originally published Aug. 18 at 1:47 p.m. EDT

Jim Cramer: This Could Be the End of Trump's Alternate Facts Narrative
Did the President watch all 22 minutes of " Charlottesville: Race and Terror," a presentation of VICE News on HBO, before he gave his talk about the moral equivalence of both sides in his intemperate Tuesday press conference? Did he have knowledge of the leaders of the Nazi-KKK run rally before he said that there were "very fine people on both sides?"
More From Jim Cramer
Did he know the organizers of the rally were avowed supremacists who shared the values of the Nazi party and the KKK?
I believe that many of the resignations and the disbandment of the councils had to do with the business leaders knowing more about what happened in Charlottesville than the president, despite the president's claims otherwise.
It is impossible to watch the VICE documentary, which came out Monday, and argue that there were two sides, at least in America. There was a side that is antithetical to everything any thinking person in this country believes in, the side that held a Nuremberg-style nighttime rally before the murder of the protestor, and the side that represented a classic American stand against racism.
There's a side that stands with the Nazi Party and the KKK, and a side that stands for anti-Nazi Party and the anti-KKK. This is why the single best interview I have seen on the subject, Steven Colbert with deposed communications director Anthony Scaramucci, was so on point when Colbert asked if the Mooch were pro or anti-Nazi, right from the beginning of the interview.
That's because you are implicitly pro-Nazi if you defend the protestors.
It was a legitimate question, not a funny one.
I believe that the combination of the president attacking Merck's MRK CEO, Ken Frazier, for standing up for his views post the first press conference and the statements made that walked back the president's more considered and informed second view, the fated Trump Tower impromptu remarks where he showed disdain for those who resigned from the council, doomed his relationship with the corporate leaders he had assembled, and sealed the president's fate with these business leaders.
I also believe that no corporate leader would step forward to take any resigning CEO's place, knowing the facts of what happened in Charlottesville and how the president could praise both sides of the protest despite the president's claims, making positions on any councils impossible to fill, let alone condemn the quitting leaders for shirking their duty to the country.
I also can't believe that not just the Jewish members of his staff, but the majority of his staff, including General John Kelly, the chief of staff, can abide by those second set of comments. In fact, it is offensive to even isolate Jewish members as ones who must show conscience. General Kelly, as well as all leaders in the armed forces, have worked harder than any others in any institution to stamp out institutional racism.
What choice do they really have now? As Colbert stated, are you pro- or anti-Nazi?
I sure hope that dialogue that singles out any religion being offended stops right now, especially if you watch the VICE documentary.
Now, it's pretty much of a given that the president, even if he saw the documentary, can't at this point embrace the real facts. He reiterated repeatedly in the second press conference that he has his own set of facts, which directly contradict even the nature of the white supremacist protest.
He's boxed in. This could be the end of the alternate facts narrative that the president harps on.
So, given this stand-off, can business leaders afford to embrace Trump? I think anyone with stakeholders at all -- meaning customers, shareholders, employees -- can't at this point, without severe reputational risk.
It isn't worth it.
What do you get from participation with the president, if the president doesn't represent the country's values? Do you want to work with him to try to get him to embrace those values? They must not only forget their constituencies but they, too, will have to face the pro-anti-Nazi dilemma. They, too, have to be asked if they want to be part of the Triumph of the Will.
The people without portfolio of course can do so.
Will it matter to the stock market?
Probably not. No Republican has seriously broken with the president, besides the ones who had broken with him before. So, the economic agenda can still pass if the Republicans can just get over Repeal and Replace. But they first have to raise the debt ceiling and decide on a budget, which pretty much eliminates the possibility of tax reform in 2017.
Those in Congress who stand by him after this exchange must not have traditional stakeholders or put party loyalty in front of the values of the Constitution, again implicitly what you are doing after the Trump press conference.
But he will have to do what he wants to do with business pretty much on his own, going forward.
I do not think the cheek can be turned.
I have wracked my brain trying to figure out how he can get people from publicly traded companies to work with him now to get anything done.
I can't currently think of one.
But maybe it doesn't matter to stocks anyway, given that the leaders don't need him and he, obviously, believes he doesn't need them.
Is it like if George Wallace won election?
Until further statements by the president condemning HIS OWN VIEW, pretty much so.
But, as I always ask, what does that have to do with the price-to-earnings ratio of Bristol Myers (BMY) - Get Bristol-Myers Squibb Company Report ?
Action Alerts PLUS, which Cramer co-manages as a charitable trust, has no positions in the stocks mentioned.
Originally published Aug. 17 at 7:34 p.m. EDT
Click here for information on RealMoney, where you can see all the blogs, including Jim Cramer's--and reader comments--in real time.
Jim Cramer fills his blog on RealMoney every day with his up-to-the-minute reactions to what's happening in the market and his legendary ahead-of-the-crowd ideas. This week he blogged on:
How to play the Apple iPhone 8 cycle
How August has finally arrived
Action Alerts PLUS, which Jim Cramer manages as a charitable trust, has no positions in the stocks mentioned.