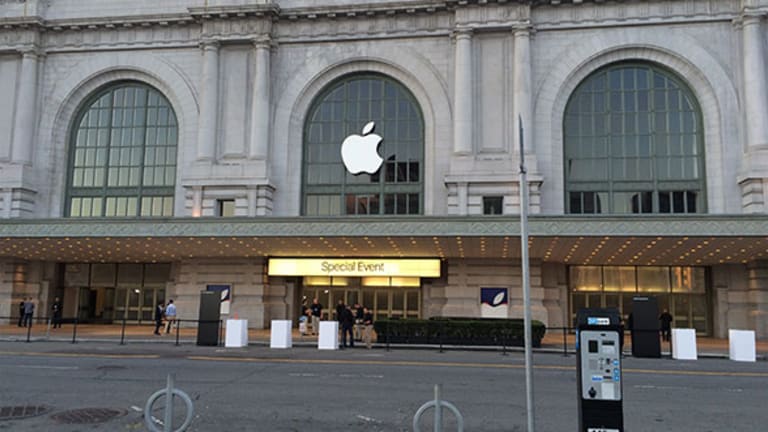 Bullish on Apple? Here Are 4 Things to Watch
How many consumers will upgrade to the latest Apple product this year?
How many consumers will upgrade to the latest Apple product this year?
NEW YORK (Real Money) -- It's that time again -- deciding whether to buy Action Alerts PLUS portfolio holding Apple's (AAPL) - Get Report stock into the holiday season after the September launch of its new iPhones.
The past three years have been especially kind to those that have properly connected the dots after Apple iPhone launch weekend (the stock has rallied into the holidays). Why investors ate up the shares after those releases is pretty simple -- Apple managed to thwart the negativity that it was no longer innovative. So investors assigned the stock a better multiple and earnings estimates, as Apple showed that yet again, Wall Street was too worried about nothing.
This year, the chorus has been louder than in recent memory because this is only a modest refresh cycle for the iPhone. According to Wall Street, things like 3-D Touch and a richer photo taking experience won't be enough to spark Apple's stock as has been the case in recent launch years.
Well, it would appear that Apple is set to prove skeptics wrong. From what I could tell, the crowds across the 12 countries getting the new iPhone at launch were hearty. Not hearty as when the iPhone first launched in 2007, but hearty enough to soothe nerves on Apple having a disappointing holiday season.
Further, many people I canvassed in visiting malls this weekend said they ordered the iPhone online. Hey, this isn't precise research, granted, but it all helps to build a picture. In addition, the people I chatted with at several Apple stores voiced considerable interest in finally plunking down money this holiday season on Beats headphones and an Apple Watch. I think Apple's succinct in store marketing, and less succinct marketing on TV and billboards, is finally wearing people down that they need some more products from Apple they didn't realize they needed.
I liked seeing a low number of Americans at the flagship stores in New York City I visited on Friday, too. Seeing tons of tourists reassured me the world isn't falling apart, and maybe the Federal Reserve is right to raise rates at the December meeting (this is how my brain works). Second, it reaffirmed my personal view Apple shares are grossly undervalued, given the deep reach of the brand globally.
This is what I would want to hear from Apple to stay bullish on the stock:
Sales "significantly exceeded" expectations. If that is uttered, you have to immediately think that many consumers also spent money this weekend to buy an Apple Watch. Also, that the device in the hands of more people than Apple thought could lead to an impressive holiday season -- seeing others using Apple products often makes non-early adopters want the latest Apple products. Trust me, it works like this.
A nod to people buying Apple Watches or some form of shout-out to app downloads this weekend. Not sure if either is likely to come, but having either mentioned would be bullish -- it shows people shopping the entire Apple family of products, which, in case you missed it, continues to grow.
An acknowledgement both iPhones are out of stock, and the company is working hard to meet demand. This was the case after last year's launch weekend.
Pay attention to the number of countries getting the iPhone by the end of the year. Last year the number was 115 -- it would be nice to see a number above that. No big deal if not, but nice to see, nonetheless.
Editor's Note: This article was originally published at 8 a.m. EDT on Real Money on Sept. 28.