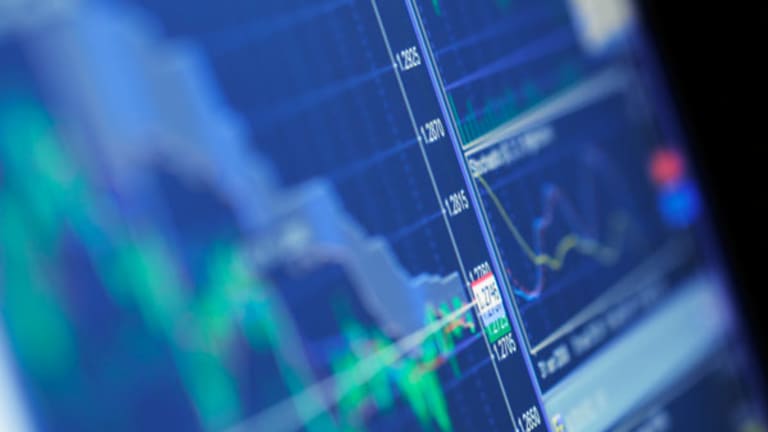 Bullish Blue-Chip Technical Charts for April
Here's an in-depth look at a handful of large-cap stocks that are telling important technical stories right now.
BALTIMORE (Stockpickr) -- The stock market is moving cautiously higher again this week, as the S&P 500 attempts a retest of the highs it made back in February.
With market indices starting today fairly flat, it could be a chance for stocks to take a breather following the nearly 6% ascent of the last 10 days. It could also present a good opportunity for investors hoping to trade the broad market in vehicles such as the
SPDR S&P 500 ETF
(SPY) - Get Report
.
Ultimately, that sort of pause is a good thing for bulls. Giving the broad market a chance to digest gains and bleed off oversold momentum is critical if stocks are going to continue to climb.
That's because those "bases" create an abundance of transactions within a particular price range; after that, technically, that base becomes a support level (a sort of demand-driven price floor) for shares. It's the existence of that downside support that significantly reduces downside risk on the S&P's next leg up.
Even though that gives an auspicious signal for the broad market, base-building in the S&P 500 doesn't tell us much about specific trading opportunities right now. That's why we're turning to the technicals on Wall Street's biggest names again this week.
Related:
3 Stocks With Bullish Technical Setups
are used every day by proprietary trading floors, the Street's biggest financial firms and individual investors to get an edge on the market. And according to some sources, skilled technical traders can bank gains as much as 90% of the time.
Every week, we take an in-depth look at three large-cap stocks that are telling important technical stories right now. Here's a glimpse at
.
Microsoft
Microsoft
(MSFT) - Get Report
has been having a challenging year in 2011. Shares of this tech giant have slid 8.24% year-to-date, trailing the broad market's performance by 13.9%. That's substantial relative weakness in shares of the $215 billion Windows maker. But a reversal in shares of Microsoft suggest that the downtrend in shares may be about to change.
Not surprisingly, that reversal coincided with the reversal in the S&P on March 17 as buyers came back into stocks en masse. Unlike the S&P, though, Microsoft set a $26 resistance level not long after reversing. While that resistance level could be seen as a negative for this stock, it's actually a positive thing because it gives traders a clearly defined
opportunity.
Because there's a glut of supply of MSFT at the $26 level, a sustained break above that price means that buyer order flow has overtaken the asks at that price. If you decide to take the trade on MSFT, wait for the break above $26, then consider a protective stop at the 200-day moving average.
Microsoft, which shows up in various professional portfolios on Stockpickr and was one of
David Tepper's top tech stocks
of the most recently reported quarter, was also one of
10 stocks that matter most to hedge funds
for that period. It's one of the
top-yielding computer and software services stocks
and shows up on a recent list of
40 stocks analysts are insanely bullish about
.
AMR
For transportation firm
AMR
(AMR)
, the parent company of American Airlines, 2011 hasn't been much stronger for shares than it has been for Microsoft. In fact, AMR's actually down 12% since January -- much worse than the tech giant. But like Microsoft, AMR has bullish breakout potential right now.
That's thanks to a rough rounding bottom in shares of AMR. A rounding bottom is a gradual
whereby buyers slowly take control of a downtrending stock, swinging its trend to the upside. With shares closing right at resistance yesterday, an open above the horizontal blue line (above) should signal buying for traders.
It's going to be crucial to treat this trade carefully right now. AMR has seen two similar rounded "scallop" patterns in the last five months, both of which ultimately ended in lower prices. Don't be discouraged by that previous price action, though; the first scallop back in December did reach its price target (based on previous resistance) of $8.50, and the second never even triggered a buy.
The key to trading AMR successfully is to approach the trade tactically, and be ready to take gains quickly. For this setup, the 200-day moving average looks like an attainable near-term target.
AMR, which is one of the
top holdings of David Tepper's Appaloosa Management
, showed up on a list earlier this month of
10 stocks investors are betting will fall
.
SPDR Gold Trust
There's been a lot of attention on precious metals of late -- most significantly on how they've failed to hold up their historical inverse correlation with the stock market. In the last month, as the S&P 500 stumbled, so too did metals such as gold and silver. But breakout potential in the
SPDR Gold Trust ETF
(GLD) - Get Report
could soon change that for the gold buyers.
When looking at a chart of a futures-driven ETF such as GLD, it's important to realize that you're only seeing part of the picture. Because futures markets are open during different times than stock exchanges, futures ETFs are prone to gap-filled charts. For that reason, it's often valuable to look at a chart such as GLD's in conjunction with a chart of the underlying future. Gold showed early signs of a breakout back in mid-February, but the breakout never saw confirmation. Now shares are retesting the same low $140s resistance level with an ascending triangle formation.
As with the other breakout trades we've explored today, the buy signal for GLD comes on a move above that horizontal resistance line. If you do decide to take the trade, consider a protective stop below $138.
GLD, which is owned by such high-profile investors as
and
, was one of the
largest gold-related holdings of hedge funds
in the most recent reporting period.
Apple
Of course, looking at potential trade setups in real-time is a valuable way of identifying the best opportunities on the market at any given time. But don't discount the value of recapping past trading setups. A perfect example of that comes from our
Must-See Charts article two weeks back
. In it, one of the most significant stocks was
Apple
(AAPL) - Get Report
, which had sold off to strong support at $325.
That support level suggested that shares would likely bounce, and that "if you're looking to be a buyer of Apple right now, this week could be your chance at a low price entry."
So how'd that outlook hold up? Apple did in fact bounce off of $325 support, making its way to just shy of $350 for a gain of around 7%.
Shares of the firm look to be settling at 50-day moving average support. Bulls will want to watch Apple closely if it attempts to retest $365 resistance in the next week or two.
Apple, one of the
top-rated computer hardware stocks
, also showed up on the list of
40 stocks analysts are insanely bullish about
.
To see these stocks in action, check out the
High-Volume Technicals portfolio
on Stockpickr.
-- Written by Jonas Elmerraji in Baltimore.
RELATED LINKS:
>>5 Housing Stocks Worth Moving Into in 2011
>>36 Momentum Stocks to Consider Now
>>8 Stocks With Big Insider Buying, Selling
Follow Stockpickr on
and become a fan on
Facebook.
At the time of publication, author had no positions in stocks mentioned.
Jonas Elmerraji is the editor and portfolio manager of the Rhino Stock Report, a free investment advisory that returned 15% in 2008. He is a contributor to numerous financial outlets, including Forbes and Investopedia, and has been featured in Investor's Business Daily, in Consumer's Digest and on MSNBC.com.