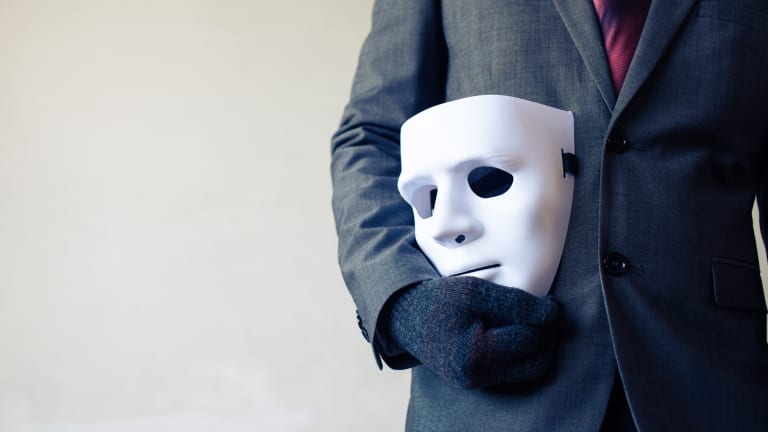 Stock Price Deception Is the Highest It Has Been in Modern Investment History
Doug Kass shares his thoughts on what wild changes in the equity market really means. One thing is for sure: the current bull market is starting to show some wacky moves.
" And I said to myself, 'This is the business we have chosen.'"
--Hyman Roth, "The Godfather"
To me, stock price deception is seen with more frequency today than in any time in modern investment history.
Our markets, influenced by massive central bank liquidity and dominated by passive strategies (ETFs, risk parity and volatility trending), not only are inhibiting price discovery but also are artificially influencing price action -- "buyers live higher and sellers live lower" -- to both the upside and downside.
In some measure this is reducing the authenticity and validity of stock prices and charts and is hurting the value of technical analysis, which may be basing its decisions, in part, on artificial patterns/prices/data. On the other hand, it benefits those who view the market without emotion and who are willing to buy extreme weakness and sell extreme strength.
Wednesday underscored the reasons why and how I look at stocks. I would emphasize, again, that I do not have a concession on process and I recognize that others have different approaches that provide good investment returns.
But I have a logic in my approach and Wednesday's bifurcated action and its selective and often extreme volatility underscores some of these principles that I have adopted over the last four decades and provides some additional lessons:
Avoid Volatile and Unpredictable Stocks -- It's Gambling
In the last two days Riot Blockchain Inc. (RIOT)  has had a range from about $12 to $25. There has been no news to account for that volatility and random action.Other collateral bitcoin plays such as Social Reality Inc. (SRAX)  and Xunlei Ltd. (XNET)  have had similarly large trading ranges. No specific company news there, either. Given my risk profile, I never will trade in these stocks. Others believe differently and believe they successfully can skate on this thin ice, but I will stick to my risk appetite, and I believe all but a few professionals may be kidding themselves in rationalizing these stocks "tradeability." This also explains my reluctance to trade bitcoin, which had a trading range yesterday of $9,290 to $11,377 -- again, on no news.
No Matter What the Charts Say, I Prefer to View Every Trade/Investment Based on an Assessment of Reward vs. Risk
The dynamic of an upside/downside calculation and determining discounts or premiums to intrinsic value form the basis for my trading and investment decisions. Recently, I successfully traded two retail stocks, Macy's Inc. (M)  and Dillard's Inc. (DDS) , on this basis. Consider Twitter Inc. (TWTR)  , which at $22 a share looked technically solid. Nevertheless, I sold off a large portion of my position between $22 and $22.50 recently based on an assessment of a less-favorable upside/downside ratio. Others bought based on an improving chart. Both I and they are likely comfortable with our decisions, but the purpose of this missive is to further explain my tenets and methodology.
More of What's Trending on TheStreet:
There Are Many Great Charts That Lie at the Bottom of the Sea
Though one or two days don't make a market, the artificiality of the markets may be underscored by two stocks on Wednesday -- Micron Technology Inc. (MU)  and Square Inc. (SQ) . Both recently looked fantastic technically. Embraced by many a talking head in the business media, both have been schmeissed in recent sessions. Like the Nasdaq 100 ( (QQQ)  was down $3), they all looked good on the charts until they didn't, and all provided little indication to prepare traders for the reversals. At times like these, it is increasingly dangerous to buy stocks on breakouts. Buying calls on these stocks moves one further to the end of the risk curve. This strategy may work well for some time in a trending market, but a swift directional change can evaporate profits and eviscerate a portfolio. Again, such a strategy should be limited to professionals, and even that body of traders may suffer from a steady diet of options activity, as academic studies show.
Do Not Underestimate the Impact of Price Momentum Strategies on Individual Stocks and Sectors
Over the last month, technology, especially of a FANG (Facebook (FB) , Amazon (AMZN) , Netflix (NFLX) and Alphabet (GOOGL) ) kind, has soared and other areas such as retail have collapsed. The possible artificiality of both moves was evident in the reversals this week and Wednesday. Amazon, as an example, was down by more than $45 on no news yesterday. Retail stocks such as Macy's and Dillard's rose by 10% on Wednesday and 20% in the last week, also on no news. This may underscore (1) the reduced value of analyzing stocks on price technically, and (2) that opportunities are provided for those who are emotionless and have a sense of intrinsic values and legitimate upside/downside calculations.
A Diversified Portfolio Is a Preferable Course
Jim "El Capitan" Cramer detailed the value of this approach late Wednesday in a well-thought-out column, "'Am I Diversified?' May Be Boring, but It Can Help Avoid the Pain." Please reread it. As a matter of course, and as most are now aware, I keep my individual stock positions as a low percentage of my total overall portfolio and often have 40 to 50 portfolio names. I am always diversified in position size (typically at about 2% to 3% each) and in sector exposure (limited to 15% of the portfolio). Recognize that when a trader or investor is only buying "good" charts, that is not being diversified. Rather, it is part of a process that leads to a binary outcome that may end badly given the likely artificiality of prices.
Bottom Line
The artificiality of stock prices has accelerated in recent years with the domination of passive investment strategies.
I will not trade/invest in stocks solely on the basis that they "look good" on the charts in this sort of setting, which is dominated by influences that create an underappreciated degree of price deception.
For these reasons and others I will not buy breakouts and sell breakdowns; this may be the wrong approach in the environment we are now in.
Rather, an approach of buying value and breakdowns and selling seemingly irrationally based prices and breakouts is my investment cup of tea based on the fundamental and dynamic assessment of intrinsic values relative to the current prices.
Others disagree and I respect their ability to navigate differently. I am not taking a shot at their approaches; rather, I am saying what serves me well and what may serve the majority of conservative risk-based investors and traders well.
This is how I am handling the markets these days, and, frankly, will forever.
And... buckle up.
Positions: Short AMZN small, GOOGL small, QQQ small
Originally published Nov. 30 at 9:28 a.m. EST. Doug Kass shares his views every day on RealMoneyPro.Click here for a real-time look at his actionable trading insights.
Facebook and Alphabet are holdings in Jim Cramer's Action Alerts PLUS Charitable Trust Portfolio. Want to be alerted before Cramer buys or sells FB or GOOGL? Learn more now.
More of What's Trending on TheStreet: