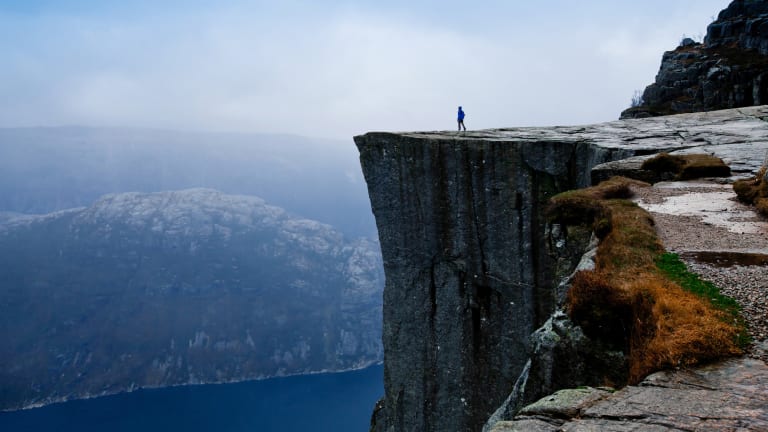 Something Amazing Is Happening Right Now in the Stock Market
The stock market has had every reason to circle the drain and, ultimately, go down it. But stocks continue to plow ahead despite all of the rising risks. Impressive.
If you'd like to receive the free "Morning Jolt" newsletter, please register here.
Looks like the stock market bubble is still inflating. 
Janet Yellen hops on a stage Tuesday, Sept. 26, and drops some mildly hawkish comments. Yet the stock market stayed resilient. In fact, hot tech names such as Facebook Inc.  (FB) and Tesla Inc.  (TSLA) that were dumped on Monday, Sept. 25, came back decently. The bullishness extended into overseas trading. Copper prices popped. Bitcoin prices have had an under-the-radar surge.
It's fascinating to see this positive bias even as the Federal Reserve is telling everyone it's going to: (1) stay vigilant on rate hikes; and (2) begin to unwind its massive balance sheet. These are elements that should have investors reassessing their risk, not piling on even more risk. For traders long the market, the action this week is encouraging. For the bears, it still sucks to be you. 
What's Hot
Wall Street Has Tuned Out of Movie Theater Stocks
Well, let's start with what's NOT hot. That is none other than movie theater stocks. 
Wall Street is flat out hating these stocks right now due to the popularity of streaming services such as Netflix Inc.  (NFLX) . Short interest in Regal Entertainment Group (RGC) , operator of more than 7,300 screens across 566 theaters, rose to 28.8% of shares outstanding as of Sept. 15 from 25.3% two weeks earlier, according to Bloomberg data. In the previous two years, the short interest ratio on Regal ranged from a low of 15.7% to the present day 28.8%. Shares have crashed about 25% over the last year.
A high short-interest ratio indicates investors think a stock will decline in value.
The data is equally as ugly at Regal rival AMC Entertainment Holding Inc.  (AMC) . Short interest in the operator of more than 11,000 screens across 1,027 theaters sat at 38.9% on Sept. 15, according to Bloomberg data, up from 32.6% in the two weeks prior. AMC has seen its short interest ratio range from 1.5% to 38.9% during the last two years.
A seemingly endless movie library via Netflix: $8.99 a month. One movie ticket: $15 (if not more). Wall Street might be on the right side of this trade.
Meanwhile, check out this new Netflix feature by TheStreet's Eric Jhonsa. No, it won't waste your time. 
LOLz Trump Tax Plan
We may very well learn a little more about the Trump Make America Great Again Tax Plan on Wednesday. Or we may not as the prez tries to tweet in 280 characters after reading some news out of Twitter Inc. (TWTR) on Tuesday evening. 
Although stock market bulls have eaten up the scant details of Trump's tax reform, there could be a nasty longer term downside. 
As TheStreet's Martin Baccardax wrote, multiple media reports suggest the president will announce his ambition to cut the U.S. corporate tax rate to 20% from its current level of 35%. He may offer an undefined form of relief that could unlock and estimate $2.6 trillion in profits that sit, un-taxed, in the accounts of American companies all over the world. Rounding out the awesomeness, Trump may also detail a series of changes to personal income tax rates, as well as a plan to eliminate state and local tax deductions as a partial offset.
Goldman Sachs calculates the "Big Six" proposals could cost as much as $4 trillion over 10 years, or 1.7% of GDP over the same period, in lost tax receipts and that House debates on next year's budget are likely to limit the president's ability to deliver relief on such a massive scale.
Here come the budget cuts that could go a long way to chewing up the positive impact to households from tax relief. Accountants such as my brother must be licking their chops at the looming confusion. 
No Words
TheStreet's Scott Gamm is fresh off a series of interviews with the real life 'Wolf of Wall Street' Jordan Belfort. Presented without comment below. Tweet me your thoughts on his comments at @BrianSozzi.
Belfort on pump and dump schemes...
Belfort on Bitcoin...
Don't miss these top stories on TheStreet: